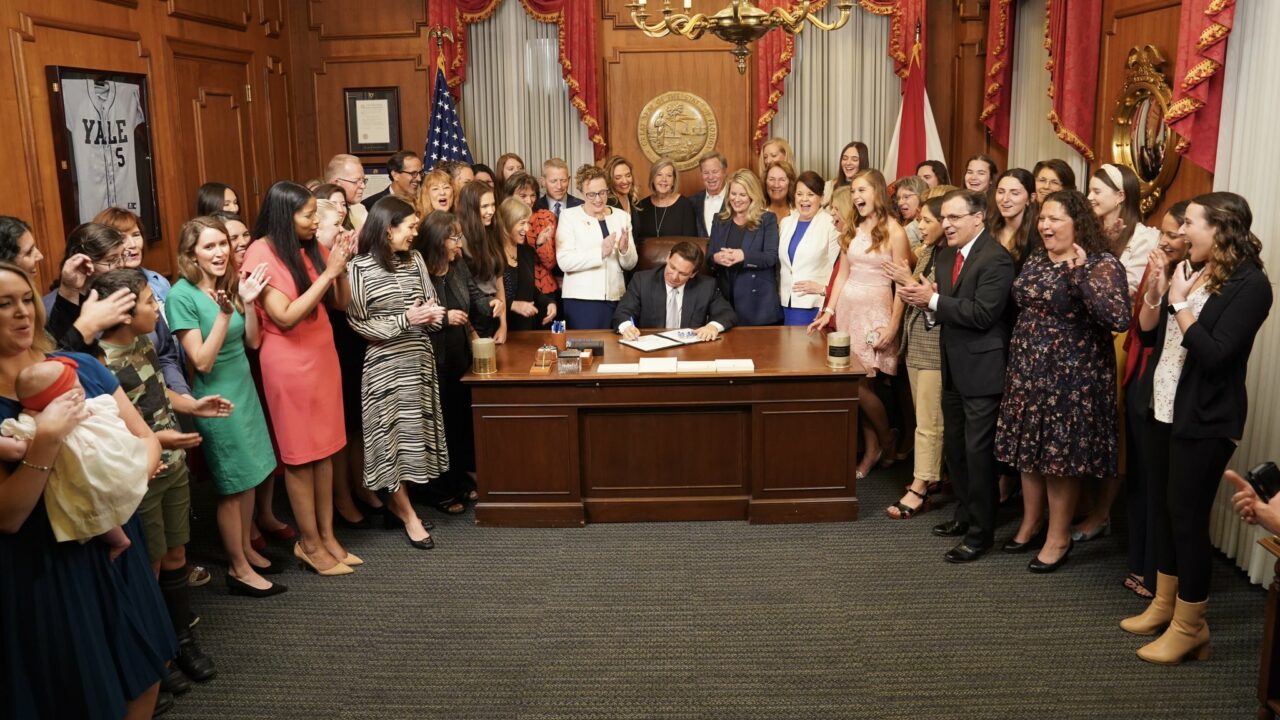 The new law includes some concessions the previous 15-week ban did not.
Just hours after lawmakers passed it mostly along party lines, Gov. Ron DeSantis signed a law banning abortion after six weeks of gestation.
"We are so proud to support life and family in the state of Florida," he said. "I applaud the Legislature for passing the Heartbeat Protection Act that expands pro-life protections and provides additional resources for young mothers and families."
The measure (SB 300) passed 70-40, with seven Republicans voting with Democrats against it. The legislation includes some concessions that the previous 15-week ban did not, including some exceptions for rape and incest.
The new law allows abortion up to the 15th week of pregnancy if the woman was impregnated as a victim of human trafficking, incest or rape, including statutory rape. If doctors determine a pregnant woman is at risk of death, "substantial and irreversible harm" or the fetus has a "fatal fetal abnormality," abortion is permitted through the first two trimesters.
Senate President Kathleen Passidomo pushed for the exemptions and was able to convince her fellow Republicans. Part of the bill now includes $25 million to expand the Florida Pregnancy Care Network, which offers pregnancy support services statewide and $5 million for programs that promote the use of contraception.
House members debated over the bill Thursday for more than seven hours on the floor, where Democrats unsuccessfully proffered nearly 60 amendments. One would have changed the bill's title to the "Forced Pregnancy Act." Another would have mandated three months of parental leave for the parents in the case of a denied abortion.
In a jab at DeSantis' bout with The Walt Disney Co. over the control of a special taxing district in Central Florida, an amendment by Orlando Rep. Anna Eskamani, who previously worked for Planned Parenthood, would have stipulated that the law would take effect "21 years after the death of the last surviving descendant of King Charles III, King of England, who is alive on July 1, 2023."
None gained traction.
In a press note announcing DeSantis had signed the bill, the Governor's Office used the occasion to take a shot at California and New York, which "have legalized infanticide up until birth," while DeSantis "has enacted historic measures to defend the dignity of human life and transform Florida into a pro-life state."
Sponsoring the measure were Fort Pierce Republican Sen. Erin Grall and Reps. Jennifer Canady of Lakeland and Jenna Persons-Mulicka of Fort Myers.
Just nine Republican lawmakers voted "no" in either chamber — Sens. Alexis Calatayud and Corey Simon, and Reps. Mike Caruso, Karen Gonzalez Pittman, Peggy Gossett-Seidman, Sam Killebrew, Chip LaMarca, Vicki Lopez and Rick Roth.
Following the vote, but before DeSantis signed SB 300, House Minority Leader Fentrice Driskell applauded her Democratic colleagues for fighting against the bill despite not having enough numbers to prevent it from passing. Democrats hold just 30% of the seats in both chambers of the Legislature.
"(Florida House Democrats) left it ALL on the field for the people of Florida today, fighting for over 7 hours straight against the Republicans' extreme 6-week ban that effectively will end the right to an abortion in this state," she wrote on Twitter.
"Abortion is health care. Every woman should be allowed to make these personal and private decisions in consultation with her doctor, family and faith. She does not need Tallahassee politicians looking over her shoulder."
After DeSantis signed the bill, she added, "We don't have the votes in the Legislature to stop this madness now, but the people of Florida and the rest of America have enough votes next election.
"Keep watching — (DeSantis) is showing his true colors and it's up to all of us to stop him."
___
A.G. Gancarski of Florida Politics contributed to this report.