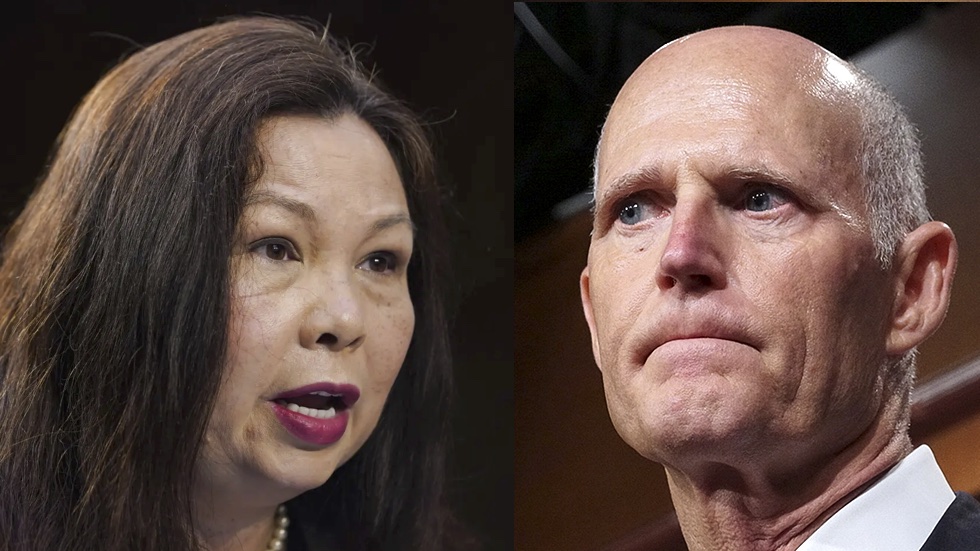 After Idalia, Florida's junior Senator said Congress must replenish a relief fund absent debate over foreign aid.
U.S. Sen. Rick Scott plans to call for a Senate vote next week on replenishing the federal Disaster Relief Fund. But U.S. Sen. Tammy Duckworth, an Illinois Democrat, plans to object unless the bill guarantees aid to Ukraine.
It's the latest in a monthslong standoff over supplemental funding that has taken on fresh urgency since Hurricane Idalia struck Florida's Big Bend region. Scott, a Naples Republican, pressed for months for the Senate to replenish a largely depleted Disaster Relief Fund.
After Hurricane Idalia made landfall as a Category 3 hurricane, Scott said he intends to bring the Federal Disaster Responsibility Act to the Senate floor and seek unanimous consent to pass the bill.
The legislation would provide $12.5 billion for the disaster fund, the Hurricane Tax Relief Act and block grant funding. That's roughly what the Federal Emergency Management Agency (FEMA) wants to replenish the fund through the year, according to a supplemental funding request from President Joe Biden's administration.
But while the President's funding request bundles that funding with other agenda items, most notably more than $44 billion for military support for Ukraine, Scott's bill would focus only on disaster recovery.
"Unfortunately, while I've spent the months leading up to this storm fighting to make sure the federal government shows up, President Biden and politicians in Washington have been playing games with FEMA's Disaster Relief Fund and insisting that this critical domestic aid be tied to foreign aid for Ukraine," Scott said in a statement.
"We've had enough with Washington playing politics and demand that Congress does what's right for American families, starting with ensuring our federal government has all the resources it needs to show up after disasters, now and in the future."
Scott also said he plans to increase the appropriations in his bill to $16.5 billion, based on the damage seen in the wake of Hurricane Idalia, which tore through Florida's Big Bend and swaths of Georgia and South Carolina before heading into the Atlantic Ocean.
Duckworth said she will object to the bill's passage, preventing a unanimous vote and requiring the bill to go through a lengthier committee process to pass.
"I think it's important to include Ukrainian funding," Duckworth told reporters, according to POLITICO.
U.S. Sen. Marco Rubio, a Miami Republican, agrees with Scott that disaster funding must be decoupled from foreign aid. But he predicted in a Fox News interview that Scott's bill likely couldn't pass through unanimous consent even if a majority of the Senate supports it.
"Sen. Scott will try a unanimous consent agreement next week. I'll try to get a vote on the package we've all put together. Some Democrat is probably going to stand up and say, 'I object unless you include the Ukraine funding,'" he said.
"I would keep an eye on that because that, to me, was unacceptable. It has never happened before. It shouldn't happen, when it comes to this. I hope it doesn't happen. But that's what they're signaling."
Scott voiced outrage on X about Duckworth's comments.
"It's unbelievable that anyone in Washington would try to delay the delivery of disaster aid to American families fighting to get back on their feet," he said. "This helps Florida, Hawaii, California … ALL AMERICANS. Americans should ALWAYS come first."