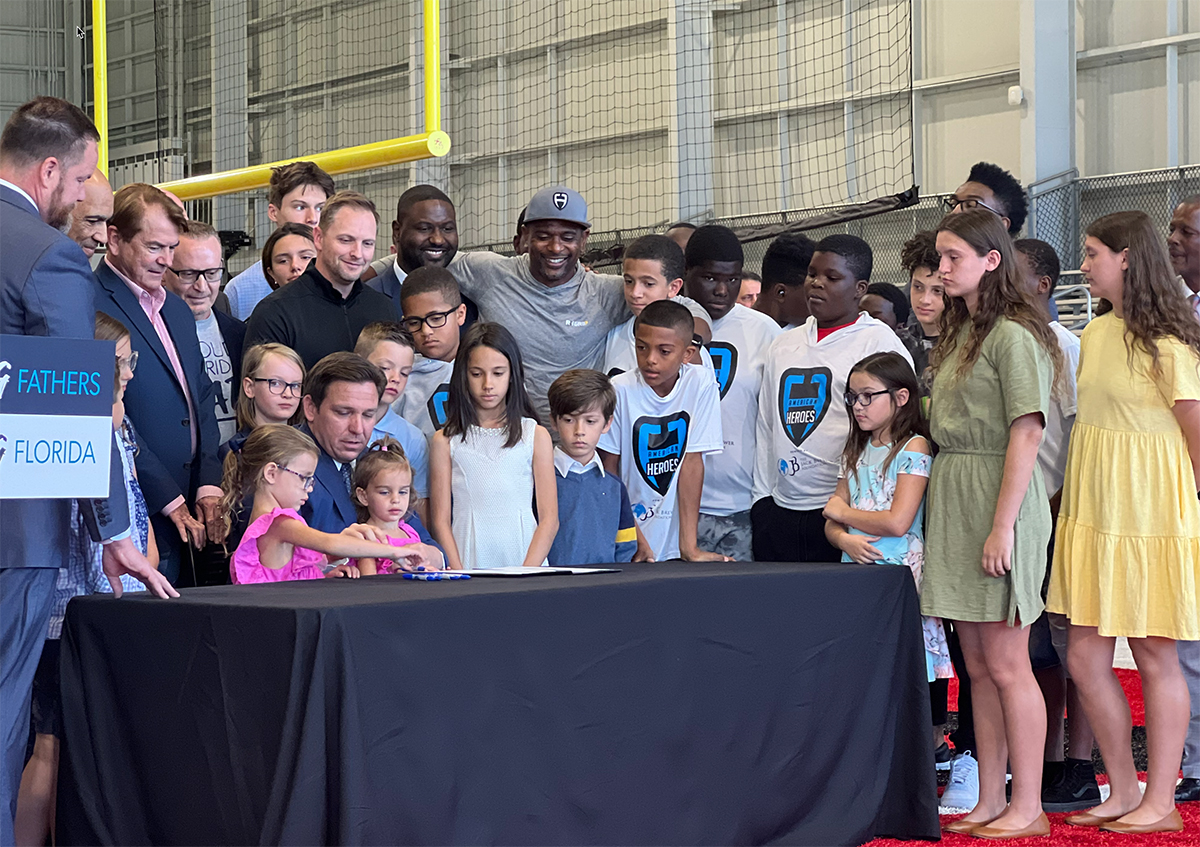 More than $83M has been cleared for spending through 2026.
A statewide initiative to improve fatherhood rates and increase male mentorship of at-risk kids is now underway, and there's much more to come, according to the state agency and organizations leading the effort.
On Tuesday, the House Children, Families and Seniors Subcommittee received an update on programs created under a 2022 measure, HB 7065, that Gov. Ron DeSantis said is meant to address a national "fatherhood crisis."
More than $83 million has been cleared for spending through 2026. Of that, $5 million remains uncommitted and will fund programs in lesser-served areas of the state, said Jess Tharp, assistant secretary of community services for the Department of Children (DCF).
The largest chunk, $26.6 million, is set aside for a pro-fatherhood ad and informational campaign by Family First, a Tampa nonprofit that will use part of the funding for technical assistance and to track the performance of other grant recipients.
The pending ad campaign, "Father First," is required to generate at least 16.6 million marketing impressions per month. DCF anticipates the campaign's website, which launches next month, will receive 5,000 monthly hits.
Eighteen grantees will split $12.5 million for an at-risk boys' mentorship program for which little information was provided Tuesday. Ten other grantees will divvy up $16.3 million for responsible fatherhood education.
Another $23 million is earmarked for nine awardees to develop programming to address the "comprehensive needs of fathers." Much of the focus will be on assisting formerly incarcerated fathers navigate through state processes and receive services to better reintegrate into their communities.
One such program, now in development by Jacksonville-based Operation New Hope, aims to help 17,000 recently released or soon-to-be-released convicts from 30 facilities across the state.
In the Panhandle, NWF Health Network is developing a peer apprenticeship program with the U.S. Department of Labor and Florida Department of Education.
The goal, said George Baston, the organization's behavioral health and child protection manager, is to provide prisoners with paraprofessional employment following a 3,000-hour training, mentorship and support program.
Another by Neighbor to Family, a nationally accredited foster care nonprofit headquartered in Daytona Beach, involves "fatherhood engagement specialists" who can empathetically help fathers complete court-ordered requirements.
Many fathers give up working on case plans, which effectively ends any hope they may have of reunifying with their children, said Heather Monteath, the nonprofit's Executive Director.
"That's where we come in," she said. "A case-management organization will send us a referral and say, 'Hey, we have this dad. He's not working with us.' And that's when our fatherhood engagement specialist comes in and tries to engage with that dad."
Reginald Colston, an ex-probation and case officer now working as a Neighbor to Family fatherhood engagement specialist, said the court system frequently discourages legally troubled men. Many want to reconnect with their children, he said, but grow dispirited because of how arduous closing their cases can sometimes be or by misconceptions they may have, including that a criminal record is prohibitive.
"These fathers just don't know, and they're scared to talk to these case managers," he said. "I say, 'What I'm here to do is help you see your kids and help you through this process.'"
HB 7065, which former House Speaker Chris Sprowls spearheaded during the 2022 Legislative Session, was intended to counteract a troubling divide in the outcomes of children with and without fathers. It passed both chambers unanimously.
At the time, an analysis of U.S. Census Bureau data by the National Fatherhood Initiative found that 18.4 million children in the U.S. — one-fourth of the total — live without a biological, step or adoptive father in the home.
That ratio extends to Florida, where Tharp said approximately 24% of children live in an absent-father household and more than 90% who are placed in the state's child welfare system — approximately 10,240 — come from a single-parent home.
Fatherless youth, she continued, are at increased risk of homelessness, dropping out of school and suicide. Conversely, children with involved fathers show higher levels of social competence and self-esteem, better peer relationships and educational performance, have more advanced language skills and are better able to control their emotions.
"Even when fathers do not live with their children 24/7, research suggests that an involved and present father can lead to some of the same outcomes and avoid the pitfalls of a completely absent father," she said.
Several members of the Committee praised the ongoing work while offering recommendations.
Miami Rep. Vicki Lopez, who has served in state-appointed roles specializing in prison reentry and justice reform, noted that many men who are "justice-involved" don't receive prison sentences but still have difficulties with custody or visitation rights.
She asked whether the prisoner-focused programs could be expanded to include those men. Tharp said it could, due to the authorizing legislation's intentionally loose language.
Clearwater Rep. Kimberly Berfield expressed concern that the relatively short lifespan of the programs will result in little usable long-term information upon which to build improved initiatives.
Tharp admitted that is a problem with many grant programs.
"In order to have that longitudinal data, you have to have the consent of the individual who's a part of that program," she said.
Tampa Rep. Traci Koster, a family law lawyer, asked about the prospect of expanding the measure's educational component to include young women.
"Some of us women may think that we are superior in terms of child-rearing, and I think the studies have shown more recently that that's not really the case. Both moms and dads play a really important role," she said.
Tharp said that, presently, the fatherhood program does not include a women-focused aspect "except for where we are trying to educate dads on effective co-parenting methods." However, such curricula "is definitely on the table" as programs develop further.