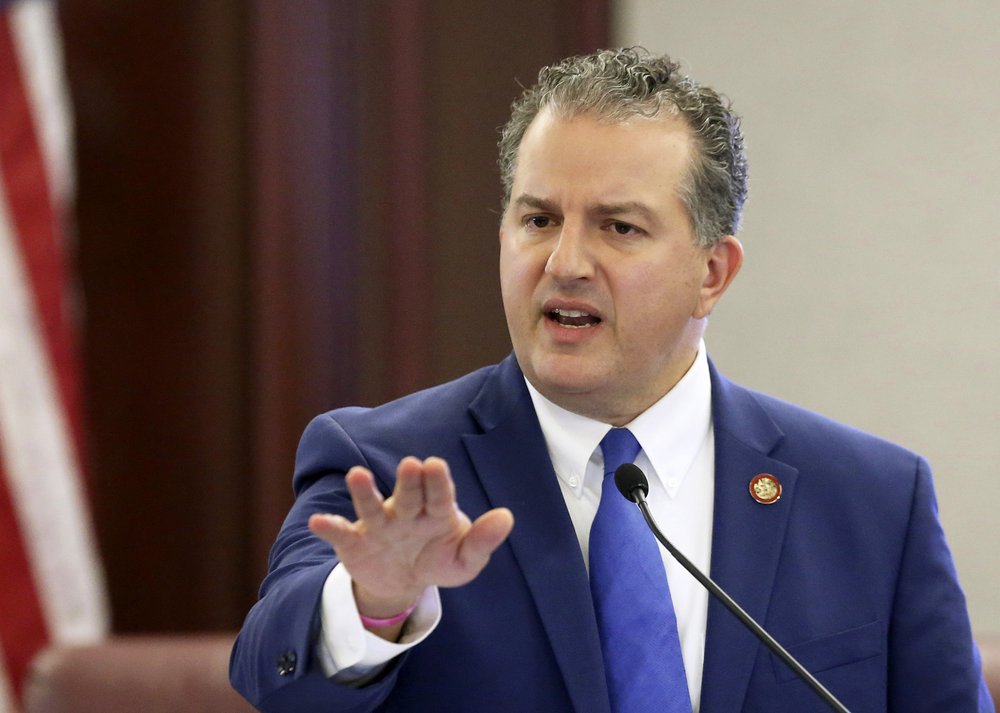 'These companies must come forward and tell the American public how much progress they've made in targeting Americans.'
Chief Financial Officer Jimmy Patronis has a warning for cash transfer apps: Don't develop technology to tax transfers as the IRS continues work on implementing rules that would require those services to report transfers of $600 and up.
Patronis visited West Palm Beach to host a roundtable speaking out against the move, calling it "an existential threat to Florida and our economy."
"As our national debt rapidly increases and inflation worsens throughout the country, Washington continues spending reckless amounts of your hard-earned tax dollars like it's their slush fund," Patronis said.
"As a part of my IRS Transparency initiative, this morning I issued demand letters to Venmo, PayPal, Cash App and Zelle demanding that they cease all operations to build technologies taxing Floridians from their small dollar transactions and that they publicly release all communications between their apps and the federal government."
A federal law was supposed to see the changes take hold in the 2022 tax year. However, the IRS has delayed implementation multiple times since.
In the letter to cash transfer apps, Patronis said the IRS proposal is an example of "the government colluding with Big Tech to get in the day-to-day business of Americans."
"You figure out what people are spending their money on, then you know their hopes, dreams and ambitions; you know who their friends are, what they do on the weekend, what their diet is, etc., etc.," Patronis wrote.
"We saw in the Twitter Files how various federal agencies partnered with Big Tech to throttle down stories that were deemed unacceptable to federal bureaucrats — if the federal government starts partnering with cash apps, like yourself, their power to de-bank and target their enemies would be supercharged."
Patronis promised to propose legislation in the upcoming Session, which begins in January, to "protect Florida taxpayers" from the proposed changes. But he also warned the companies in question to stop working with the federal government and asked them to make their communications with the IRS public.
"The State of Florida will not sit idly by while Big Tech is building technologies to violate Floridians' privacy, nor shakedown small business owners who are just trying to make a buck in an economy where everything is expensive," Patronis added in a Wednesday statement.
"We know darn well that they're coordinating with the IRS to build these tools. These companies must come forward and tell the American public how much progress they've made in targeting Americans."
Republican Rep. Mike Caruso, representing parts of Palm Beach County in the House, agreed with Patronis' messaging at Wednesday's roundtable.
"As a CPA and a lawmaker, I've seen it all when it comes to the IRS," Caruso said. "A huge thank you to CFO Patronis for bringing us all together and raising awareness on this important topic, and I look forward to working together this Legislative Session to stop the IRS overreach."
Palm Beach County Commissioner Sara Baxter also joined the roundtable and added her support.
"It is critical that all Floridians are informed of this egregious federal overreach," Baxter said. "We have to fight back and make sure that this army of IRS agents do not target our job creators, (who) work diligently to make sure our economy thrives. Florida is the best state to run a business, and we have to make sure it stays that way."
Multiple local business owners also joined the roundtable to speak out against the proposed changes.
"As someone who has been in the construction industry for nearly 20 years, I've seen what can happen when the IRS targets hardworking Floridians," said Frank R. Coppola III of Coppola Brothers LLC.
"We Floridians work diligently to make sure that Florida remains the best state in the country to live and run a business, and we must work together to put an end to their targeting."