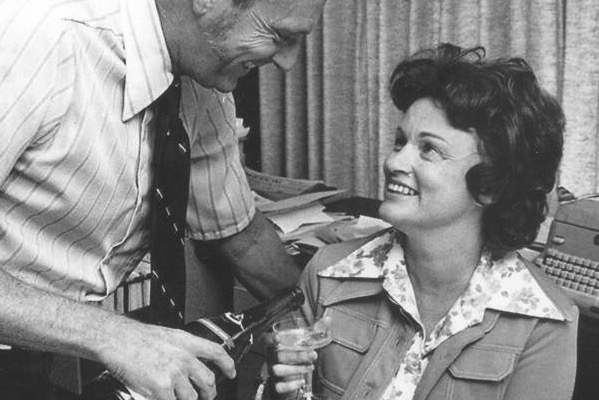 The longtime journalist was 82.
Lucy Morgan, one of the most prominent journalists covering the Florida political process, has died. The Tampa Bay Times, where Morgan long served as a Tallahassee bureau chief, confirmed the news, reporting the 82-year-old died from complications from a fall in May.
Journalists and political leaders in the state shared thoughts and memories of the journalist.
Sarah Bascom, communications consultant, posted: "Lucy Morgan was a force. She taught me so much and I will be forever grateful for her wisdom and mentorship. She will missed. I will miss her."
Jo Becker of The New York Times posted: "Tonight I learned that Lucy Morgan, my former boss and my mentor and friend, has left the building. It's hard to describe how much Lucy Morgan has meant to Florida journalism , and particularly to the women who practiced it there."
David Bishop, President of The Nostalgia Network, posted: "What a loss. If you worked in PR in state government, you feared getting a call from Lucy. You knew nothing good was coming from that phone call. She was a master of her craft and had incredible sources. I have nothing but the upmost respect for her."
Richard Bockman, one of Morgan's editors, told the Tampa Bay Times: "She was as powerful as any politician in the state. She had the ear of anybody in the state who she wanted, from governors to prisoners, from drug dealers to prosecutors. She had anybody and everybody. And her goal was to tell stories that needed to be told."
Chris Brennan, Philadelphia Inquirer reporter, posted: "I spent six years working for newspapers in Florida and Lucy Morgan packed in a crowd whenever she spoke at a journalism conference. Her stories were always about finding the truth and preventing the powerful from keeping it hidden."
Former Gov. Jeb Bush told the Tampa Bay Times: "She was tough but fair. She was tenacious. I think she scared politicians that were ethically challenged because they knew nothing would get by her. More importantly for me, Lucy was a friend. Prayers for her family."
Kristy Campbell, former Republican communications staffer, posted: "Nothing struck more fear in the heart of a press secretary than a call or email from Lucy Morgan. She was a brilliant, tough, remarkable woman, and one of Florida's finest journalists. Praying for her family and many, many friends."
Sarah Carey, a veteran communications staffer, posted: "I'll never forget hearing Lucy Morgan at a press club meeting I attended as a young journalist. Someone asked how she broke these great stories about powerful people and she gave a tip I'll never forget: get to know the secretaries. The janitors. Be a real person."
Doreen Carvajal, author, posted: "Farewell to Lucy Morgan, a fabled newswoman and investigative reporter. Not even a snake in her mailbox could deter her reporting."
Bill Cotterell, Tallahassee Democrat columnist, wrote in his obituary on Morgan: "In a political town where professional reputations can be made with a few fleeting victories, Lucy Morgan was a genuine legend for more than four decades of hard work, shrewd political instincts and total dedication to the public's right to know about the money, backroom deals and power plays that Florida government runs on."
Patty Cox, a former editor at the Tampa Bay Times, posted: "She was a legend and a role model for so many of us (at the Tampa Bay Times.) Rest in peace, dear Lucy."
Matt Dailey, Deputy Communications Director for the Florida Democratic Party, posted: "Lucy Morgan was one of my writing idols — her sense for storytelling was legendary and unique. I was fortunate enough to see her in the bookstore a few times in her later years and pick her brain about Florida history. I'll miss her stories and her fire for the truth most of all."
Brady Dennis, reporter for The Washington Post, posted: "Lucy Morgan, a pioneering journalist whose relentless investigative reporting kept Florida legislators, lobbyists and lawmen on watch for nearly five decades, died Wednesday, according to family members. Lucy was a legend and inspiration to so many."
Richard Doran, former Florida Attorney General, posted: "Plain and simple. She was the best this town ever saw."
Gwen Filosa, Keys Weekly digital editor, posted: "When she was deep into an investigation of the Pasco County Sheriff's Office, people made crude bumper stickers with her name. She kept on reporting."
Gary Fineout, POLITICO reporter: "R.I.P. A Tallahassee legend."
The Florida Senate posted on its official account: "We were saddened to hear of the passing of Lucy Morgan and our prayers are with her family, friends, and colleagues in the press corps during this sad time. Sharing some photos from 2005, when our media gallery was named in her honor."
Melanie Kalmanson, former Florida Supreme Court Historical Society editor, posted: "So sad to hear of Lucy Morgan's passing. I had the pleasure of meeting and working with her when I was Editor of the Florida Supreme Court Historical Society magazine when we did a special issue marking 20 years since Bush v. Gore, on which her reporting was groundbreaking. RIP."
Samantha Gross, Boston Globe reporter, posted: "Hard to imagine a world without Lucy Morgan. Rest in peace to a legend, whose tenacity and legacy of 'Wayward Girls' inspired a generation of female reporters in Florida (this one is no exception)."
Chris Hand, a government law lawyer, posted: "It is nearly impossible to think of Florida without Lucy Morgan, a one-of-a-kind reporter and one of the best friends Floridians ever had. Condolences to her family, the Tampa Bay Times, and her many journalism colleagues across the state. Lucy will be greatly missed."
Steve Herman, Voice of America correspondent, posted: "An iconic #Florida journalist has died. Lucy Morgan and a colleague were awarded the Pulitzer Prize for investigative reporting in 1985 for uncovering corruption in the Pasco County Sheriff's Office."
Curt Hills, The Villages Daily Sun project editor, posted: "Sadden to hear the passing of investigative journalist Lucy Morgan, an inspiration to so many of us in Florida journalism. She paved the way. Always an honor to have our work considered in Florida Press Club's in-depth reporting award, justly named after Lucy B. Morgan."
Amy Hollyfield, The Dallas Morning News managing editor, posted: "My heart is so heavy seeing the news that venerated titan of Florida journalism, Lucy Morgan, has passed. I am one of many journalists, many women journalists, blessed by her mentorship and trailblazing. My heart goes out to her family."
John Kennedy, Gannett Florida Capitol reporter, posted: "A longtime colleague and competitor, Lucy helped shape this state. She'll endure wherever and whenever truth is sought out. G'bye, old friend."
Benjamin Kirby, communications consultant, posted: "I've lost count of the number of Florida reporters who credit Lucy Morgan as their role model. A tough loss for the journalism community today. Holding Lucy Morgan's family and her Tampa Bay Times family in our hearts and in the light."
Gilbert King, author, posted: "A legend has passed. Lucy Morgan, the fearless Pulitzer prizewinning journalist in Florida, broke the mold."
Mary Ellen Klas, Miami Herald Capitol Bureau chief, posted: "Florida has lost a legend and an icon. Journalism has lost a hero. Many of us have lost a mentor and friend."
Alex Leary, The Wall Street Journal reporter, posted: "The institution. She'll be hunting for the next big story in heaven."
Alan Levine, Ballad Health Chairman and CEO, posted: "Lucy Morgan left a legacy of great journalism. She made the politics and governance of Florida better because she held us all accountable. She was fair, diligent, and trustworthy. I pray for her peace. She deserves it. What a loss."
Margaret Martin, author, posted: "Lucy Morgan was a legend in journalism – she asked tough questions no matter who it was and was always fair in her reporting. An example that many of today's journalists would wise to learn from! Best of all time! Peace be with you Lucy!"
Sherry Mims, former Florida Press Club president, posted: "I learned so much from Tampa Bay Times' Lucy Morgan's work as well as the many times she helped us with Florida Press Club. RIP to a Florida journalism legend."
Tia Mitchell, the Atlanta Journal-Constitution, posted: "I first learned about Lucy in college. Then I had the honor of working with her. She was 'semi-retired' and still kicked all our ass with scoops. I had the honor of sitting at her dinner table amd hearing her stories. Florida and journalism have lost a giant."
Chief Financial Officer Jimmy Patronis posted: "Few journalists today are as respectful and honest as Lucy Morgan. She was tough, but kept things transparent and fair. When newspapers ruled, Lucy set the bar and set the standard that others respected. She will be missed."
Jacob Ogles, Florida Politics reporter, posted: "She was generous even to supposed competitors and gave time and advice to those of us at small papers. She stressed the value of sourcing at all levels of government. I particularly took to heart her advice on writing with authority. Her legacy in Fla will last forever."
Jennifer Orsi, of the Poynter Institute, posted: "One of the most amazing, untiring reporters any of us have had the luck to work with. Every generation of Florida leaders should have a Lucy Morgan keeping them honest. RIP to a legend."
Jackson Peel, Florida House Democrats Communications Director, posted: "Legend and icon is exactly how to describe Lucy Morgan. Florida was made better by her work, and worse by her passing."
Craig Pittman, author, posted: "When I was a young reporter and I'd face some crucial situation, I'd ask myself: "What would Lucy do?" RIP to one of the best Florida journalists who ever lived."
Steve Schale, Democratic consultant, wrote in a blog post: "I am grateful my journey crossed hers – grateful I got to learn from how she carried herself and handled her business, grateful she was there when I needed to learn, and there to encourage, when I needed that too, grateful she took a liking to me and let me beome her friend – and most importantly, grateful I never ended up in her crosshairs!   Even in the last few years, the hair on my arms would stand up a bit when I saw that name on my phone, or in my inbox."
Peter Schorsch, Florida Politics publisher, posted: "If Ron DeSantis is gonna lower the flags for Rush Limbaugh, we sure as hell should lower them for Pulitzer-winning Lucy Morgan."
Kathryn Varn, Axios reporter, posted: "Lucy Morgan meant so much to so many young journalists."
Shawna Presley Vercher, executive producer of the Fearless Voice Network, posted: "I am heartbroken to hear that the legendary and fearless Lucy Morgan has passed. She was a mentor, she was an inspiration, and I am so grateful for the time I had to spend with her. Much love to her family and friends. What an amazing woman."
Jeremy Wallace, Houston Chronicle political reporter, posted: "Sad to hear the passing of one of the smartest people I ever met in journalism."
Will Weatherford, former Florida House Speaker, posted: "Lucy Morgan was indeed an Icon in Florida. She could be tough, crafty and also thoughtful. I appreciated her insights and advice. Like the letter she wrote me via ⁦⁦the Tampa Bay Times⁩ 10 years ago when a young Pasco kid was about to be Speaker. RIP."