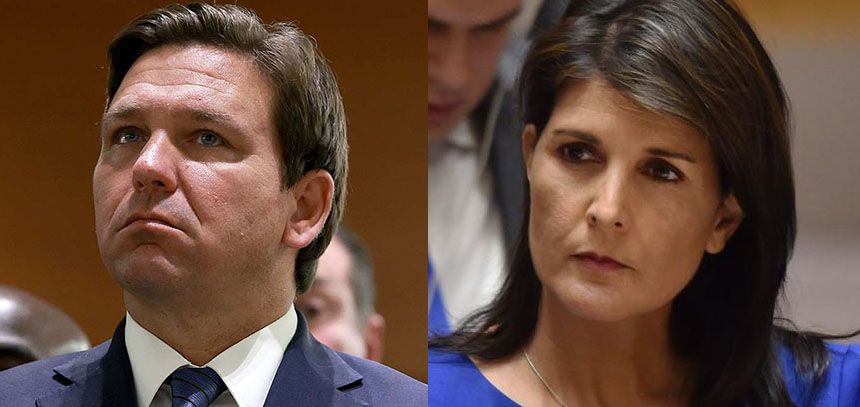 'I don't know really necessarily what the record would be.'
Ron DeSantis isn't sure what Nikki Haley accomplished as Governor of South Carolina.
"I don't know really necessarily what the record would be," DeSantis said Thursday on the Mark Levin Show.
DeSantis riffed through several of his administration's accomplishments over the years, saying he has "not been a caretaker governor," before contrasting himself with Haley and other Republican candidates for President.
"We've actually leaned in on some of these issues. And you know, all these Republicans, I think every single Republican who is running has criticized me for taking the fight to Disney regarding the ideology in the elementary schools," DeSantis said.
The comments on Levin's program follow in the wake of polling from South Carolina and New Hampshire that shows Haley ahead of DeSantis in her home state and competitive with DeSantis in the Granite State, where he is polling in fourth or fifth place in some polls. We have reached out to Haley's campaign for response.
The Disney aside, meanwhile, reflects a controversy that has been brewing for months, with Haley blasting DeSantis for taking a hard line with the Walt Disney Company.
She accused DeSantis of "hypocrisy" given previous campaign donations from Disney and urged the Florida Governor to "pick up the phone, deal with it, settle it the way you should."
DeSantis dissented, calling Haley's attacks "bizarre" and framing them as unfounded in reality. Meanwhile, his Never Back Down super PAC mocked Haley for trying to recruit Disney to come to South Carolina.
During Thursday's show, the Governor also told Levin that the media "has been rooting against (DeSantis) a long time," when the host asked why it seemed members of the press were pulling for Haley or Vivek Ramaswamy to overtake him in the polls.