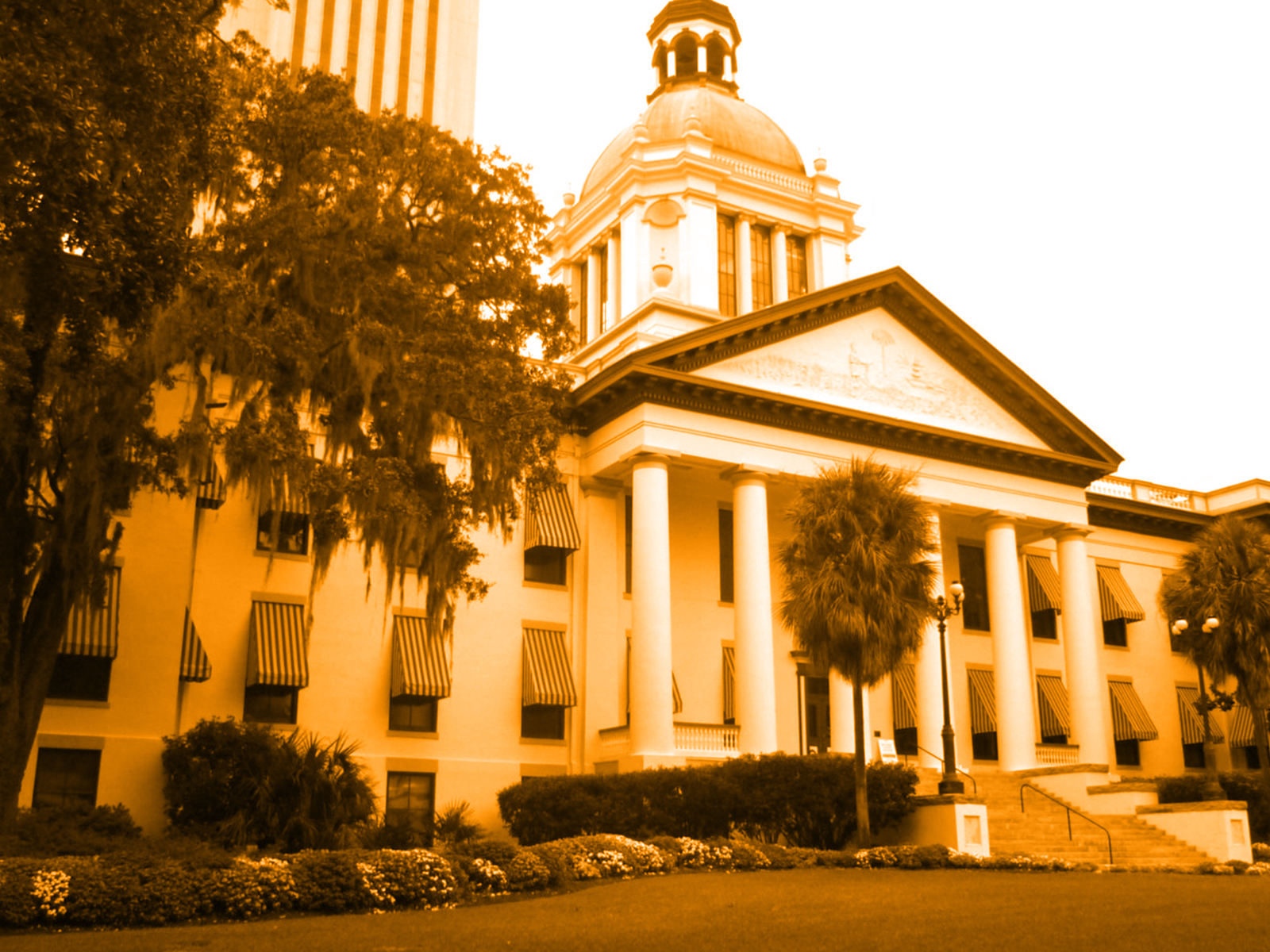 It's not morning without your first look at stories driving today's agenda in Florida politics.
Good Friday morning.
Fresh off his week in the spotlight, House Speaker-designate Daniel Perez is heading back to South Florida to headline a conference on the future of the Sunshine State.
Florida's Future Conference will be held in Coral Gables on Thursday and will feature discussions on topics such as commerce, housing, education and criminal justice moderated by familiar faces from Perez's orbit, including the Chairs of several of the House's Policy and Spending Committees.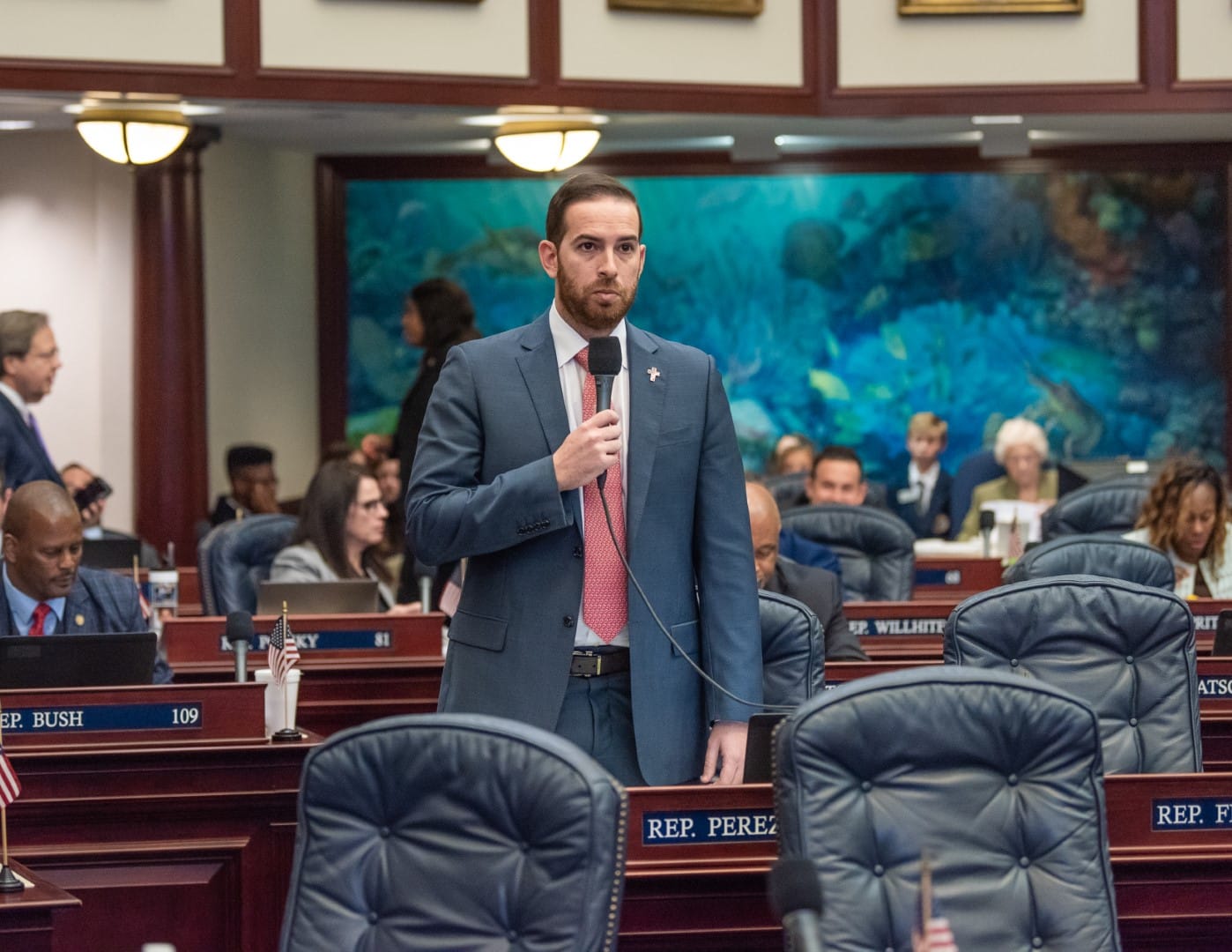 Reps. Demi Busatta Cabrera, Wyman Duggan, Lawrence McClure and Josie Tomkow will lead panels that feature top names in state politics — notables include Education Commissioner Manny Diaz Jr., who will participate in the education discussion and State Attorney Katherine Fernandez-Rundle, who will sit on the justice panel.
News anchor Sandra Peebles is set to emcee the event, which will also feature Miami-Dade County Mayor Daniella Levine Cava and other leaders as special guests.
Florida's Future Conference will be held at the University of Miami on Sept. 28. Programming runs from 8:30 a.m. through 4:15 p.m. with a networking cocktail reception to follow. The event is sponsored by the Ohana Institute Foundation, an independent experiential K-12 school.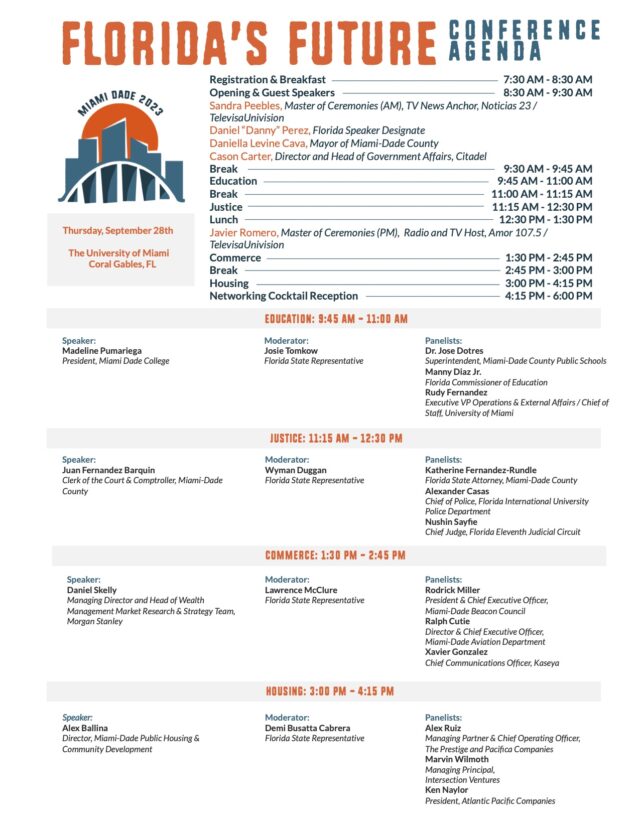 —SITUATIONAL AWARENESS —
—@JimmyPatronis: Few journalists today are as respectful and honest as Lucy Morgan. She was tough but kept things transparent and fair. When newspapers ruled, Lucy set the bar and set the standard that others respected. She will be missed.
Tweet, tweet: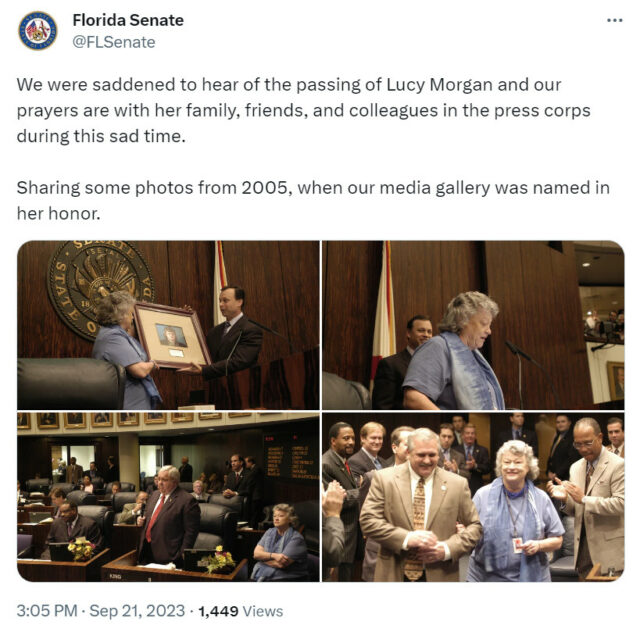 —@WillWeatherford: Lucy Morgan was indeed an Icon in Florida. She could be tough, crafty and also thoughtful. I appreciated her insights and advice. Like the letter she wrote me via @tampabaytimes 10 years ago when a young Pasco kid was about to be Speaker. RIP
—@JenOrsi: One of the most amazing, untiring reporters any of us have had the luck to work with. Every generation of Florida leaders should have a Lucy Morgan keeping them honest. RIP to a legend.
—@BadDebutante: Lucy Morgan mentored scores of journalists and taught us to never be afraid of the powerful. She sure as hell wasn't. No Governor, sheriff, judge, billionaire or thug ever intimidated her.
—@SamanthaJGross: Hard to imagine a world without Lucy Morgan. Rest in peace to a legend, whose tenacity and legacy of "Wayward Girls" inspired a generation of female reporters in Florida (this one is no exception)
—@MBakerTBTimes: When the Jameis Winston case at FSU was still in its relatively early stages, Lucy reached out to me to help. To repeat: Lucy Morgan, a Times legend, reached out to ME, a clueless 26-year-old cub reporter, to help on the biggest story of my career. Like, are you kidding me?!
—@BascomCommunications: Lucy Morgan was a force. She taught me so much and I will be forever grateful for her wisdom and mentorship. She will be missed. I will miss her.
—@kristymcampbell: Nothing struck more fear in the heart of a press secretary than a call or email from Lucy Morgan. She was a brilliant, tough, remarkable woman, and one of Florida's finest journalists. Praying for her family and many, many friends.
— DAYS UNTIL —
ESPN+ and Disney+ present 'Toy Story' based telecast of game between the Jacksonville Jaguars and Atlanta Falcons — 9; Loki Season Two premieres — 14; Republican Party of Sarasota County honors First Lady Casey DeSantis with the 2023 Stateswoman of the Year Award — 27; Martin Scorsese's 'Killers of the Flower Moon' premieres — 31; 2023 Florida Chamber Annual Meeting & Future of Florida Forum — 31; Britney Spears memoir 'The Woman in Me' drops — 32; NBA 2023-24 season tipoff — 32; Taylor Swift's '1989 (Taylor's Version)' released — 35; 'Dune: Part Two' premieres — 41; Suncoast Tiger Bay Club hosts 'Evening with the Tigers' — 45; 2023 Florida Chamber Mental Health Innovation Summit — 48; 'Captain Marvel 2′ premieres — 49; Formula 1 will take over the Las Vegas Strip — 56; Ridley Scott's 'Napoleon' premieres — 62; Florida TaxWatch's Annual Meeting begins — 68; 2023 Florida Transportation, Growth & Infrastructure Solution Summit — 70; 2023 Florida Chamber Annual Insurance Summit — 82; Zack Snyder's 'Rebel Moon' premieres — 91; Matt Dixon's 'Swamp Monsters: (Donald) Trump vs. (Ron) DeSantis ― the Greatest Show on Earth (or at Least in Florida)' released — 109; 2024 Florida Chamber Legislative Fly-In and reception — 109; Florida's 2024 Regular Session begins — 109; Florida TaxWatch's State of the Taxpayer Dinner — 114; 2024 Primetime Emmy Awards — 115; South Carolina Democratic Primary — 134; New Hampshire and Nevada Democratic Primaries — 137; South Carolina GOP holds first-in-the-South Primary — 155; Michigan Democratic Primary — 158; Georgia Democratic Primary — 172; Trump's D.C. trial on charges related to trying to reverse his 2020 Election loss — 164; Super Tuesday — 165; 'A Quiet Place: Day One' premieres — 170; 2024 Oscars — 170; 'Deadpool 3' premieres — 221; 2024 Leadership Conference on Safety, Health & Sustainability — 231; 'Kingdom of the Planet of the Apes' premieres — 241; Republican National Convention begins — 295; New 'Alien' premieres — 299; Opening Ceremony of the 2024 Olympic Games — 308; 'Captain America: Brave New World' premieres — 308; Georgia Tech to face Florida State in 2024 opener in Dublin — 338; Swift's Eras Tour stops in Miami — 392; 2024 Florida Chamber Annual Meeting & Future of Florida Forum — 395; 'Thunderbolts' premieres — 455; 'Blade' reboot premieres — 511; 'Fantastic Four' reboot premieres — 590; 'Moana' premieres — 647; 'Avatar 3' premieres — 821; 'Avengers: The Kang Dynasty' premieres — 952; Untitled 'Star Wars' movie premieres — 974; Another untitled 'Star Wars' movie premieres — 1,187; 'Avengers: Secret Wars' premieres — 1,326; 'Avatar 4' premieres — 2,282; 'Avatar 5' premieres — 2,645.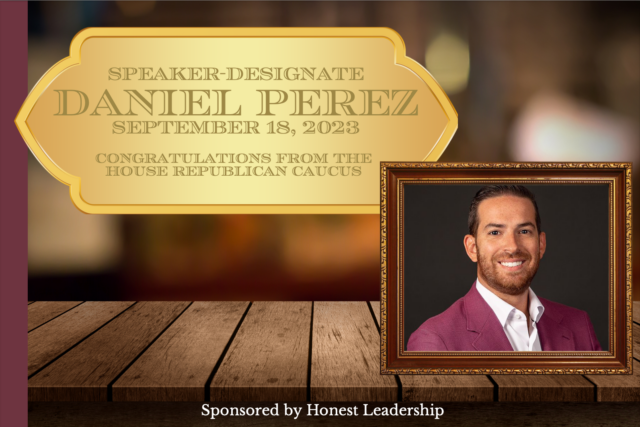 — TOP STORY —
"Families say school vouchers are unpaid, causing major disruption" via Jeffrey S. Solochek of the Tampa Bay Times — "They have not gotten their first quarter funding yet for any of their students," said Danielle Underwood, a former Hernando County parent activist who lives in Palm Beach County. It's a situation being played out across Florida, as private schools and families scramble to make ends meet amid the growing pains of the state's expanded voucher program. Lawmakers lifted the eligibility requirements for the system, leading to a doubling of participation this Fall to more than 400,000 children. The disruption appears to have affected thousands of students, while parents and school officials say they have been unable to get answers from those in charge of the $4 billion voucher system.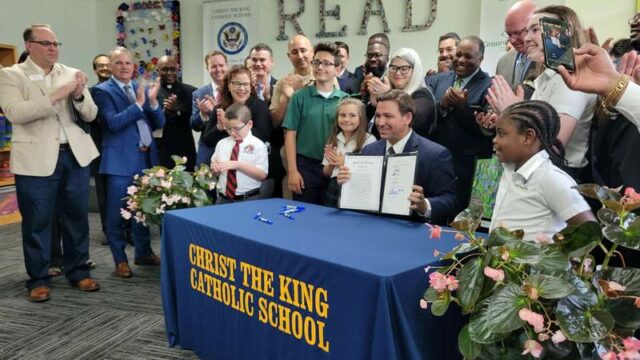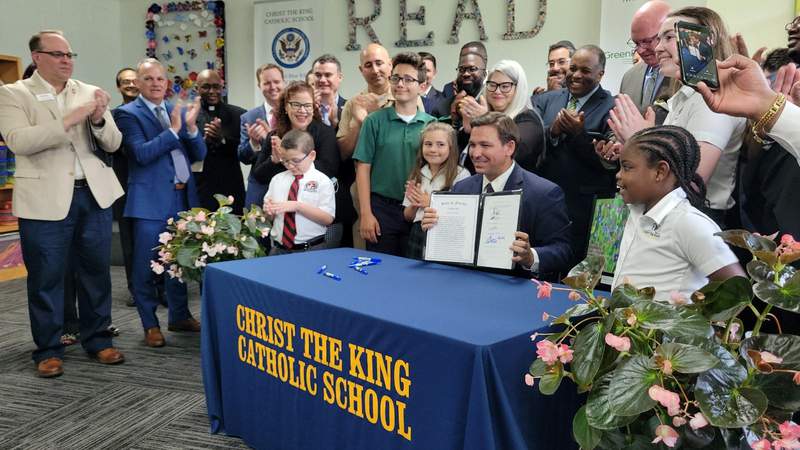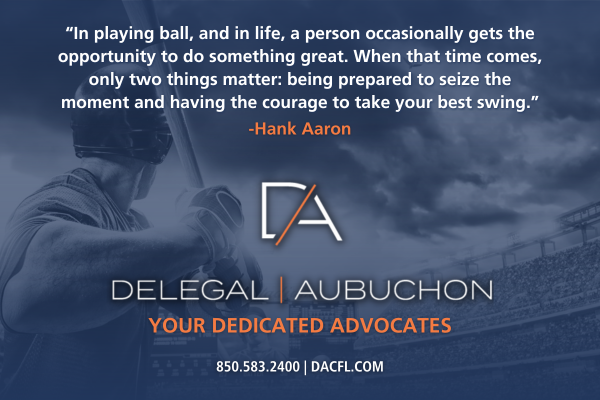 — THE TRAIL —
"Ron DeSantis falls back into the 2024 Republican pack as Donald Trump's dominance persists" via Max Greenwood of the Miami Herald — DeSantis entered the race with a clear argument for his candidacy that he was the only Republican capable of beating Trump and reversing the party's recent losing streak. All signs, up to that point, backed up his claim. Most public polling showed that no other GOP hopeful came anywhere close to beating Trump in the Primary. A few surveys released early this year even found Trump's lead dwindling to single digits. Now, just four months into his White House campaign, polls show DeSantis competing more with Vivek Ramaswamy or Nikki Haley than with Trump. After hitting a post-announcement high of 23.7% in national polls in early June, DeSantis' support in the Republican Primary sits at 12.5%.
"DeSantis is in growing trouble. He's betting big on Iowa to rescue him." via Hannah Knowles, Josh Dawsey and Isaac Arnsdorf of The Washington Post — Abandoned by some of his largest donors, bashed by House Speaker Kevin McCarthy and polling behind other Trump alternatives in New Hampshire and South Carolina, DeSantis and his allies are increasingly focused on Iowa — where Trump has alienated prominent Republicans such as Iowa Gov. Kim Reynolds and this past week denounced the six-week abortion bans that Iowa and other states have passed. DeSantis was a brusque emcee at times during the Saturday church event, and his efforts to woo voters face-to-face have repeatedly spawned viral videos of terse and distant interactions. DeSantis has also run up against a singular loyalty to Trump, whose popularity with Republicans appears immune to faux pas, scandals and criminal indictments that would tank another candidate as polls show him far ahead in Iowa.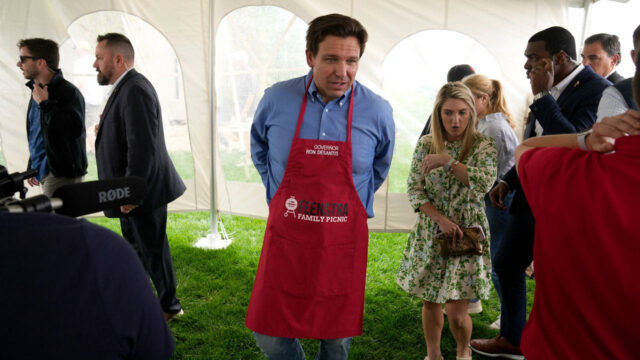 "New Iowa poll presents a 'very bleak picture' for DeSantis" via A.G. Gancarski of Florida Politics — A new survey shows DeSantis may be no threat to Trump in Iowa, but DeSantis is at least holding on to the second-place spot. Otherwise, though, the pollsters note it's a "very bleak picture" for DeSantis' campaign. The survey of 500 likely voters, conducted Sept. 17-19 by the Trump-friendly Fabrizio Lee, shows DeSantis at 15%, 30 points behind Trump. It's the second poll in recent days showing DeSantis at 15%. DeSantis has lost 3 points since the July administration of the poll, and he's now just 2 points ahead of Haley (13%), who gained 3 points since the last time this poll was in the field.
"Iowa-obsessed DeSantis is tanking in other early states" via Ed Kilgore of New York Magazine — It's not hard to understand why DeSantis is very focused on Iowa right now. He got an early start in the state that begins the formal nominating contest and has by most accounts out-hustled front-runner Trump there, with plenty of counties visited, abundant endorsements, a lot of doors knocked and a lot of ads run. But DeSantis' Iowa-centric campaign has proceeded at a price: Polls show him beginning to flounder in the other "early states" that will vote after Iowa. A new CNN/University of New Hampshire poll of the Granite State, whose Primary is eight days after the Jan. 15 Iowa Caucuses, shows DeSantis slipping into fifth place.
—"DeSantis in fourth place in New Hampshire, at just 8% support" via A.G. Gancarski of Florida Politics
"Why is DeSantis tanking?" via Byron York of the Washington Examiner — A new poll Wednesday from the University of New Hampshire shook up the world of political obsessives. The news was that DeSantis had slipped to fifth place in New Hampshire, the second state to vote in the GOP Primary contest. Fifth place! How did that happen? The first thing to consider is whether the new Granite State poll is an outlier. The answer is it appears not. "The biggest problem I see for DeSantis is that the cultural campaign he has been waging simply doesn't resonate with New Hampshire Republicans," said Andrew Smith, Director of the University of New Hampshire Survey Center, which conducts the Granite State Poll. "I am still surprised he's pushing anti-woke rhetoric in New Hampshire. He also peaked too early and became a target of Trump, which prevented him from peeling off some Trump supporters."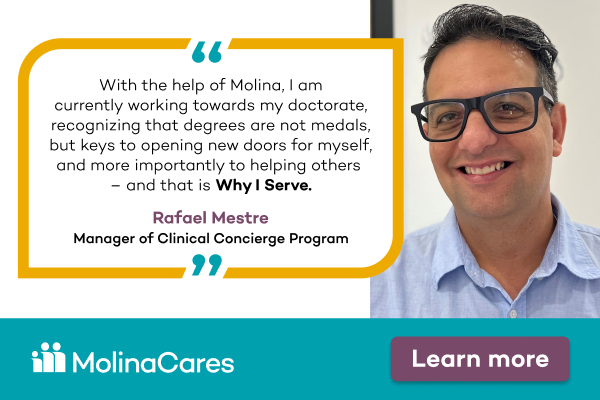 — MORE 2024 —
"Trump's hold on GOP presidential race squeezes out DeSantis, even in Florida" via Steven Lemongello of the Orlando Sentinel — DeSantis is facing some of his worst polling of the year against Trump both nationally and in key states, with the former President seemingly comfortable enough to criticize Florida's abortion laws in an early pivot to the General Election. Even more ominous for the Governor was Trump's victory over DeSantis at the GOP meeting in Orlando on Sept. 15, in which his advocates were overwhelmingly successful in rescinding a loyalty pledge that Trump refused to sign. DeSantis' hold over the party in Florida, once almost absolute, could be weakening as he continues to struggle to cut into Trump's massive lead, a political operative said.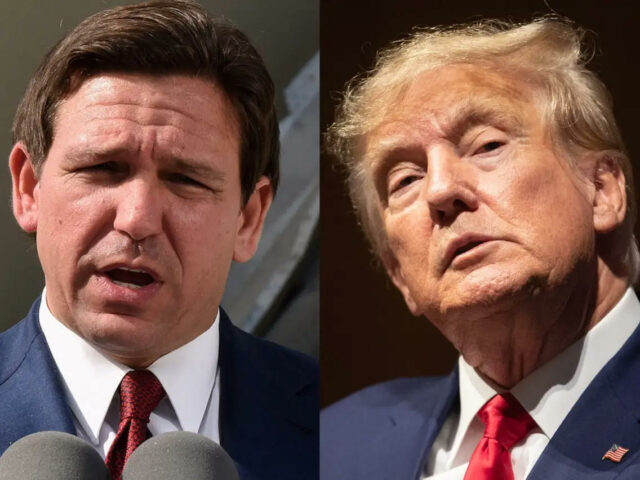 "Trump calls DeSantis abortion ban 'a terrible mistake,' sparking anger from some key Republicans" via Sara Burnett of The Associated Press — Trump is facing new blowback from anti-abortion activists for refusing to commit to national abortion restrictions and for calling DeSantis' signing of a six-week ban on the procedure a "terrible mistake." Trump repeatedly declined to say whether he would support a federal ban on abortion. Sen. Tim Scott mentioned other candidates who oppose a national abortion ban but specifically accused Trump of retreating on the issue. "Frankly, those pro-life folks that we really want to stand with us are not standing," he told more than 80 people in a church meeting room.
"DeSantis doesn't know what Nikki Haley accomplished as South Carolina Governor" via A.G. Gancarski of Florida Politics — DeSantis isn't sure what Haley accomplished as Governor of South Carolina. "I don't know really necessarily what the record would be," DeSantis said. DeSantis riffed through several of his administration's accomplishments over the years, saying he has "not been a caretaker Governor," before contrasting himself with Haley and other Republican candidates for President. "We've actually leaned in on some of these issues. And you know, all these Republicans, I think every single Republican who is running has criticized me for taking the fight to Disney regarding the ideology in the elementary schools," DeSantis said.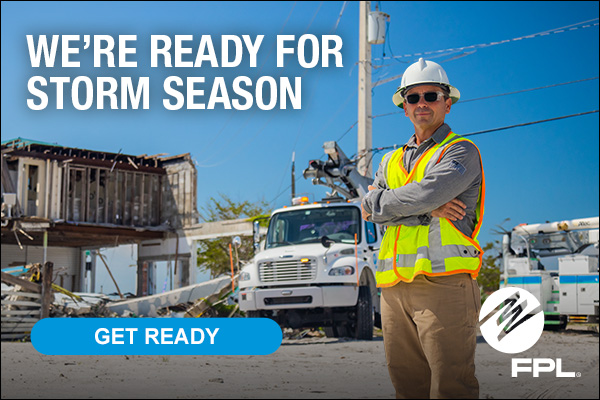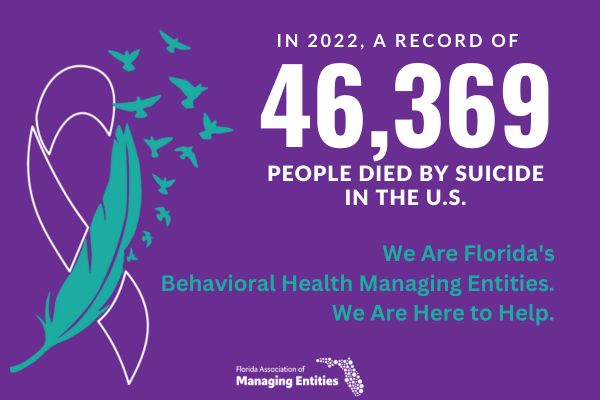 — DESANTISY LAND —
"National freedom-to-read group: Florida leading the spike in book bans" via Anne Geggis of Florida Politics — The state has moved to the No. 1 position, surpassing Texas, in keeping books out of students' hands. PEN America counted 1,406 Florida book bans spread over 33 of the state's 67 school districts from July 2022 to June 2023, accounting for more than 40% of all book bans in the country. That's an increase from the 566 book bans the New York City-based organization counted in Florida last year. And the number could likely grow in the following report. New legislation (HB 1069) took effect July 1, which Democratic lawmakers warned could lead to crusaders taking every library book off the shelf while they undergo review. The group said that Florida is providing the playbook for other states to follow.
"Anthony Fauci says DeSantis comments trigger 'crazy' people: 'reason why I have to have security'" via Nick Robertson of The Hill — Fauci said disparaging comments like those from DeSantis force him to have a security detail amid threats on his life. DeSantis and other Republicans have repeatedly attacked Fauci, who served in the Trump and President Joe Biden administrations, over pandemic policies including mask mandates and the COVID-19 vaccine. "I'm the one that had to, in an uncomfortable way … disagree with the President of the United States. That was very painful for me … but I felt that in order to just maintain my own personal professional integrity and responsibility to the American public that I had to say it like it was and I had to do it publicly," Fauci said.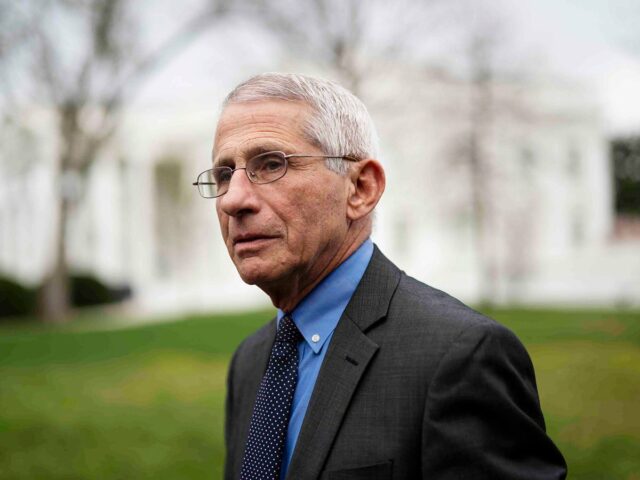 "DeSantis taps Trump admin lawyer to Chair Elections Commission" via Jesse Scheckner of Florida Politics — South Florida lawyer Chad Mizelle, who served in numerous federal roles under Trump, is now the top-ranking member of a nine-seat panel charged with upholding the Sunshine State's election laws. DeSantis appointed Mizelle, the Commission's new Chair, and one other person Thursday to the Florida Elections Commission. He also reappointed two members whose terms were close to three years past expiration. One gave a super PAC backing DeSantis' campaign a huge check three months ago.
"Florida's arrest of undocumented van driver escalates Mexico's tensions with DeSantis" via Syra Ortiz Blanes and Ana Ceballos of the Miami Herald — The arrest of a Mexican national accused of transporting undocumented migrants into the state is aggravating relations between Florida and Mexico, whose President and diplomats accuse DeSantis of being anti-immigrant. The criminal case against Raquel López Aguilar, an undocumented father of two from the state of Chiapas living in Tampa and working as a roofer, is the first case in which a Mexican national has been charged under a new Florida law targeting people who drive undocumented migrants into the state. At the direction of President Andres Manuel López Obrador, Mexican diplomatic officials in Florida are ramping up efforts to defend Mexicans accused of violating DeSantis' new law, including López Aguilar.
"Two more neo-Nazis arrested for violating Florida's new public nuisance law, cops say" via Omar Rodríguez Ortiz of the Miami Herald — Two more neo-Nazis have been arrested after they were recorded hanging swastikas and other antisemitic banners along a bridge near Orlando without the government's permission, a violation of Florida's new public nuisance law, police say. In total, four people have been arrested in connection to the racist demonstration. The law prohibits people from intentionally displaying or projecting messages on a property without the written consent of its owner. DeSantis has said it gives law enforcement agencies a new tool to stop perpetrators of antisemitic incidents and those who target religious communities. Amanda Rains and Ronald Murray turned themselves in Tuesday at an Orange County jail.
"Disney CEO Bob Iger tells investors company will 'quiet the noise' in ongoing culture war" via Michelle Vecerina of Florida's Voice — Disney CEO Iger reportedly told investors Disney will "quiet the noise" in an ongoing culture war between the company and Florida government under DeSantis and Republican leadership. Reuters reported that Iger's brief statement was included in an analyst report from Needham Media Analyst Laura Martin. The Tuesday statement was part of a presentation from investors at Walt Disney World Resort in Orlando. Iger also reportedly announced Tuesday that Disney will double its investment in theme parks and cruise ships over the next 10 years. Previously, Iger had said over the next 10 years, the company will invest around $17 billion in Walt Disney World.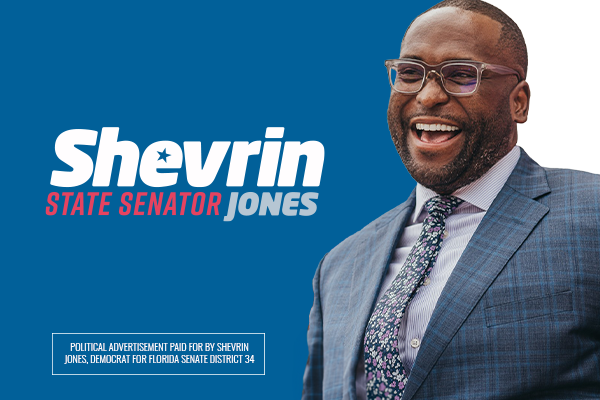 — STATEWIDE —
"Ex-CEO of disgraced domestic violence coalition faces charges of fraud, theft, misconduct" via Mary Ellen Klas of the Miami Herald — The Florida Department of Law Enforcement confirmed it has issued an arrest warrant on felony charges for Tiffany Carr, the former head of the Florida Coalition Against Domestic Violence. Carr is being charged with Patricia Duarte, the former chief financial officer of the Florida Coalition Against Domestic Violence. In a statement, FDLE said the investigation "shows that Carr and Duarte submitted false quarterly reports, billed the state for vacant positions, and charged for services never provided. The ill-gotten funds were used for excessive bonuses and leave payouts to Carr and Duarte in the amounts of $3.4 million to Carr and $291,000 for Duarte." Records showed that Carr, who resigned from the organization in November 2019 citing health problems, was paid $7.5 million over three years.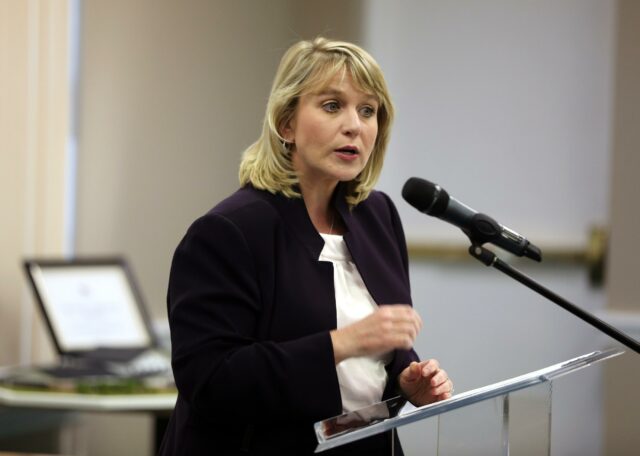 "Tom Wright was banned from women's shelter after allegedly flirting with survivor" via Mark Harper of The Daytona Beach News-Journal — Six years ago this month, Shelby Dunlap and her baby were aboard a short bus fleeing Hurricane Irma from the domestic violence shelter where they had sought refuge. A local philanthropist was also on board, amid a small group of women from the Beacon Center, Volusia County's only shelter for survivors of domestic violence, she recalled. "I think he paid for the trip," Dunlap said. And he was flirtatious, she added, talking about prostitutes in Cuba, topless women on a boat, and offering to fly her to Las Vegas. Nothing happened. She didn't go to Las Vegas, but the conversation still causes her discomfort.
"Rep. Linda Chaney says employment of minors bill aligns Florida with federal child labor laws" via Amber Jo Cooper of Florida's Voice — Chaney is responding after Democrats took to social media to criticize her newly filed legislation regarding the employment of minors ahead of the 2024 Legislative Session. The bill, HB 49, removes certain employment restrictions for minors 16 and 17 years of age, revises the age at which employment restrictions apply, and prohibits counties and municipalities from adopting or enforcing certain ordinances that are more stringent than state law.
"New Florida Emergency Operations Center will be built to withstand Cat 5 hurricane" via James Call of the Tallahassee Democrat — The Florida Department of Management Services broke ground Wednesday on a new state Emergency Operations Center in Tallahassee. The $180 million complex will be built on 40 acres of scrubland across the highway of the current facility. When built the corner of the intersection of Shumard Blvd and Capital Circle East will be filled with the Department of Revenue's office complex on the northwest corner, the state's Southwood office campus on the north and east corners, and the new operations center across Shumard from DOR at the southwest corner. Division of Emergency Management director Kevin Guthrie said the construction project will provide responders with much needed additional space, better technology for a quicker response, and a more secure facility.
"Citizens Insurance will transfer 300,000 policies to private insurers unless customers act soon" via Jesse Scheckner of Florida Politics — Hundreds of thousands of Citizens Property Insurance customers have or will get a letter in the mail this month containing at least one offer from a private insurer seeking to take over their policy. Recipients should read their letter carefully. If any offer is no more than 20% higher than the estimated renewal rate, the policyholder can no longer stay with Citizens, the state-run insurer of last resort. Citizens' customers who receive just one offer within 20% of what they pay under Citizens don't have to do anything. They will automatically have their risk transferred to the private company on Oct. 17. They may also refuse that offer and look for other coverage, but they must respond to the letter within the next 19 days.
"Idalia losses in Florida pass $200M" via Jesse Scheckner of Florida Politics — Estimated insured losses from Hurricane Idalia continue to climb by the millions daily and have now crossed the $200 million mark. As of Thursday, the Office of Insurance Regulation (OIR) website showed estimated losses at more than $202.3 million from 20,976 claims, up from $159.1 million from 17,681 claims at the beginning of last week. The most recent figures show 14,529 residential property claims have been reported since the storm. Of those, 51.6% await closure. Another 5,334 claims were for losses related to automobiles, aircraft and various machinery, among other things. Fifty-five percent of them remain outstanding. There are also 839 commercial property claims. Just 25% have been closed.
"Florida agriculture estimated losses between $78M and $371M from Hurricane Idalia" via The Associated Press — Florida agriculture losses from Hurricane Idalia are estimated at between $78 million and $371 million, with producers also suffering widespread damage to such infrastructure as irrigation rigs and fences. The Category 3 hurricane came ashore Aug. 30 along Florida's Big Bend region with maximum sustained winds near 125 mph (205 kph), sweeping across rural areas that include crops such as peanuts and cotton as well as cattle, poultry and aquaculture operations. Predicted losses for livestock are pegged at between $30.1 million and $123.4 million. Estimates for field and row crop losses are between $30.7 million and $93.6 million, with greenhouse and nursery products accounting for between $4.7 million and $68.8 million.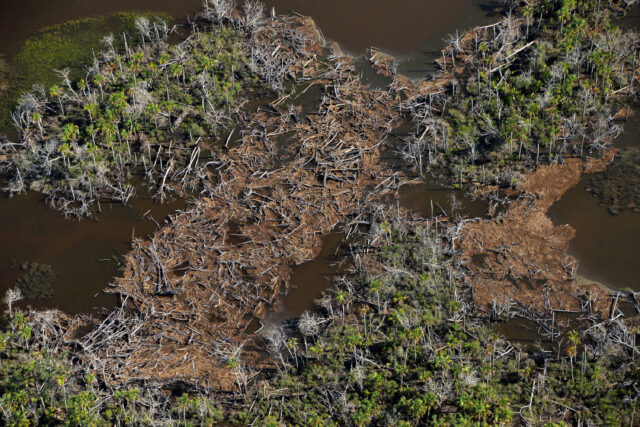 "State will help cover costs for farm irrigation fixes following Hurricane Idalia" via Danny McAuliffe of Florida Politics — The state is set to shoulder some of the costs of work undertaken by Florida farmers in the wake of Hurricane Idalia. Agriculture Commissioner Wilton Simpson rolled out an expense-sharing program that will reimburse select producers who, because of Idalia, are making repairs to existing irrigation systems. Simpson, a Republican, said in a statement that the Category 4 storm caused "widespread" agriculture losses, including "severe damage to agricultural infrastructure." He said the cost-share program will help those "hardest hit" by the storm, which made landfall in August near Florida's Big Bend region.
"Four arrested for allegedly stealing campers meant for Hurricane Ian recovery" via Michelle Vecerina of Florida's Voice — Four members of an alleged criminal theft ring were arrested Wednesday for allegedly stealing over $1 million worth of state property meant for disaster relief for victims of Hurricane Ian. According to the Florida Department of Highway Safety and Motor Vehicles, beginning in March and ending in July, the group stole, sold, and delivered 19 RVs and campers, one trailer and two pieces of heavy equipment with an estimated value of over $1 million. There were 16 of those RVs belonging to the State of Florida.
"Jimmy Patronis pressures cash apps not to work with IRS on taxing transfers" via Ryan Nicol of Florida Politics — Chief Financial Officer Patronis has a warning for cash transfer apps: Don't develop technology to tax transfers as the IRS continues work on implementing rules that would require those services to report transfers of $600 and up. Patronis visited West Palm Beach to host a roundtable speaking out against the move, calling it "an existential threat to Florida and our economy." A federal law was supposed to see the changes take hold in the 2022 tax year. However, the IRS has delayed implementation multiple times since. In the letter to cash transfer apps, Patronis said the IRS proposal is an example of "the government colluding with Big Tech to get in the day-to-day business of Americans."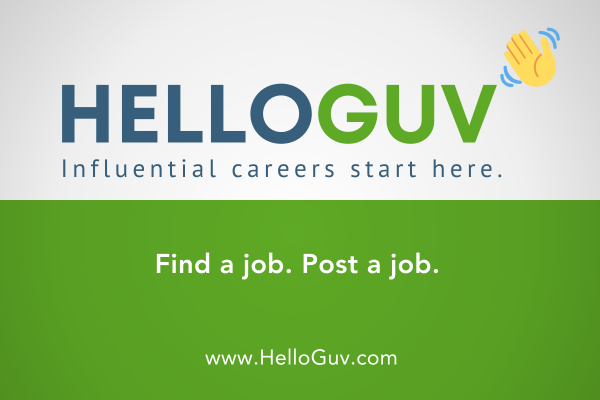 — D. C. MATTERS —
"Volodymyr Zelenskyy delivers upbeat message to U.S. lawmakers on war progress as some Republican support softens" via Ellen Knickmeyer, Lisa Mascaro and Mary Clare Jalonick of The Associated Press — Zelenskyy worked to shore up U.S. support for Ukraine on a whirlwind visit to Washington on Thursday, delivering an upbeat message on the war's progress while facing new questions about the flow of American dollars that for 19 months have helped keep his troops in the fight against Russian forces. The Ukrainian leader received a far quieter reception than the hero's welcome he was given last year from Congress, but also won generally favorable comments on the next round of U.S. aid he says he needs to stave off defeat. The Ukrainians have a solid war plan and "they are winning," lawmakers quoted him as assuring them, at a time that the world is watching Western support for Kyiv.
Happening Sunday: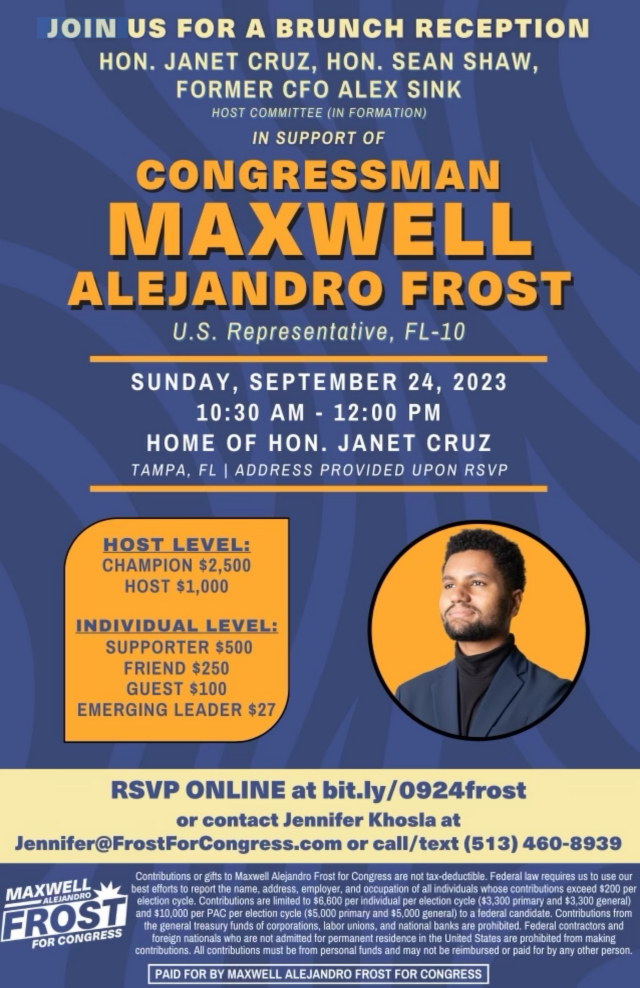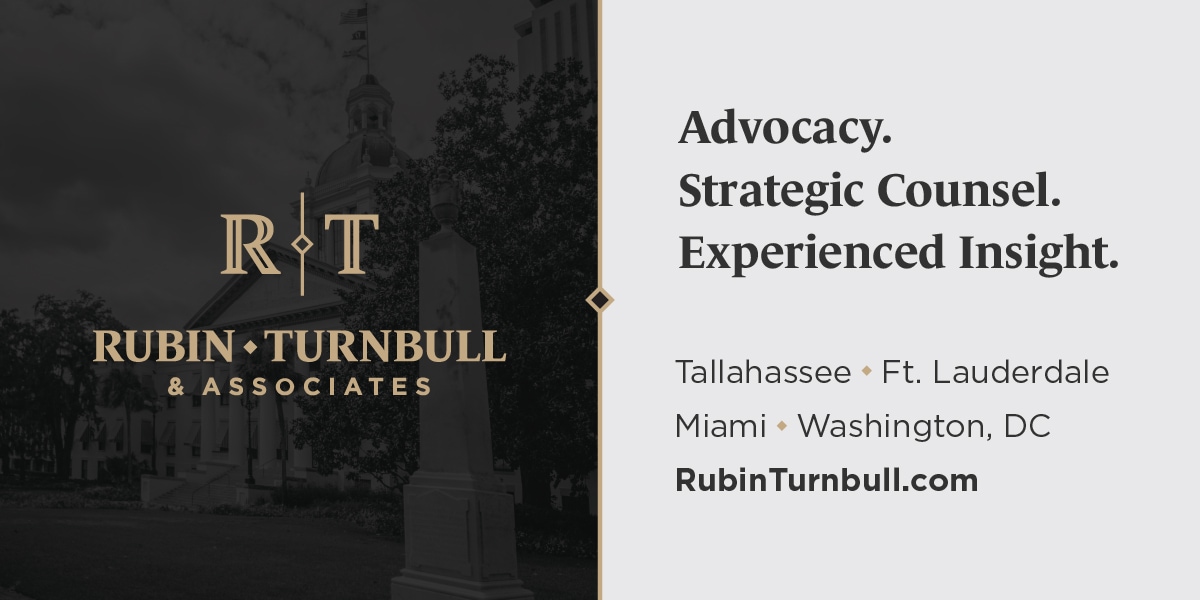 — DOWN BALLOT —
"Four Florida members of Congress endorse Debbie Mucarsel-Powell for Senate" via Jacob Ogles of Florida Politics — Half the Democrats in Florida's congressional delegation agree on who should be the party nominee for U.S. Senate next year. U.S. Reps. Kathy Castor, Lois Frankel, Maxwell Frost and Debbie Wasserman Schultz are endorsing former U.S. Rep. Mucarsel-Powell, a Miami Democrat. Wasserman Schultz, the longest-serving Democrat in the delegation, served with Mucarsel-Powell when the Senate candidate was a member of the U.S. House. "I've stood side by side with Debbie as she fought in the halls of Congress and in our South Florida communities, so I know she's a tireless defender of Floridians' freedoms and works nonstop to make our state a more affordable, safer place to live," Wasserman Schultz said.
Happening next week: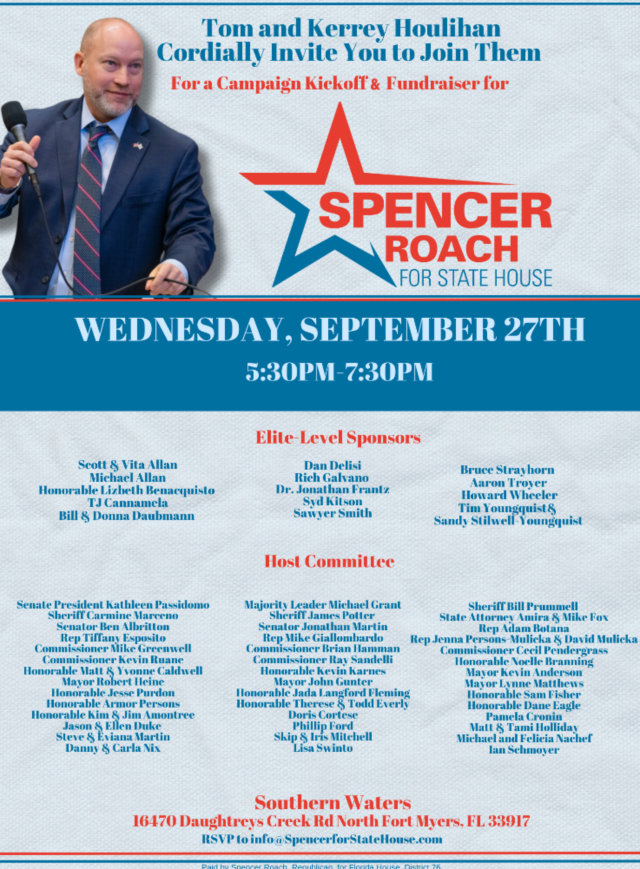 "EMILY's List endorses Marucci Guzmán in closely watched HD 35 race" via Jacob Ogles of Florida Politics — One of the nation's largest pro-choice political groups endorsed Guzmán in a state House Special Election. EMILY's List, a group dedicated to electing Democratic women who support abortion rights, endorsed Guzmán's candidacy for House District 35. The support comes at a time when Democrats expect access to abortion to drive election turnout. "As Florida Republicans work overtime to restrict our freedoms and take away our rights, it is more important than ever to elect dedicated, Democratic pro-choice champions like Marucci Guzmán," said EMILY's List President Laphonza Butler. Guzmán is one of three Democrats vying for the open HD 35 seat.
"Ruth's List Florida endorses Katherine Waldron for re-election in HD 93" via Jesse Scheckner of Florida Politics — Just as she did in her first bid for the seat she now holds, Wellington Rep. Waldron is running for re-election in House District 93 with support from Ruth's List Florida. It's the fourth time the statewide abortion rights organization, which exclusively supports Democratic women, has backed her. Protecting Waldron's seat is a "top priority" for Ruth's List Florida in the 2024 election cycle, according to the group's CEO, Christina Diamond. "Throughout her career in elected office, Rep. Waldron has worked tirelessly to bring about positive change in her community and has shown she is willing to fight to restore our reproductive rights, address climate change, and improve access to health care," she said in a statement.
"Johnny Farias campaign for HD 118 nets nod from Florida Democratic Party" via Jesse Scheckner of Florida Politics — Farias' renewed bid for the seat representing House District 118 now carries an endorsement from the Florida Democratic Party (FDP). The party announced its support for Farias, who ran unsuccessfully against former Rep. Juan Fernandez-Barquin last year in HD 118. DeSantis tapped Fernandez-Barquin, a fellow Republican, in June to serve as Miami-Dade Clerk and called a Dec. 5 Special Election to replace him. Farias is the right man for the job, according to FDP Chair Nikki Fried.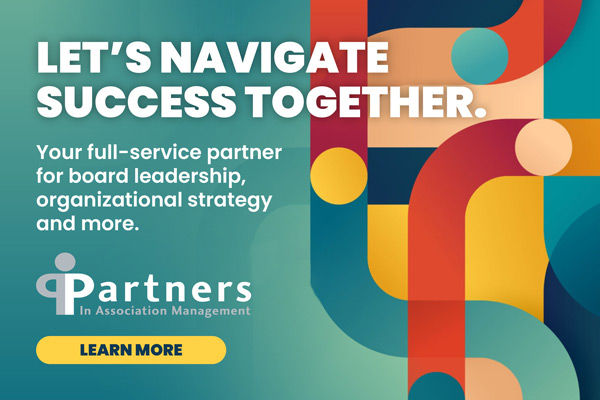 — LOCAL: S. FL —
"Parkland massacre site scheduled for demolition next Summer" via Anne Geggis of Florida Politics — A landmark of horror and heartbreak, Marjory Stoneman Douglas High School Building 1200 has been scheduled for demolition as soon as the current academic year is over in 2024, the Broward County School District announced. The sixth anniversary of the state's worst school shooting will pass before the walls come tumbling down. But it will be a milestone for the survivors. "It's been very painful driving by the site of the Parkland school shooting for the last 5 1/2 years knowing that's where Alex took his last breath," Max Schachter posted on X as the news spread, remembering his son. "I look forward to the day when there will be a beautiful memorial in its place commemorating the 17 beautiful people murdered Valentine's Day 2018. NEVERFORGETMSD17″
"Fort Lauderdale sends $1.2M to phishing scammer, city says" via Susannah Bryan of the South Florida Sun-Sentinel — Fort Lauderdale was the victim of a phishing scam that tricked the Accounts Payable department into making a payment of $1.2 million to a scammer pretending to work for a local construction firm, City Manager Greg Chavarria confirmed. Chavarria sent out an alert to city officials by email at 5:51 p.m. Wednesday. "Someone sent a request for an ACH payment (Automated Clearing House electronic funds transfer) pretending to be Moss Construction," he wrote. "The scammer filled out the paperwork and had a blank check attached. Accounts Payable checked the names and they matched corporate records." The city's bank is working to get the money back, but it will take at least a week, Chavarria said.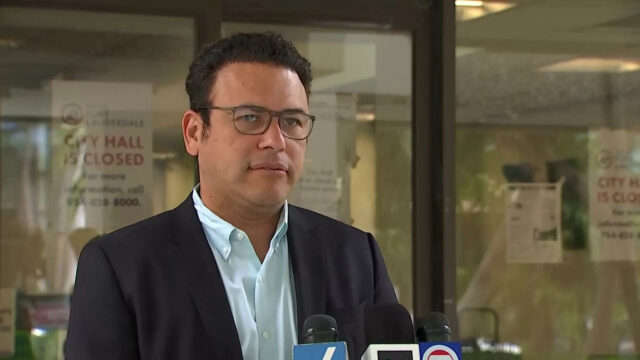 "Do Republican ties hurt candidates in liberal Miami Beach? Election will be a test" via Aaron Leibowitz of the Miami Herald — Miami Beach City Commission candidate David Suarez has a history of supporting Republican politicians. A year ago, according to campaign finance data, Suarez gave $2,900 to the U.S. Senate campaign of Blake Masters, a former Colorado candidate who was described by POLITICO as a "hard-line nationalist" and promoted a theory that Democrats were encouraging immigration to "change the demographics of this country." In 2020, he gave $25,000 to a slew of Republican candidates and PACs, including more than $100 to the campaign of Laura Loomer, a far-right Florida congressional hopeful. Do Miami Beach voters care? As Suarez and several other candidates with Republican ties seek office in a city known for its liberal leanings, the Nov. 7 election may help provide answers.
"Commissioner spent 57 days in Miami's 'ultimate business playground.' Then he was arrested" via Tess Riski and Joey Flechas of the Miami Herald — Room 801 at the 40-story East Miami hotel is described as the "ultimate business playground" — complete with a wet bar, full master bathroom, king-size bed and a conference room that "comfortably fits" more than a dozen people. The suite, according to the hotel's website, can be accessed through a separate elevator that allows guests to "enjoy an extra layer of privacy and exclusivity." It's in this room, investigators say, where Miami City Commissioner Alex Díaz de la Portilla spent weeks in the Summer and Fall of 2020, racking up nearly $30,000 in expenses — and relying at times on lobbyists to cover the costs.
"Boynton Commissioners almost got a massive pay raise. They turned it down, at least for now" via Giuseppe Sabella of the Palm Beach Post — Commissioners in Boynton Beach shot down a controversial budget proposal this month that would have more than doubled their yearly pay. The proposal angered some residents and while that money is now off the table, a conversation about future raises is still expected. City Commissioners earn $23,800 a year. The Mayor collects $28,559. They rarely see a large pay increase, and when they do — including a vote by Commissioners to increase their own salaries in 2004 — it leads to public disagreements among those who believe that strong pay attracts strong leaders and those who believe that Commissioners signed up for the salary that comes with public service.
"$8M legal tab: Indian River, Martin counties paid the price for fighting Brightline" via Nick Slater of Treasure Coast Newspapers — Indian River and Martin counties poured millions of tax dollars into their legal battles against Brightline and its funding. In the end, however, they failed to block the construction of the railroad through the Treasure Coast. The two counties spent nearly $8 million in legal fees fighting Brightline. Martin County settled its lawsuit in 2018; Indian River's final action was settled in 2021. Martin County's lawsuit against Brightline had lasted three years and cost taxpayers more than $4.1 million. At the time of the settlement, Martin County Commissioner Ed Ciampi said money set aside for the lawsuit was running out and the county would need to draw from its already dwindling general fund reserves to continue.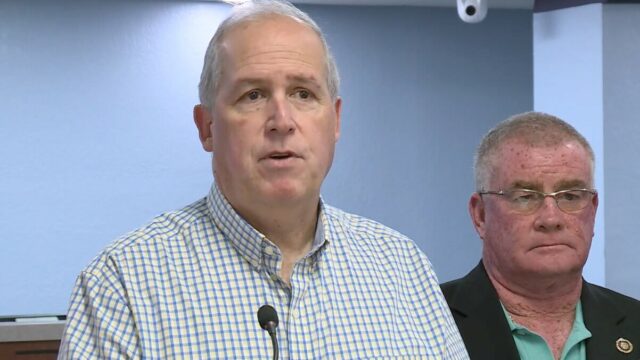 "AT&T is working on its system in the Florida Keys. Sheriff says drivers' lives are at risk" via David Goodhue of FL Keys News — The Florida Keys' sheriff on Thursday warned state transportation officials that people driving on the only highway spanning the entirety of the island chain are in danger because of underground utility work that has left part of the road in shambles for weeks. Monroe County Sheriff Rick Ramsay, in a letter obtained by the Miami Herald, told Florida Department of Transportation District 6 Secretary Stacy Miller that patchwork to cover over AT&T trenches has resulted in a two-mile stretch of U.S. 1 "worse than a third-world country and is a hazard for and to public safety." In all, he said there are about nine areas along the highway between mile markers 20 and 23 in the Lower Keys that have become hazards due to the ongoing work.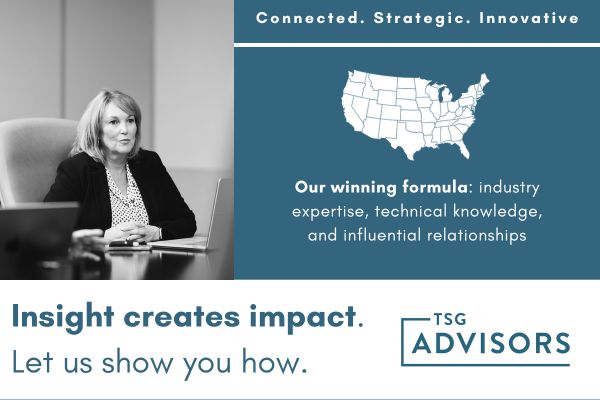 — LOCAL: C. FL —
"Judge orders arrest of far-right blogger for contempt of court in defamation suit" via Annie Martin of the Orlando Sentinel — An Orange County judge has ordered the arrest of far-right blogger and Proud Boys associate Jacob Engels, who has been held in contempt of court in a civil suit brought by a former House candidate who says Engels published false information about her and conspired with other operatives to defame her. A warrant was issued for Engels, nearly a month after former candidate Elizabeth Cornell's attorney asked Judge James Craner to imprison him if he didn't follow court orders. On Aug. 29, Craner signed an order for Engels to be taken to the Orange County jail and assessed a fine of $1,500 per day if he did not provide the records and information within 10 days.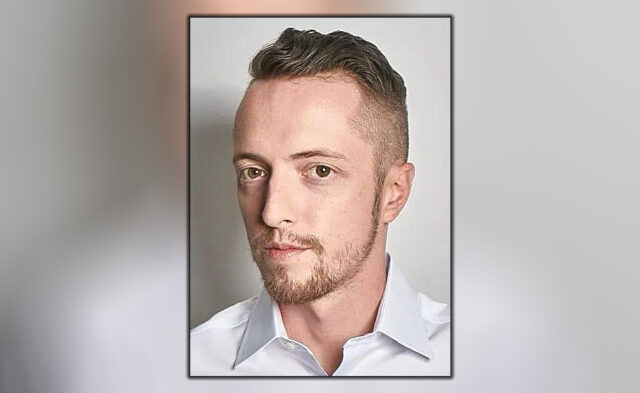 "Name-confusion fight between Orlando, Sanford airports goes to federal court" via Martin E. Comas of the Orlando Sentinel — Last March, the Trademark Trial and Appeal Board of the U.S. Patent and Trademark Office agreed the smaller airport's name would confuse travelers and upheld the denial of the Sanford Airport Authority's 2016 application to trademark the name Orlando Sanford International Airport following objections from the Greater Orlando Aviation Authority, which runs the larger airfield. The name Orlando Sanford International Airport and its logo "are not confusingly similar" to the name Orlando International Airport, states the lawsuit filed in the U.S. Middle District Court in Orlando. The Greater Orlando Aviation Authority is attempting "to monopolize the phrase Orlando International Airport," the lawsuit also notes.
"Osceola Sheriff, deputies face civil rights lawsuit in killing of Jayden Baez" via Cristóbal Reyes of the Orlando Sentinel — Lawyers for the family of Baez filed a civil rights lawsuit against Osceola County Sheriff Marcos López and two deputies accused of excessive force in killing the 20-year-old and injuring two others in a Target parking lot last year while trying to apprehend them for suspected shoplifting. The federal lawsuit claimed the deputies, who were practicing "dynamic vehicle takedowns" as part of training exercises near the store before the April 2022 shooting, opted to demonstrate those tactics on Baez's car as deputies monitored the alleged theft of about $46 in pizza and Pokémon cards. According to the legal complaint, two deputies followed Baez's companions, Michael Gómez and Joseph Lowe, into the store and back to Baez's car without stopping them as they allegedly stole the merchandise.
"Funding for sample ballots remains after Brevard County budget passed in 5-0 vote" via Tyler Vazquez of Florida Today — With some consternation, the Brevard Board of County Commissioners passed the county's $2.04 billion annual budget, but not without bipartisan pushback on the county's earlier decision to discontinue paying for sample ballots and postage for mail-in ballots ahead of elections. In a reversal, Commissioner Jason Steele changed his vote on the relatively small but controversial budget item: Sample ballots issued by the Supervisor of Elections Office. In a show of solidarity, all five Commissioners passed the budget unanimously, despite stated opposition from Commissioner John Tobia and Commission Chair Rita Pritchett, after Steele went back on his earlier decision.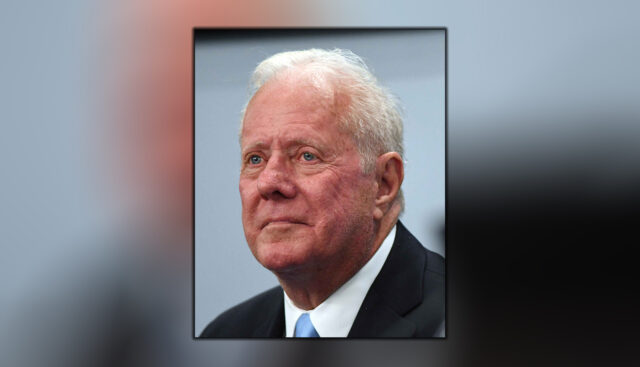 "Daytona Beach's fast-growing west side has forced changes in City Commission zones" via Eileen Zaffiro-Kean of The Daytona Beach News-Journal — Do you know which City Commissioner represents your neighborhood, and why it's important to know? Daytona Beach has just completed the redistricting process it undergoes once per decade to adjust for population shifts and ensure the city's six Commission zones represent a roughly equal number of residents. After U.S. Census results are released every 10 years, the city adjusts the boundaries of each zone in response to population increases and decreases. Daytona Beach is in a growth spurt, increasing from 61,000 residents in 2010 to about 80,000 now. The process to evenly distribute Daytona Beach's residents among the six Commission zones has been completed now and the new zone map went into effect Sept. 1.
"Daytona Beach adopts $343M budget and 11% property tax increase" via Eileen Zaffiro-Kean of The Daytona Beach News-Journal — City Commissioners have approved a $343 million budget that comes with a double-digit property tax increase and includes nearly $1.4 million to cover city employee raises. City Commissioners unanimously approved the new property tax rate and budget that includes $256.89 million in operating expenses and $23.82 million designated for capital projects. The biggest fund within the city's spending plan is the general fund, which tallies $138.9 million and will go toward paying city employees and running everything from the police and fire departments to parks. The water and sewer fund tallies $71.8 million, and the solid waste management fund holds $25.3 million. The new fiscal year begins Oct. 1.
"State Attorney declines to pursue open meetings charges against 3 Deltona Commissioners" via Mark Harper of The Daytona Beach News-Journal — The State Attorney's Office has declined to pursue charges against three Deltona City Commissioners who the Mayor said were discussing city business in secret, thus violating Florida's Sunshine Law. Mayor Santiago Avila Jr. complained to prosecutors that the Commissioners were privately interviewing a potential City Manager candidate at the home of Deltona City Commissioner Jody Lee Storozuk, one of the three, according to a Sept. 6 memo signed by Jeanne Stratis, Assistant State Attorney. Avila's allegation was that four Commissioners were part of the meeting: Storozuk, Stephen Colwell, Dana McCool and Thomas Burbank. However, Burbank denied being present and the others told prosecutors Burbank wasn't there.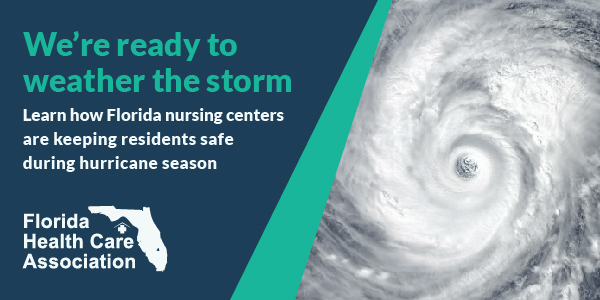 — LOCAL: TB —
"State Attorney won't prosecute Polk School Board member Rick Nolte for campaign violations" via Gary White of The Lakeland Ledger — Polk County School Board member Nolte will face no criminal charges for violating state campaign-finance laws in the 2022 Election. Jacob Orr, an assistant state attorney for the 10th Judicial Circuit based in Bartow, said in an emailed statement that the office would not pursue criminal charges against Nolte. His statement came after the office received a signed consent order from the Florida Elections Commission, which investigated complaints against Nolte and fined him $1,250. Nolte signed the order on May 2, and the FEC held a hearing in August to approve it. But the order remained unsigned until Thursday because a technical problem prevented Billy Townsend, who filed the complaint, from virtually joining the session.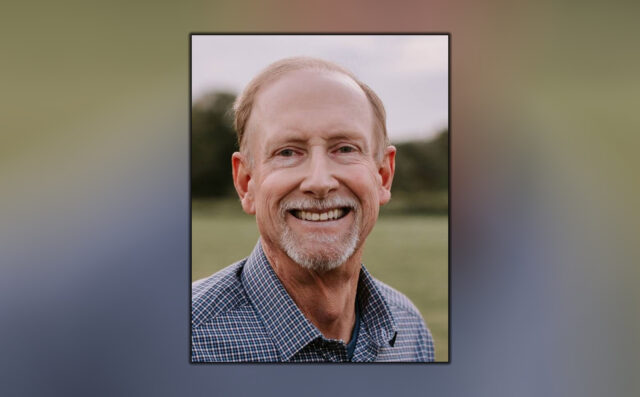 "Against an uproar from residents, Polk Commissioners OK 1,876-home Creek Ranch development" via Paul Nutcher of The Lakeland Ledger — Following more than a year of public opposition, the Polk County Commission approved a land-use change for a subdivision of 1,876 single-family homes on part of the Creek Ranch along Lake Hatchineha Road in the county's fastest-growing northeast region. The 3-1 vote, with Board Chair George Lindsey recusing himself, contained only one no vote, cast by Commissioner Neil Combee. The affirmative vote allows for a change to the current land use, which had only permitted one housing unit per 5 acres. In addition to the homes, the rural mixed-use development includes 12.31 acres for retail, office, personal services or a community facility. The Polk County Planning Commission approved it by a one-vote margin.
"St. Pete fuel company announces $750 million project" via Mark Parker of St. Pete Catalyst — Due to the state's lack of in-state production and pipelines, most Florida gas stations rely on ships to carry fuel across environmentally sensitive estuaries — when the weather permits. St. Petersburg-based Belvedere Terminals plans to mitigate that dependence through a $750 million fuel infrastructure investment. Tim Schwarz, chief financial officer, said the new terminals would take 100 semi-trucks off the road daily. He said the capital investment would create thousands of construction jobs and provide over 200 high-income careers. "Every gallon of gas people consume in Florida comes over the water into ports," Schwarz said. "It's expensive, vulnerable and subject to significant disruptions whenever there is severe weather."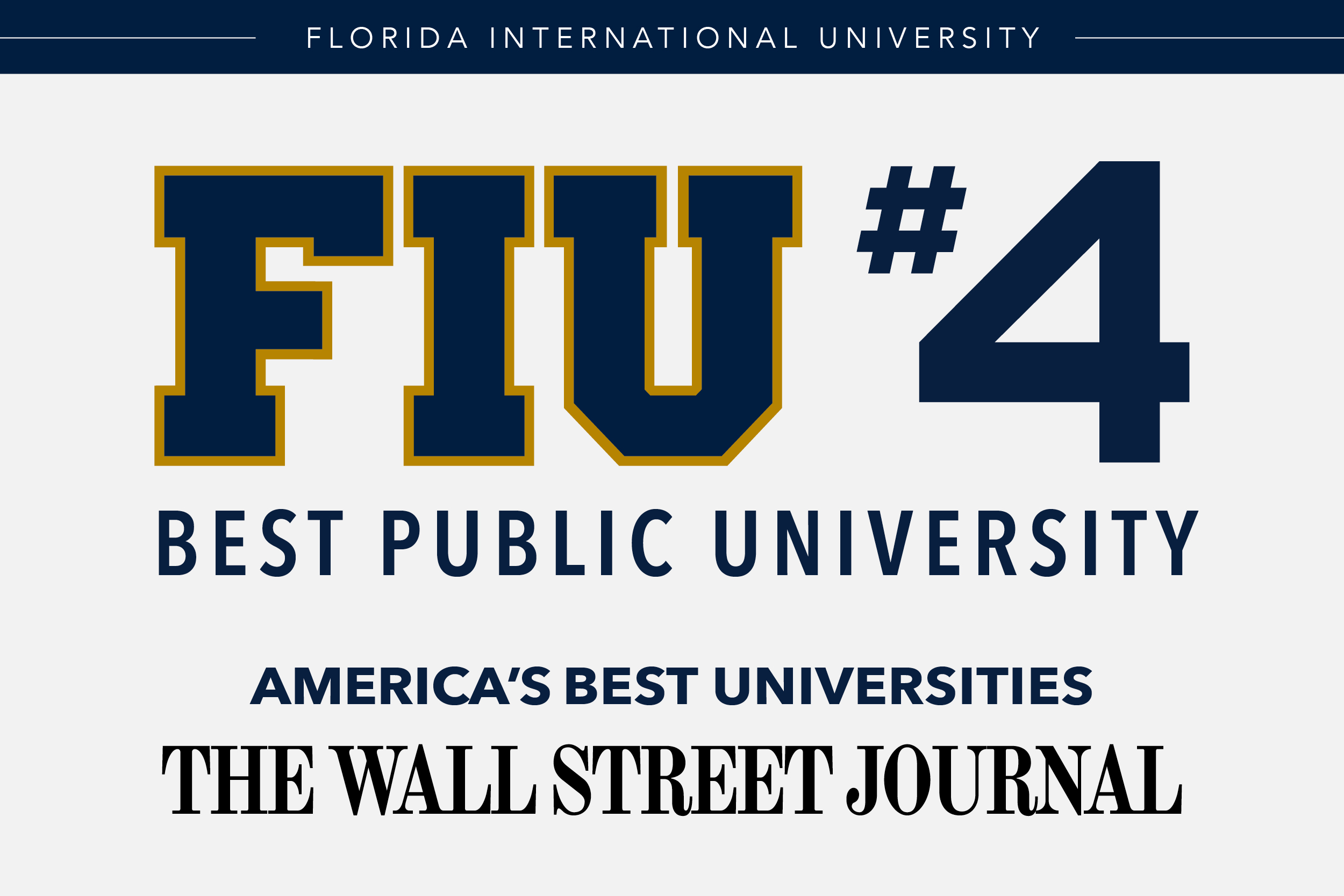 — LOCAL: N. FL —
"Donna Deegan to meet with Joe Biden, other Mayors to discuss gun violence" via Jim Piggott of News4Jax — Deegan will be traveling to Washington on Friday to meet with Biden to discuss gun violence. The news comes 26 days after Jacksonville witnessed one of its worst hate crimes in recent history when a white man who hated Black people, according to the sheriff, murdered three Black residents inside a Dollar General store and then took his own life. The memorial at the store is still standing strong and serves as a reminder of how gun violence is tearing communities apart. The issue forced Biden to create the first-ever federal office of gun violence prevention. The President is expected to meet with Deegan and other Mayors from across the county to announce how the new office will work to provide funding for programs in areas struggling with gun violence.
"On campus with UF President Ben Sasse as he seeks a 'north star' beyond rankings" via Divya Kumar of the Tampa Bay Times — A few minutes remained before Sasse's presentation to a roomful of faculty, so the University of Florida's first-year president placed his blazer on a chair, rolled up his sleeves and began working the room. He shook hands, introducing himself as "Ben." It was late August, six months into his tenure, so he was still meeting people on campus for the first time. The 51-year-old former U.S. Senator began his address a short time later, telling the College of Education faculty how he had lugged 11 mini refrigerators to students' dorm rooms as they moved in for the Fall Semester.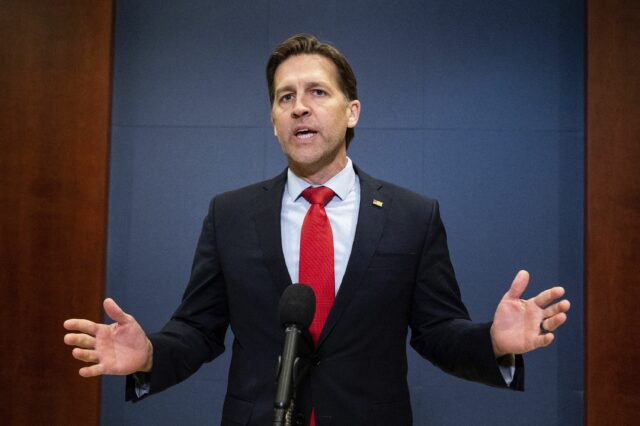 "Tougher laws against sex offenders, predators approved in St. Johns County" via Steven Ponson of Jax Today — New local rules for sexual predators and offenders were approved by St. Johns County's Board of County Commissioners Tuesday, following a court ruling last year that struck down part of the county's previous ordinance. One change: it will now be illegal for registered sexual predators and offenders to participate in holiday events or practices that involve children outside their own families. Another change: offenders and predators may not alter their appearance in a way that could "entice, attract or lure" children, including wearing Halloween costumes or Santa suits. The ordinance also outlines types of holiday decorations that cannot be displayed at their house.
"Gateway Jax debuts $2 billion downtown development project with over 1,000 housing units" via Hanna Holthaus of The Jacksonville Florida Times-Union — A $500 million project in one downtown corridor could lead to a $2 billion build out in the next decade, Gateway Jax developers announced Wednesday. The initial phase includes over 1,000 multifamily housing units, at least one grocery store, dining, retail and green space in what developers call the "Pearl Street District" between East Church and West Union streets. The goal is to eventually expand to cover over 20 city blocks. Bryan Moll, chief executive officer of Gateway Jax, hosted an event to announce the plans and lead a walking tour to show virtual renderings of the new district with his development partners and city leadership.
"Complaint filed against district employee for handling of parent's concerns over new club" via Andrew Caplan of The Gainesville Sun — A complaint has been filed against a Gainesville High School employee for how they handled a situation involving a concerned parent whose child was "hand-selected" for a new club created almost exclusively for low-performing Black male students. The complaint, which cites multiple School Board policy violations that include discrimination, retaliation and releasing personally identifiable information about a student without consent, is also being spurred by what could be the first known case where a superintendent has disregarded Florida's Parents' Bill of Rights law.
"Bay County raises millage rate; some officials blame the Front Beach Road CRA in PCB" via Nathan Cobb of The Panama City News-Herald — For the first time in a decade, Bay County residents will see an increase in the millage rate. Bay County Commissioners on Tuesday voted to raise the area's millage rate from 4.4 mills to 5.4 mills. The decision has sparked controversy, with some officials saying the uptick stems from Panama City Beach's Front Beach Road Community Redevelopment Area Plan. The Front Beach Road CRA was formed in 2001 to install upgraded features such as sidewalks, improved lighting and new street signs along Front Beach Road and its connecting roadways. PCB's website notes its CRA budget for the 2024 fiscal year is more than $56.387 million, which is a 97% increase over the 2023 CRA budget of about $28.556 million.
"Kirk Reams, scandal-plagued clerk of court in Jefferson County, arrested in FDLE probe" via Jeff Burlew of the Panama City News-Herald — Reams, who courted controversy and scandal during his embattled tenure as Jefferson County clerk of court, was arrested on charges he misused the office credit card, took part in a kickback scheme and misappropriated funds. The Florida Department of Law Enforcement, which arrested Reams on Wednesday, began investigating him in 2021 after receiving reports of criminal misconduct involving his office. He was accused of scheming with two others to defraud the county of hundreds of thousands of dollars. Reams was arrested on single felony counts of scheme to defraud over $50,000 and grand theft over $100,000. He was booked into the Jefferson County Jail.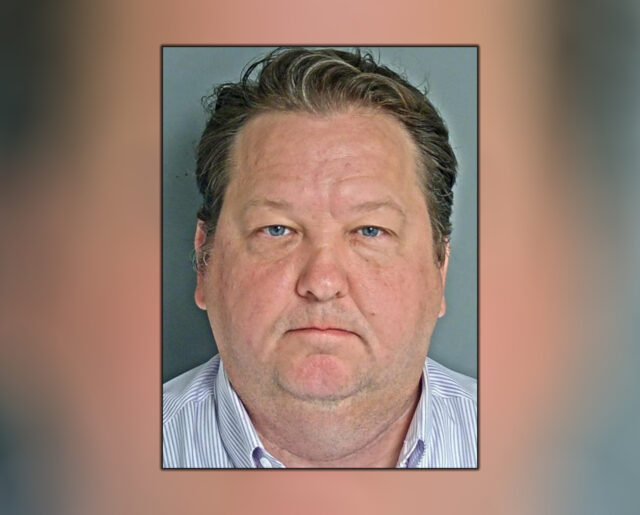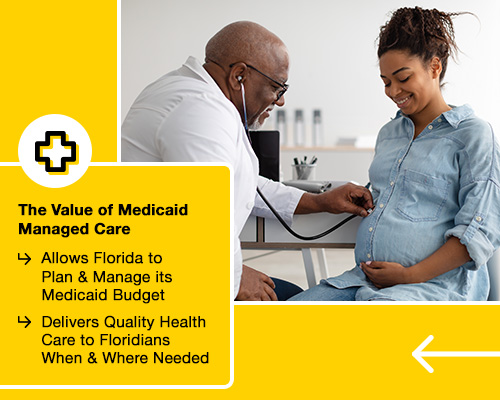 — LOCAL: SW. FL —
"Manatee County OK's 2024 budget with money for traffic, public safety and park upgrades" via Ryan Callihan of the Bradenton Herald — The Manatee County Commission has approved a $2.9 billion 2023-24 budget, which includes funding for transportation improvements, government salary increases and upgrades to recreational areas. Board members voted unanimously to adopt the budget following a series of public meetings this Summer. In the past two years, Commissioners voted to reduce the tax rate, but the rate will remain the same for property owners this year. Based on the 6.2326 tax rate, the owner of a Manatee County home worth about $325,000 can expect to pay roughly $2,025 in property taxes this year. Additional taxes are paid to the local school district and municipalities, and tax discounts are available for homesteaded properties.
"Sarasota School Board votes to begin redrawing Board members' district lines now" via Steven Walker of the Sarasota Herald-Tribune — Just two years after the Sarasota County School Board redrew the boundaries for the areas represented by the panel's five members, the Board started the process to revise the district lines again. With only Board member Tom Edwards dissenting, the School Board voted 4-1 to approve a $39,000 contract with a consultant to launch the redistricting effort. The consultant, Kurt Spitzer and Associates, Inc., will start immediately and return to the Board with a presentation on Oct. 10, according to Board documents. The money to pay the consultant comes from the general fund, which saw a sizable increase in the $1.5 billion budget.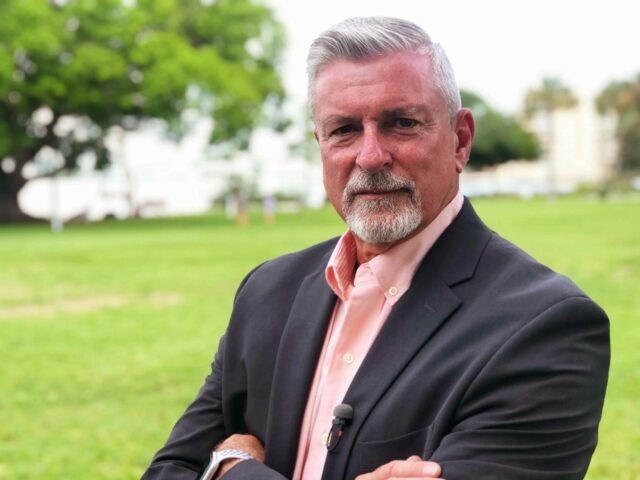 "Marco Island's water quality improves, city to get off Florida's impaired waterways list" via J. Kyle Foster of the Naples Daily News — Marco Island has a plan to improve its waterways and rid them of toxic nitrogen levels that breed algae blooms and overstimulate aquatic plants. That plan will get the city off Florida's impaired waterways list and help to satisfy concerns from residents raised more than five years ago. The city's improvement plan was accepted earlier this month by state and federal regulators. Since 2019, Marco Island has been on the Department of Environmental Protection's (DEP) impaired waterways list. That means the waterways had at least two years of noncompliance with allowed levels of toxins. The problem is too much nitrogen. Nitrogen levels in the city's canals have been above standards set by the DEP since 2017.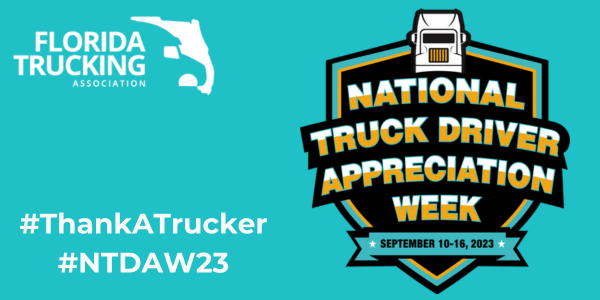 — TOP OPINION —
"It's not a race, yet, in the Republican Primary" via Nate Cohn of The New York Times — Trump's lead in the Republican Primary just keeps growing.
He breached 60% of the vote in Fox News and Quinnipiac polls last week, including 60-13 and 62-12 leads over his nearest rival, the not-so-near DeSantis.
Even more notable: His gains follow what would be considered a disastrous 50-day stretch for any other campaign. Since early August, he has faced new federal and state criminal indictments for attempting to subvert the 2020 Election. He skipped the first presidential debate, which was nonetheless watched by over 10 million people. Not only did it not hurt him, but he came out stronger.
With these latest gains, Trump is inching into rarefied territory. The latest surveys show him polling about as well as any candidate in the history of modern contested Presidential Primaries.
The winner of the first debate might have been Haley, but she represents something of a best-case for Trump: moderate and strong enough to peel away anti-Trump votes from DeSantis, far too moderate to pose a serious threat to DeSantis or to win the nomination.
So, while history and today's circumstances suggest a path toward a tighter race, it's worth being frank about what we're watching today. This race currently has many of the features of a noncompetitive contest, like an overwhelming polling lead, a leading candidate who doesn't need to debate and party leadership that's unwilling to attack the front-runner, despite major reservations. It's a lot like what we see in the Democratic race, which is not considered competitive.
While the race might become hotly competitive in the future, it isn't exactly a competitive one today.
— OPINIONS —
"Democracy is in trouble if Miami officials brush aside reporters and ignore questions" via Alex Minas of the Miami Herald — Our journalists work tirelessly to provide the news that matters most to South Florida, and we have more than 100 journalists serving this mission daily. These reporters have sent 55 requests for comment from the Mayor either through his city of Miami communication directors, the representative for his presidential campaign or both. More than half these requests were ignored. Sarah Blaskey and Joey Flechas attended a city budget meeting on Sept. 9 in hopes of getting some of those answers. The Mayor tried to take Blaskey's phone out of her hands as she recorded his reaction to questions outside his office at City Hall. Any kind of physical interaction with our reporters is not acceptable. Asking tough questions for our community is their job.
"Carolina Amesty touts millions in local pork projects — and raises red flags" via Scott Maxwell of the Orlando Sentinel — The one that caught my eye was at the bottom of another pork-promoting post the freshman GOP legislator had shared a few weeks earlier: "CAROLINA AMESTY SECURES MILLIONS FOR OUR COMMUNITY." The spending in question: $3 million in taxpayer money going to the small Florida State Hispanic Chamber of Commerce for something called a "Flood & Stormwater Predictive Analytic Solution Pilot." That just seemed … odd. Millions of tax dollars for a stormwater project are going to a South Florida-based Chamber of Commerce. The money was meant to benefit the tiny Village of Key Biscayne. In fact, her sponsored request listed only one "documented show of support" to justify this $3 million appropriation — an alleged "Letter of support from the village manager of the Village of Key Biscayne." I say "alleged" because the House Speaker's office said it had no evidence of such a letter.
"Jacksonville Sheriff promised transparency. On jail deaths, there's secrecy" via Nate Monroe of The Florida Times-Union — Sheriff T.K. Waters inked the $110 million contract with private firm NaphCare earlier this Summer after a string of inmate deaths at the jail under the care of Armor had attracted public scrutiny. It has never been clear that swapping one private firm with another would fix the underlying trend of rising jail deaths since JSO privatized medical care in 2017. And in reaching a deal with NaphCare, Waters essentially repeated the sins of his predecessor: This was a no-bid contract — unusual for a government contract of this size, and for which there are many potential providers — just as Armor's 2017 agreement was. How Waters landed on NaphCare, a firm, like Armor, with its own concerning record of inmate treatment, is a mystery.
"Republican consultant: Anger is not public policy. My party has lost its way" via Alfredo Rodriguez III for the Miami Herald — Conservatism used to mean something. Not too long ago it was a philosophy the Republican Party cherished, promoted and defended. In the simplest of terms, conservatism used to represent the ideals and principles encouraging personal freedom and responsibility, Judeo-Christian morals, innovation and entrepreneurship, American sovereignty, defense of our nation and its citizens and democracy over totalitarianism. Those values have been corrupted and abandoned in many instances, particularly by several of our elected leaders and those interviewing for those jobs. Many conservatives, myself included, are deeply concerned by this circumstance.
"A theory of Elon Musk's maniacal drive" via David Brooks of The New York Times — Musk had a miserable childhood in South Africa marked by verbal and physical abuse from a father who repeatedly told him he was worthless. He had no friends and lived in a world in which you either bullied or were bullied. A background like that might create a sense of existential insecurity, which could induce in some a lifetime of self-doubt or in others a manic ambition to prove the bastards wrong to earn love, significance and safety. But Walter Isaacson's account suggests that this is not the only or even the main impetus behind Musk's extreme ambition. In the midst of that bleak childhood, Musk dived into science fiction, computer games and comics, and in some sense never left.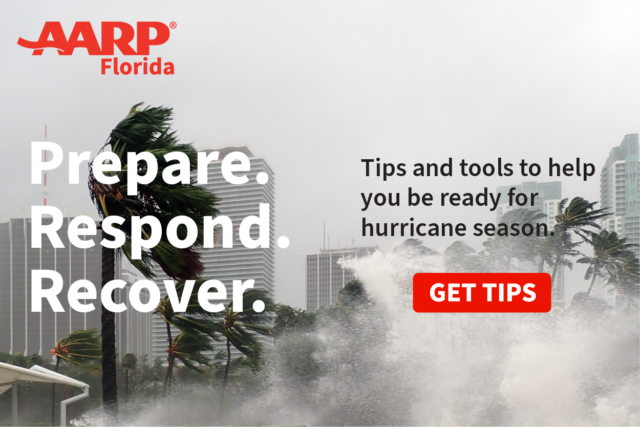 WEEKEND TV
ABC Action News Full Circle with Paul LaGrone on Channel 10 WFTS: Pat Donovan and Aaron Jacobson from "The Pat and Aaron Show" on 620 AM and 95.3 FM in Tampa and ABC News Political Director Rick Klein.
Facing South Florida with Jim DeFede on CBS 4 in Miami: The Sunday show provides viewers with an in-depth look at politics and other issues affecting the South Florida region.
In Focus with Allison Walker on Bay News 9/CF 13: A discussion about Hispanic Heritage Month, with a look at the efforts state, county and local communities are working on to integrate and celebrate this growing population. Joining this week's host Spectrum News 13 anchor Eric Levy are Santos Morales, Enterprising Latinas; Margie Viera, BeGlobal Marketing; David Santiago, Volusia County Commissioner.
Political Connections on Bay News 9 in Tampa/St. Pete: An interview with Sen. Linda Stewart on legislation passed during the Legislative Session and bills she's working on in advance of Fall Committee Weeks.
Political Connections on CF 13 in Orlando: An interview with Democratic Rep. Frost as lawmakers look for a bipartisan way to break the budget gridlock and avoid a government shutdown.
The Usual Suspects on WCTV-Tallahassee/Thomasville (CBS) and WJHG-Panama City (NBC): Steve Vancore and Ken Daley, Chair of the Florida Beer Wholesalers Association.
This Week in Jacksonville with Kent Justice on Channel 4 WJXT: Jacksonville District 14 Council member Rahman Johnson; Matthew Chang, CEO of Chang Industrial; Adam Chaskin, CEO of the Jewish Community Alliance Jacksonville; and Michelle Moore, First Coast YMCA.
— INSTAGRAM OF THE DAY —
— ALOE —
"Tampa General Hospital named 'Best in Class' in WebMD Choice Awards" via Peter Schorsch of Florida Politics — Tampa General Hospital (TGH) has earned WebMD's top honors in its Choice Awards. The health system is one of just 26 in the nation to receive the WebMD Elite Choice Award honoring systems patients prefer two to one over competitors. The WebMD Choice Awards recognize health systems patients deem "best in class." "This national recognition by patients and providers as the region's preferred hospital is a testament to the exceptional care we offer at Tampa General Hospital," TGH President and CEO John Couris said.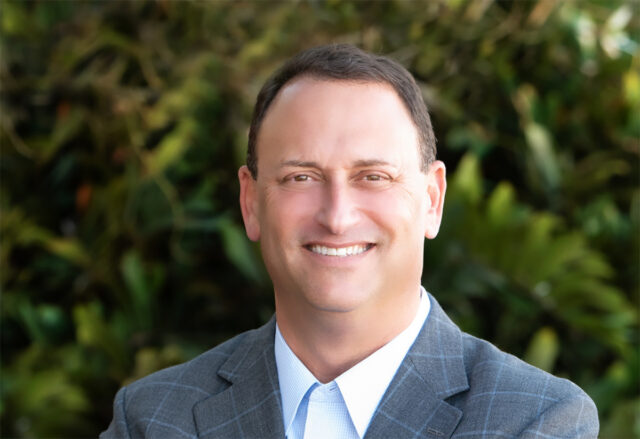 — HAPPY BIRTHDAY —
Best wishes to Sen. Jennifer Bradley, Mario Bailey, Chris Clark, Brian Melton, and PR ace William Stander (shhh). Celebrating on Sunday is Jessica Love of GrayRobinson.
___
Sunburn is authored and assembled by Peter Schorsch, Phil Ammann, Daniel Dean, Ryan Nicol, Jacob Ogles, and Drew Wilson.