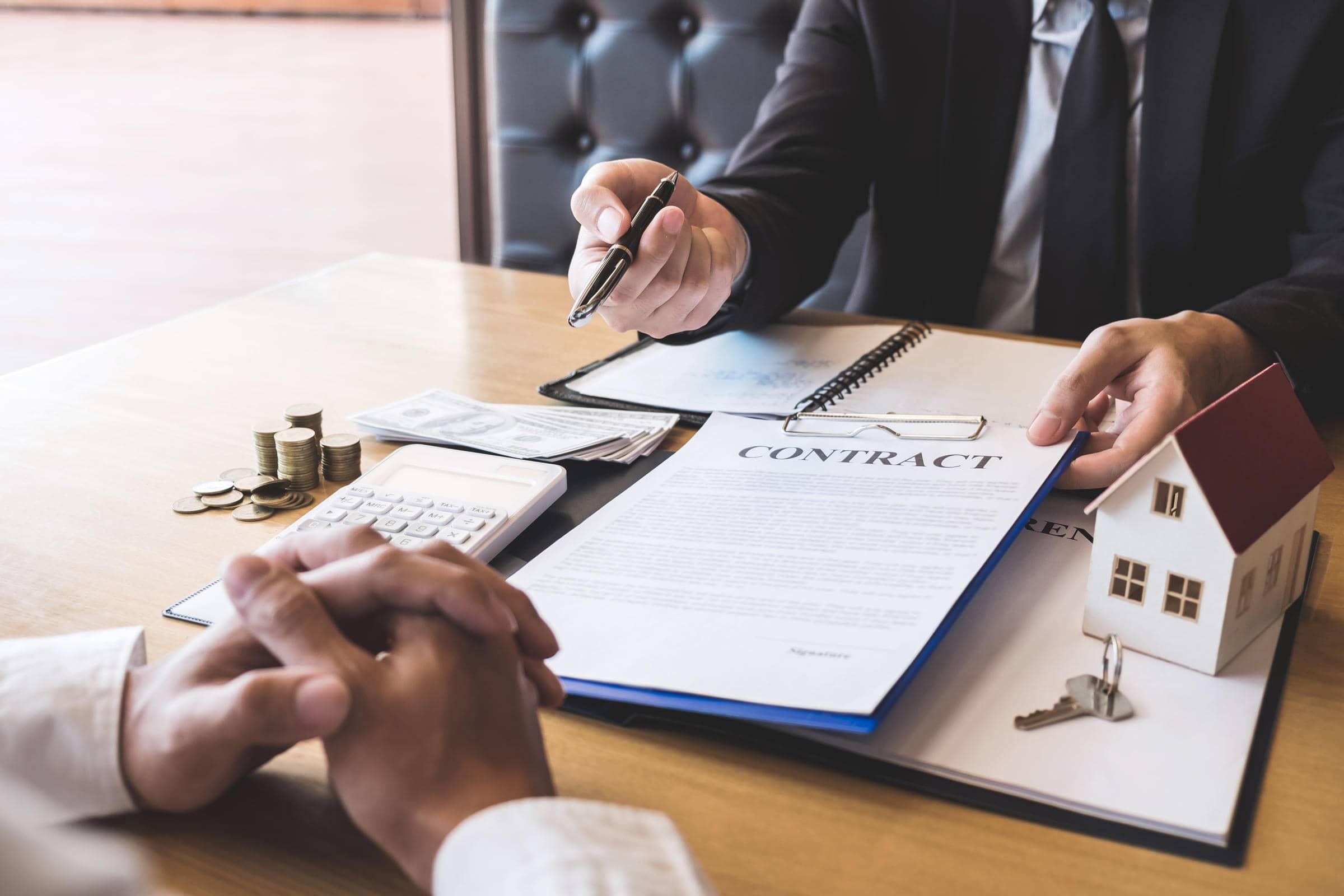 Customers have until Oct. 10 to stop from being automatically switched to a private insurer that may charge a much higher premium.
Hundreds of thousands of Citizens Property Insurance customers have or will get a letter in the mail this month containing at least one offer from a private insurer seeking to take over their policy.
Recipients should read their letter carefully.
If any offer is no more than 20% higher than the estimated renewal rate, the policyholder can no longer stay with Citizens, the state-run insurer of last resort.
Citizens customers who receive just one offer within 20% of what they pay under Citizens don't have to do anything. They will automatically have their risk transferred to the private company on Oct. 17. They may also refuse that offer and look for other coverage, but they must respond to the letter within the next 19 days, and Citizens will no longer cover them beyond their renewal date.
If there are multiple offers, the customer must inform Citizens of their preference. Otherwise, Citizens will choose the lowest-cost offer for them, even if no offer is within the 20% range.
In cases where no offer within 20% is available, customers will have to contact Citizens by Oct. 10 to stop the switch and keep their existing policy.
"They can either go online and make their choice via our website, or they can contact an agent and have them do that," Citizens spokesperson Mark Peltier told Florida Politics. "But they need to make an affirmative action. If they don't do anything, they get transferred."
Citizens is sending the letters to about 304,000 customers, but it's been slow-going because the vendor the company hired to print them has had trouble handling the requested volume.
A reporter at Florida Politics, for instance, received one of the letters Tuesday, Sept. 19. It was dated Aug. 27 and postmarked Sept. 13.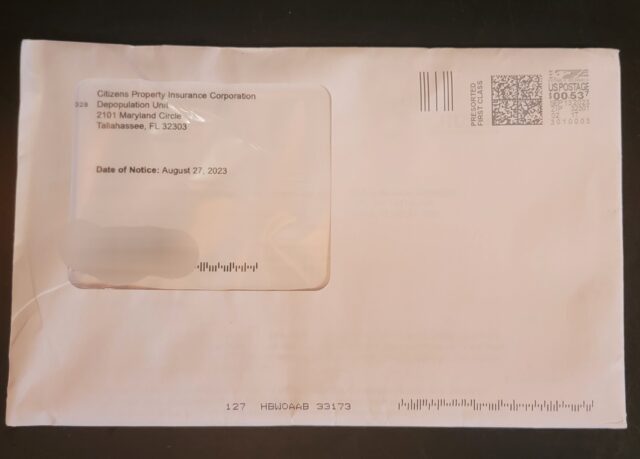 The letter states that recipients must respond by Oct. 5. To make up for the delay in postage, Citizens has extended the deadline to respond by five days.
For many, the extra time still doesn't afford customers the customary 30 days to respond, but it's the most Citizens can do and still process the responses and changes on schedule, Peltier said.
"The Office of Insurance Regulation order lists Oct. 17 as the day of the assumption, so that's the order Citizens is responding to," he said. "We don't have a say in that. We're complying with their order."
On July 31, Insurance Commissioner Michael Yaworksy signed orders approving proposals by Florida Peninsula Insurance, Monarch Insurance, SafePoint Insurance and Slide Insurance to assume some of Citizens' policies.
The offloading of policies is part of Citizens' "Depopulation Program," which state lawmakers approved during a Special Session on insurance in December. The legislation passed mostly along party lines, with Republicans backing the measure and Democrats voting "no."
That same month, Citizens predicted it will reach nearly 1.7 million policies this year, citing "continued instability" of the state's insurance market. Before 2020, it served about a quarter of that total.
"By the end of 2023, Citizens anticipates it will insure close to 1.7 million policyholders and write more than $5.1 billion in premium volume," Citizens CEO Barry Gilway and CFO Jennifer Montero wrote in a company budget report.
"By comparison, in 2019, Citizens wrote $877 million in premium and insured roughly 447,000 policyholders — reflecting projected 5-year growth rates in premium and policyholders of 486% and 276%, respectively."
Florida's property insurance market has been in crisis for several years, with rate hikes increasing substantially and companies either fleeing the market, reducing their exposure in the state or going out of business.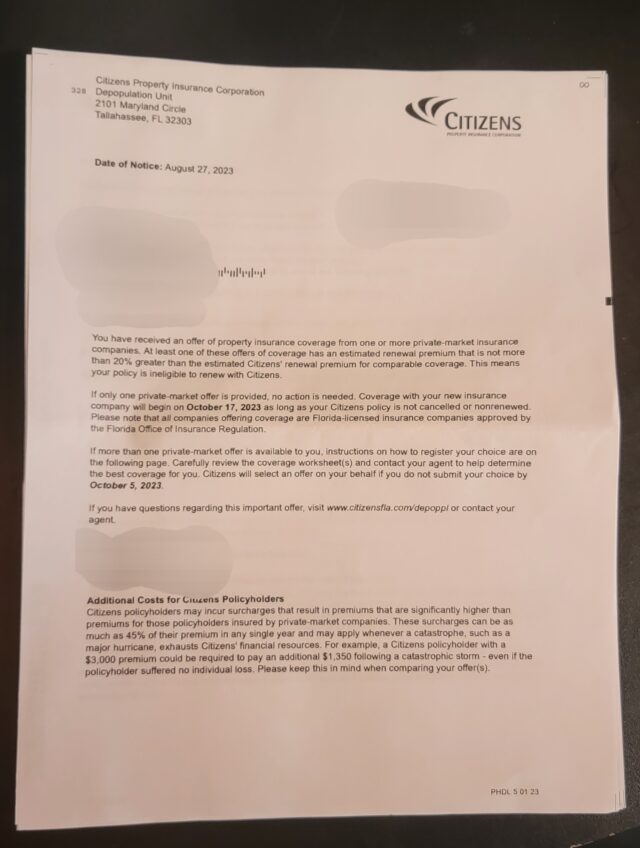 Lawmakers have held multiple Special Sessions to address the instability, which has been blamed on a number of factors such as lawsuits against insurers, rising replacement costs in the wake of catastrophic storms and large hikes in the cost of reinsurance, which provides backup financing to insurers.
In response, lawmakers have in the last two years placed strict new limits on lawsuits against insurance companies and provided them with billions of dollars to help offset the rising cost of reinsurance.
Advocates cautioned that these changes would not immediately blunt the impact of rate hikes. Detractors have accused Gov. Ron DeSantis and the GOP-dominated Legislature of kowtowing to the insurance industry — a criticism that resurfaced in mid-July when Farmers Insurance exited Florida's property insurance market.
In 2022, six insurers went into receivership. Regulators placed another under "administrative supervision." Dozens hiked rates and canceled policies.
Citizens was never meant to handle so many policies, and the current situation is contributing to the instability of Florida's insurance market, Mark Friedlander, a spokesperson for the Insurance Information Institute, told Click Orlando this week.
"They're not supposed to be the only option," he said. "What it does is create a risk exposure in Florida where Citizens, because they are so rate-restricted compared to private companies, they are not bringing in enough rate for the risk they are writing. That means the rates are what we call not actually sound rates, and it puts all Florida consumers in a position to potentially pay what would be labeled a hurricane tax."
There have been many reports of Citizens customers receiving letters with comparatively exorbitant offers from private insurers looking to take their business.
Eunice Epstein-Ortiz, who ran unsuccessfully for a Senate seat representing St. Petersburg last year, told the Miami Herald that Tampa-based Slide Insurance offered her a premium of $7,484, a 77% increase over her $4,227-per-year policy with Citizens.
An Orange County homeowner named Tracy Parkhurst told WESH Wednesday that an offer she received represented a 61% increase over her $3,079 renewal fee with Citizens.
In Palm Beach County, WPTV spoke with Royal Palm Beach resident Lori Lanni, who said her offer included a $6,200 premium, a $2,000 increase over the rate Citizens charges.
That discrepancy may not be as wide by the end of the year. Last week, Citizens submitted revised insurance rate hikes to the Office of Insurance Regulation that would lead to an average 11.5% increase for homeowners with "multi-peril" policies, the most common type of homeowners insurance Citizens provides.
Factoring in other policy types, such as mobile home and wind-only policies, would raise rates by 12.3%. Commercial policies would go up 10.2%, according to information provided for the Citizens Board of Governors meeting Sept. 27.
Commercial customers would face increases on Nov. 20. Personal-line rates would go up Dec. 16.
___
Christine Sexton of Florida Politics contributed to this report.