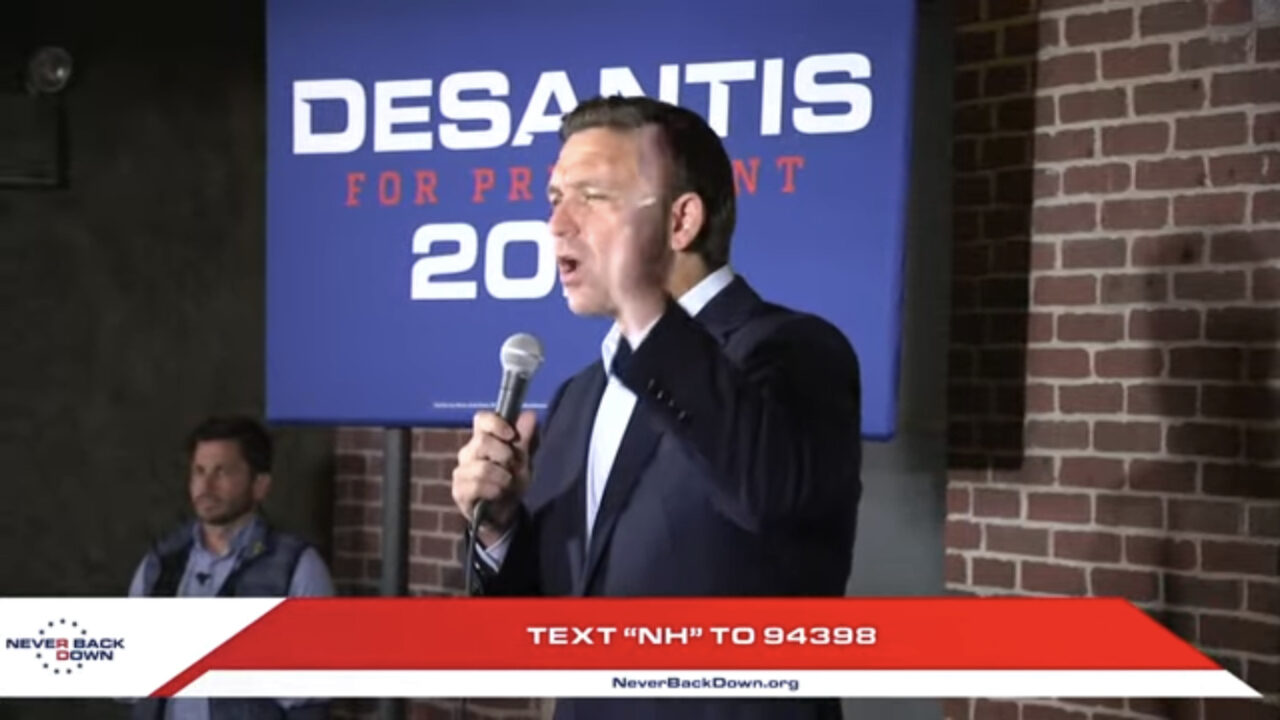 'Trump's endless barrage of attacks on Ron DeSantis has taken its toll, as DeSantis has fallen into single digits.'
Another New Hampshire poll shows Florida's Governor struggling with voters in the first-in-the-nation Primary state.
In an Insider Advantage poll of 850 likely GOP presidential Primary voters conducted Wednesday, Ron DeSantis is in fourth place, with 8% support. This puts him behind Donald Trump (42%), Nikki Haley (14%), and Chris Christie (10%).
Perhaps the only silver lining, DeSantis is ahead of Vivek Ramaswamy and Tim Scott, with 5% support each. North Dakota Gov. Doug Burgum, at 4%, is the only other candidate with more than 1% support.
"After polling this race both nationally and in various states, it is becoming ironically clear that the 45th president has roughly a forty-five percent floor in this overall contest. In many surveys, his numbers go way beyond that floor, indicating the daunting task those trying to replace him as the GOP nominee face. Trump's greatest problem among likely voters is with White men over the age of 65. We have seen this in numerous surveys, and it certainly runs contrary to conventional wisdom. Ironically, men supply Nikki Haley with more support than do female respondents. Women support Trump in larger numbers than do male voters," claimed pollster Matt Towery.
"Regardless, the battle for number two appears tepid at the moment. Trump's endless barrage of attacks on Ron DeSantis has taken its toll, as DeSantis has fallen into single digits. None of the second-tier candidates appear to have a foundation upon which to build larger numbers as of now," Towery added.
"But the Primary is many months away, and we have learned that anything can happen with New Hampshire voters, who are fiercely independent. We have polled presidential primaries in the Granite State since 2004 and look forward to another exciting cycle."
While DeSantis' 8% showing is his worst in any New Hampshire poll (and one of his worst numbers in any state poll anywhere), fourth place is better than his fifth place standing in the latest University of New Hampshire Survey Center poll, released Wednesday. However, DeSantis had 10% support there.
In that poll, the Florida Governor was down 32 points from the same pollster in January, when he led Trump 42% to 30%.
Veteran New Hampshire GOP strategist Mike Dennehy told POLITICO in response to that poll that DeSantis' campaign "is on life support" and noted that "one shot at resuscitation" is the second GOP debate.