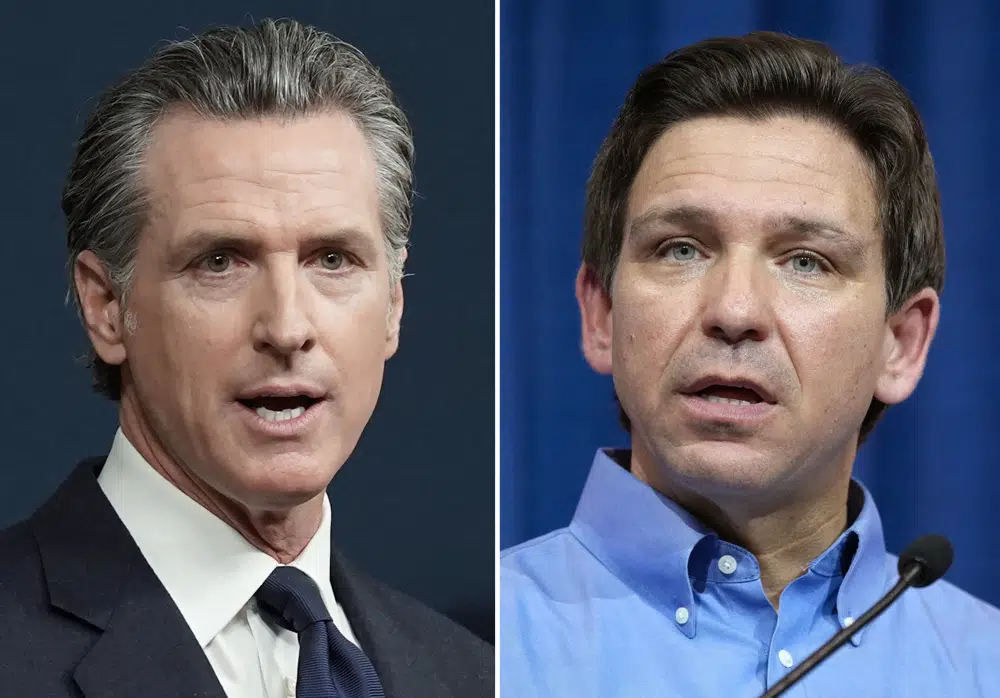 The strident state executives will appear for a 90-minute debate moderated by Sean Hannity.
Florida Gov. Ron DeSantis and California Gov. Gavin Newsom will debate one another on Fox News on Nov. 30.
The Governors have long found themselves at odds in the press. The potential for a televised debate between the two national figures comes after months of both men tossing barbs at one another. DeSantis is seeking the Republican nomination for President, while Newsom, a Democrat, has sparked significant speculation as a future contender.
The debate will take place in a still-undisclosed location in Georgia, and will last 90 minutes. It notably will take place on Republican-friendly Fox News and will be moderated by conservative pundit Sean Hannity.
"I'm looking forward to providing viewers with an informative debate about the everyday issues and governing philosophies that impact the lives of every American," Hannity said in a statement.
DeSantis later discussed the opportunity to Newsmax.
"He said he would debate me, so I said, 'Let's do it.' I think it's an important debate for the country, not saying who's better, Florida or California, because that debate is over because people have voted with their feet," DeSantis said. "They've left California and come to Florida, not the other way around. He has lost massive amounts of population. No governor in California history has ever witnessed population loss at all on net. And he's had it — it's because of the policies that he's driving people away. But, what's the future for the country? The future for the country, for what the left would want to do, is just double down on the California policies, and so I think it's going to be an important debate. I think he's definitely angling for it."
DeSantis in August said on Hannity's prime time show he would be willing to debate Newsom. The California Democrat had previously committed to such a faceoff on the show in June.
Of note, the biggest thing standing between either man and their parties' nomination for President is similar: a previously elected President.
DeSantis trails badly in polls against former President Donald Trump. Newsom, meanwhile, has fervently and publicly said he will not challenge President Joe Biden for the nomination and sees Vice President Kamala Harris, a fellow Californian, as the natural successor should Biden not seek re-election at a late stage.
The Governors' rivalry in a real sense started in 2020 during the pandemic, as the two men took different approaches to the health emergency. Newsom was among the first state executives to order lockdowns, which endured after many states lifted restrictions. DeSantis imposed lockdowns but at a later point, and he lifted mandates earlier than leaders of other large states.
Meanwhile, Newsom has jumped on matters like DeSantis' feud with Disney over the signing of a parental rights bill derided by critics as the "Don't Say Gay" law. He encouraged the massive employer to cancel plans to relocate its Imagineering and other operations to Florida, which Disney ultimately did.