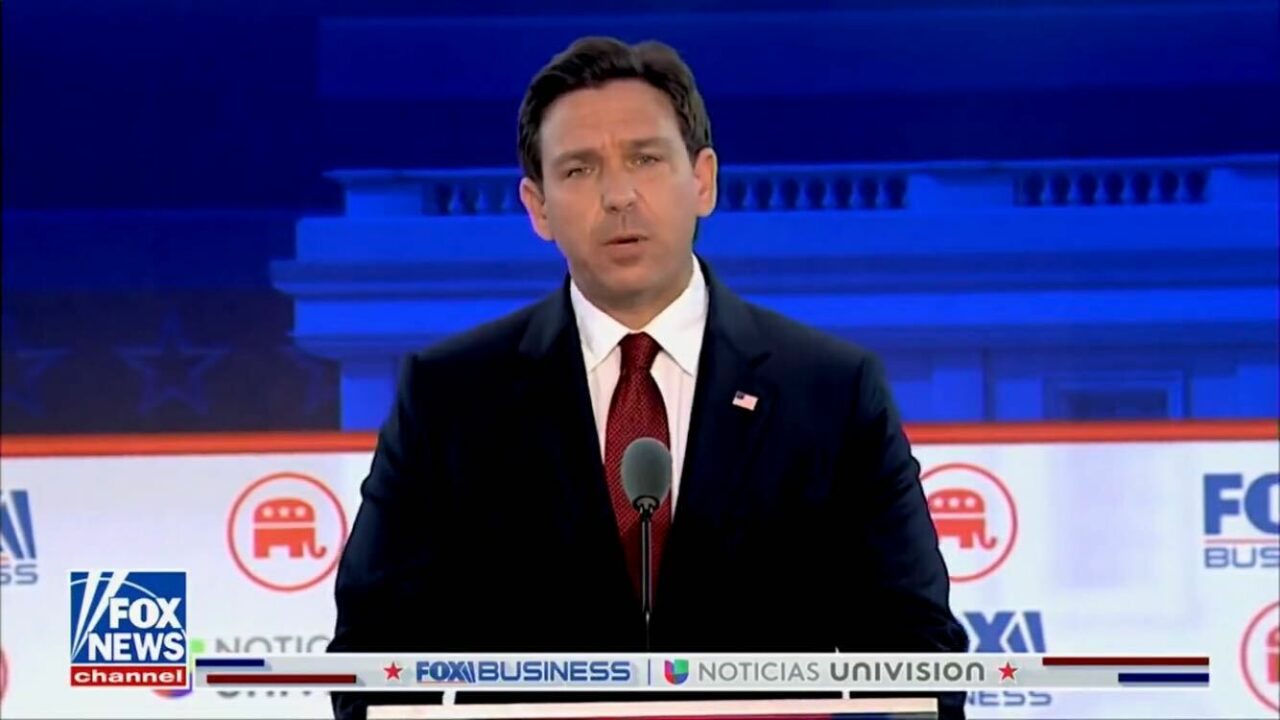 The Governor found himself overshadowed by his opponents at Wednesday's televised event.
Gov. Ron DeSantis had the center position in the GOP presidential debate Wednesday night. But throughout the two-hour event in Simi Valley, California, he seemed peripheral as often as not, marginalized by opponents who won the crosstalk battle, especially early in the event.
Indeed, his spin room interview spoke to that frustration.
"Tonight, look, there was a lot of bickering on the stage and, you know, my thing is, like, look, we owe to the American people to give our vision about how we're going to reverse this country's decline. And I think I was able to do that. I think some of the crosstalk, if I was at home watching that, I would turn the channel when I saw that," DeSantis told Sean Hannity after the debate.
While he found his voice and his footing by the end of the evening, the early part of the event saw him look much more like a middle-of-the-pack candidate than in a "two-man race" with the former President.
The Governor didn't get a question until more than 15 minutes had passed. Before then, competitors like Doug Burgum, Chris Christie, Nikki Haley, Mike Pence, Vivek Ramaswamy and Tim Scott engaged in a discussion of economics, until DeSantis got off what felt like a scripted remark.
"Where's Joe Biden? He's completely missing in action," DeSantis said. "You know who else is missing in action? Donald Trump. He should be on this stage tonight."
The Governor called on Trump, who was speaking in Michigan, to answer for the increase in the national debt during his term in office. He got mild applause. Minutes after the remarks, DeSantis' press team sent an email making similar points.
DeSantis seized a chance to speak again 10 minutes later, addressing China developing diplomatic ties with Latin America. As with his first remarks, the message was familiar to those paying attention to his speeches.
DeSantis warned that America is in "decline" and that "China is going to surpass America" this decade. He nodded to the debate's location — the Ronald Reagan Presidential Library — when he vowed to "have real hard power in the Indo-Pacific like Reagan to deter their ambitions."
Scott offered a mild rejoinder, saying America wasn't in "decline" but "retreat" under President Biden.
Scott and Ramaswamy jousted, leading DeSantis to protest by the 30-minute mark, urging people to "focus on the issues that matter" and focus "on holding Joe Biden accountable." DeSantis' interruption didn't stop the crosstalk — or his marginalization.
Pence challenged DeSantis on fiscal policy a few minutes later. The former Vice President charged him with increasing spending by 30% in Florida during his term despite "talking a really good game about cutting" it. The Governor again protested, trying to get a response in, but moderator Stuart Varney cut him short to commercial. The sparring was tabled but revealed itself again later.
The Governor got to talk about crime, a favorite topic of his, and he used the opportunity to insult the state of California — again, a familiar trope to people who pay attention to his remarks.
"We can't be successful as a country if people aren't even safe to live in places like Los Angeles and San Francisco," DeSantis said. "Just being in Southern California over the last couple of days, my wife and I have met three people, people who have been mugged on the street and that would have never happened 10 or 20 years ago."
Nearing halftime, the Governor got more assertive. At the 47-minute mark, DeSantis jumped in and piggybacked a Ramaswamy monologue, vowing to stop the "carnage" of fentanyl and to treat "drug cartels like the foreign terrorist organizations they are."
Pence then pivoted to "mass shootings," vowing a "federal expedited death penalty" to apply to people like the "Parkland shooter," whose case inspired a law allowing supermajority death penalty verdicts this year. DeSantis didn't get a response in, leaving it to surrogates and supporters to litigate the facts on Twitter.
Soon after, a moderator asked the Governor why the state's educational standards contend slavery benefited the enslaved by teaching them marketable skills. As he has before, the Governor blamed the "hoax" on Vice President Kamala Harris.
Scott said in response that "there's not a redeeming quality to slavery" and suggested, as he did weeks ago when it was news, that the problematic sentence simply could have been scrapped from the standards.
Asked about Vladimir Putin and aid to Ukraine, a question that DeSantis has struggled with for months, the Governor said "it's in our interest to end this war" and that "the Europeans" should handle more of the war effort. Republicans in Washington "don't care" about Americans, he added.
Haley and Scott chimed in with different takes, with the Senator noting 90% of U.S. aid is lent, not given, to Ukraine. Scott also said that "degrading the Russian military" is a vital American interest. Ramaswamy piled on, leaving DeSantis once again quiet and outside the camera's eye.
Toward the end of the debate, Haley challenged DeSantis as being "against energy independence, against fracking, against drilling," saying that he'd banned them in Florida.
The Governor knocked down her attacks. He responded by citing his plan for "energy dominance," and noted that voters in the state passed a constitutional amendment banning drilling offshore, referring to Amendment 9 from 2018.
"We'll choose Midland over Moscow. We'll choose the Marcellus over the Mullahs. We'll choose the Bakken over Beijing," DeSantis promised in a way that couldn't mask the workshopped canned language.
As time ran out, DeSantis got more assertive, saying he was the only one on the stage who had won "big victories."
"People respond to leadership. I've done it. The others have talked about it," he said.
And right near the two-hour mark, the Governor momentarily had the spotlight. DeSantis bristled when moderator Dana Perino asked the candidates who should be "voted off the island," saying it was a "disrespectful" question. Most of his opponents seemed relieved to be off the hook.
The open question, however, is whether people were still watching at that point.