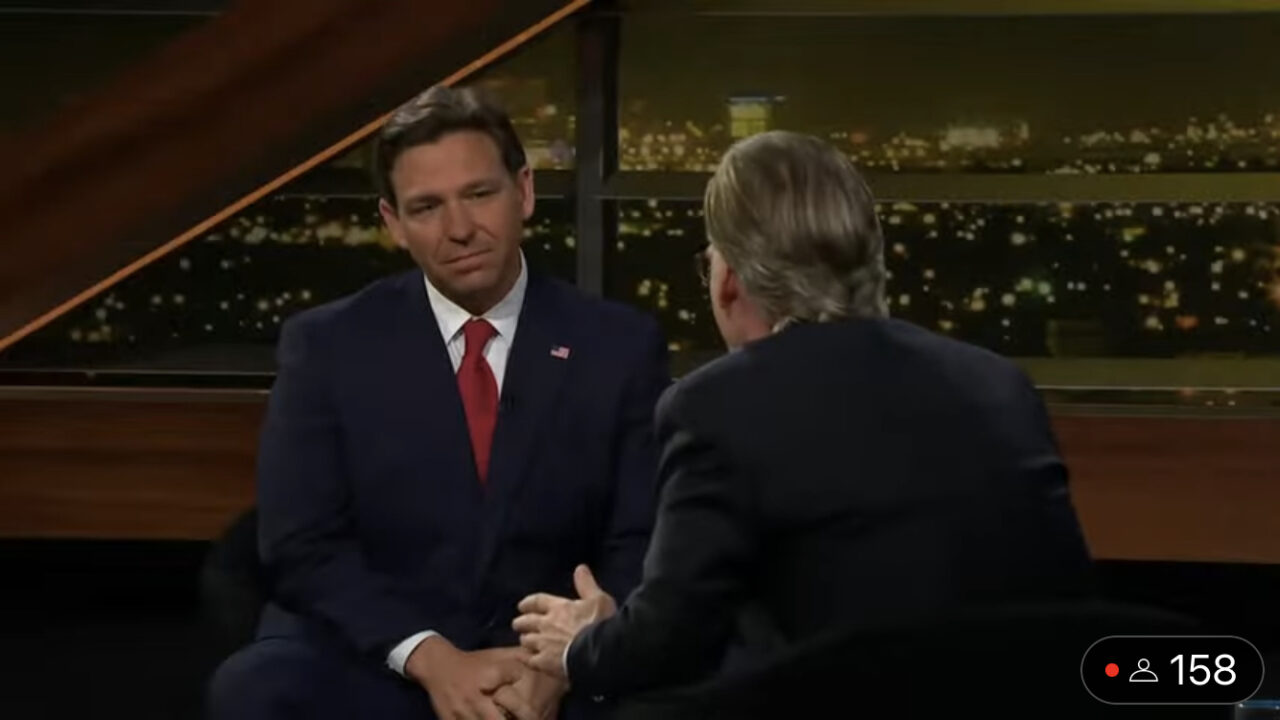 'If your campaign was going well, you wouldn't be on this show.'
After a monologue in which Bill Maher riffed on Donald Trump, Bob Menendez, and the marital dynamic of Mike and Karen Pence, the host asked Ron DeSantis to rate the opening remarks.
The Republican presidential hopeful was a guest on HBO's "Real Time with Bill Maher" Friday night as the show returned from hiatus after the recently ended Writers Guild of America strike.
"Laughing on both sides of the aisle" was how DeSantis described it by way of kicking off his latest foray into interviews by politically incorrect provocateurs.
DeSantis soon enough had to laugh when the joke was on him, though. After he trumpeted "no vax mandates" in Florida, Maher countered with a riff about "cowboy boots and a suit," a reference to the Governor's fashion trademark.
Maher suggested Florida wasn't known for cowboys; DeSantis disarmed him by going deadpan and earnest, noting that the state is loaded with cattle ranches.
DeSantis laughed, meanwhile, when Maher floated the prospect of "getting Doug Burgum out of the race." But the host scrutinized his guest, wondering why DeSantis was bothering to run against Donald Trump.
"If your campaign was going well, you wouldn't be on this show," Maher quipped, a seeming reference to the Governor's penchant for friendly interviewers in recent years.
Maher continued his assault soon enough, noting correctly that DeSantis "campaigned for election deniers in 2022," such as Kari Lake.
"Now she's attacking me, so maybe I made a mistake there," DeSantis quipped before defending the endorsement as wanting "Republicans to win key races."
Maher then baited DeSantis into discussing "woke," which DeSantis dismissed as a "caricature" of his more nuanced position before offering practiced remarks about crime in California and the CDC.
"You were right. You did handle it better," Maher said about DeSantis regarding COVID-19. "They're not giving you credit."
Maher then trashed a "despicable" New York Times piece, which he said was titled "How Ron DeSantis (fouled) up the pandemic."
For his part, the Governor stayed on talking points rather than ad-libbing.
Maher then turned on DeSantis, asking about a push against voter fraud investigations.
"We've had local elections decided by 15, 25, 30 votes in recent issues," DeSantis protested.
Maher said, "It looks like you're trying to stop Black people from voting." Then he went on to grill DeSantis about the six-week abortion ban.
"The Legislature identified the moment there was a detectable heartbeat," DeSantis said.
The segment closed with Maher getting the last laugh regarding the Gavin Newsom debate.
"You know he's taller and better looking, right?"