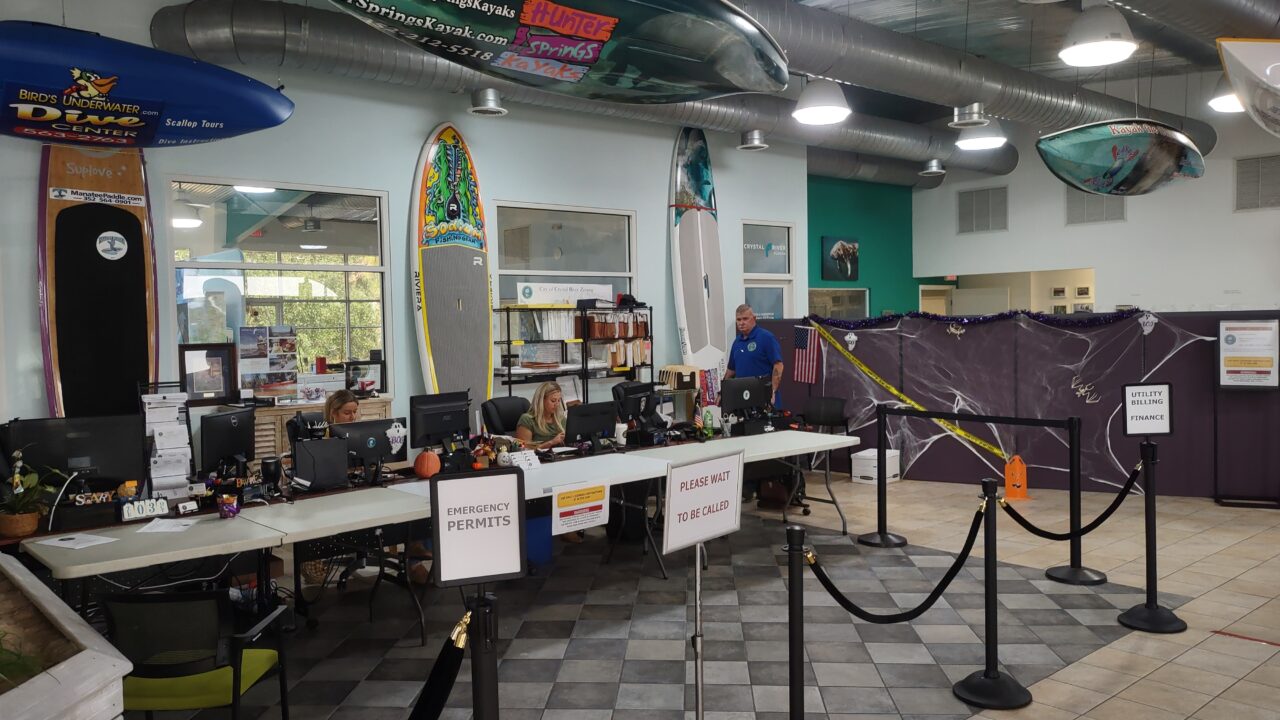 'I'm adamantly opposed to putting one dollar into that building.'
Crystal River's City Hall may have flooded for the final time.
Kicked out of their government home by Hurricane Idalia's rising water, city workers are now at the Citrus County Chamber of Commerce Welcome Center on U.S. 19 and will be for the foreseeable future. City employees who are used to routine offices now work in a place that screams vacation.
The city is looking for sites to lease as a temporary City Hall while the city pursues funding to demolish the current City Hall and rebuild an elevated one on the same site, Mayor Joe Meek said.
Meek said the city should not attempt to reopen City Hall, which received damage from water, gasoline and oil.
"I'm adamantly opposed to putting one dollar into that building," he said Tuesday during a "summit" of Citrus County elected officials. "I intend to do everything I can to knock that building down."
Hurricane Idalia's rain combined with high tides brought flooding to coastal Citrus County, turning U.S. 19 into a kayak highway and recalling memories of Hurricane Hermine in 2016 and the March 1993 "no-name" storm.
Sandbags at City Hall did little to deter 3 feet of water. Meek said city services cannot be held hostage to storms.
An elevated City Hall will address that.
"Flood comes in, flood goes out. We'll be open the next day," he said.
The city is leasing an elevated office just off U.S. 19 for the Three Sisters Springs Visitor Center, which had been in City Hall. Meek said the city will seek to make that site permanent because of its proximity to the Three Sisters Springs entrance. The springs will reopen in November after being closed during the summer for shoreline restoration.
City officials are now searching for a temporary City Hall site, someplace that will function as City Hall until the renovated one is in place. Meek estimated that will take two years, depending on funding.
The city is working on estimates for both a new City Hall and hurricane damage.
Anticipating the need to rebuild or relocate City Hall, the city received $1.6 million in state funding last year for design. Meek said he expects the city to ramp up its funding requests, particularly for resiliency grants.
"We're the poster child for that money," he said.
Meek said the City Council is committed to staying downtown, rather than move to higher ground. With downtown about 3 feet above sea level, elevating City Hall was the only way to stay put.
"We've got to set the example," he said, "of how to operate in a city that's going to flood again."