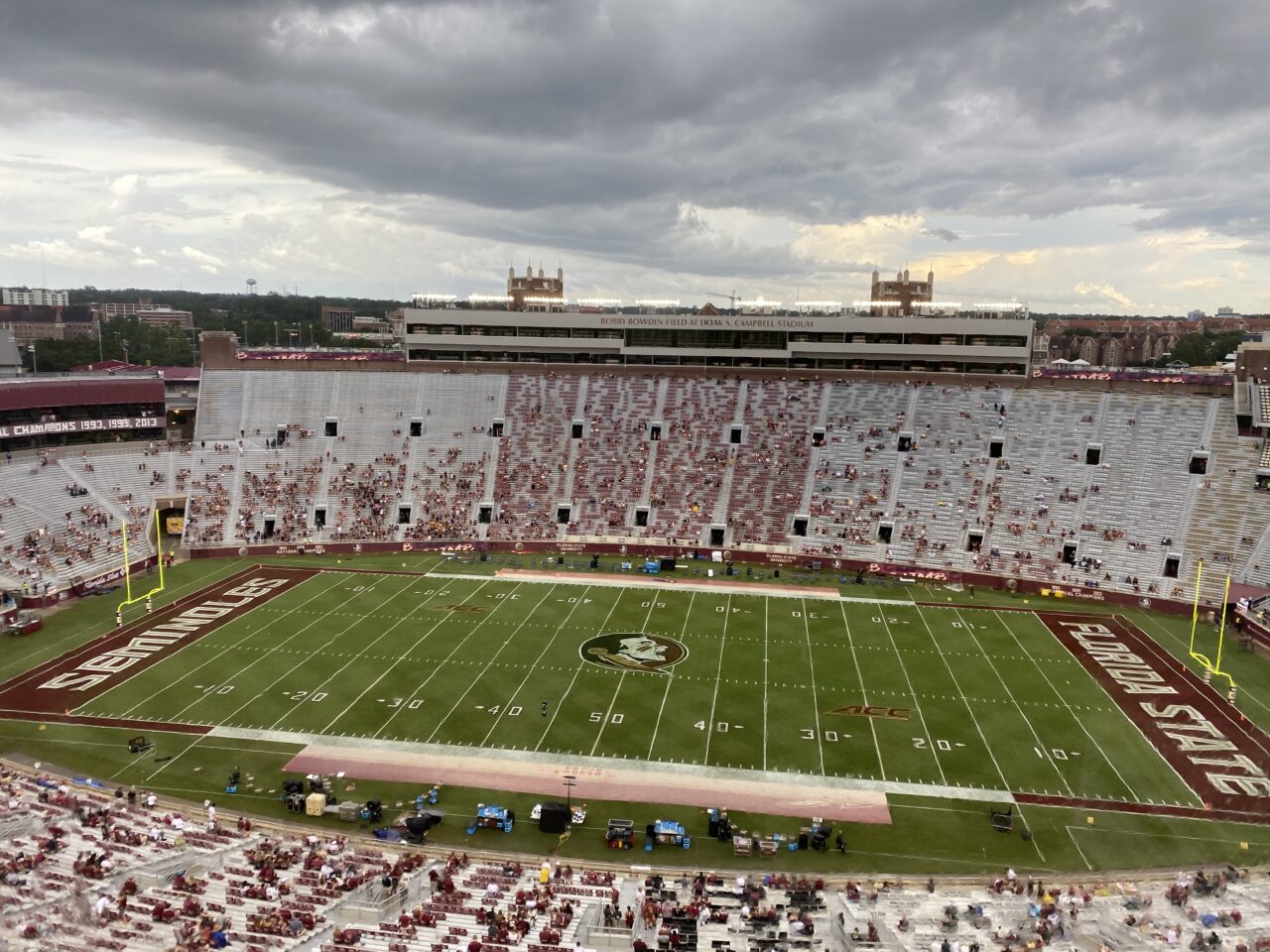 He argued that just as FSU has to earn the national title, Trump too has to earn the GOP nomination.
Florida's Governor invoked the state's best college football team (currently) in explaining why he believes Donald Trump should be in the GOP presidential debates.
Ron DeSantis likened the former President to the undefeated Florida State University (FSU) Seminoles, but told Fox News viewers that just as FSU has to finish its season to be national champions, so too does Trump have to "earn" the 2024 Republican nomination.
"I could say, you know, Florida State, they're undefeated right now. Why even have the rest of the season? Why even do the college football playoffs? I mean, maybe we should just crown the national champion. That's not the way it works. You got to earn this," DeSantis said on "Your World with Neil Cavuto."
Cavuto noted that his son goes to Clemson at the end of the interview, leading DeSantis to promise that no one will "hear a peep out of" him about FSU as he campaigns in South Carolina.
The Governor's comments come after Trump campaign officials called on the Republican National Committee to "immediately cancel the upcoming debate in Miami and end all future debates in order to refocus its manpower and money on preventing Democrats' efforts to steal the 2024 election." Trump has skipped both debates so far.
DeSantis has opined with some regularity about college football in the state, with Tuesday's comments being the most enthusiastic. Previously, he was critical of the Sunshine State's pigskin product, especially regarding the Seminoles' rivals in Gainesville.
Speaking to the California Republican Party Friday night, DeSantis said he needed the University of Florida's football team "to start doing a little bit better and we'll be doing really well."
During an August trip to Georgia, DeSantis played to the crowd by saying the Gators weren't in the same league with the home state Bulldogs.
"I will say, as somebody who was born and raised in Florida, the Florida-Georgia game was a little easier lift for us back in the day than it is now. And you Georgians know what I mean," DeSantis said.
"So, congratulations on all the success," DeSantis added. "We've done better on almost everything policywise. I can point out many things. College football has not necessarily been one of them. So we're trying to turn the corner."
The Governor, who played college baseball in the Ivy League, remarked on the irony of congratulating recruits headed out of state to play football.
"I realized this my first year as Governor. I asked my staff to give me letters of congratulations for all Florida's high school blue-chip football recruits because we've got great high school football in Florida. And I'm signing these letters and it's like, 'Dear Michael, congratulations on going to the University of Georgia. Congratulations on going to Alabama.' And I'm like, why congratulate them for leaving our state?" DeSantis said. "That didn't used to be what it was."
"So, anyways, Florida-Georgia game, you know, let's just say I'm going to be, you know, cheering as the Governor, but I am not going to be putting any money on the Gators this year," DeSantis added.