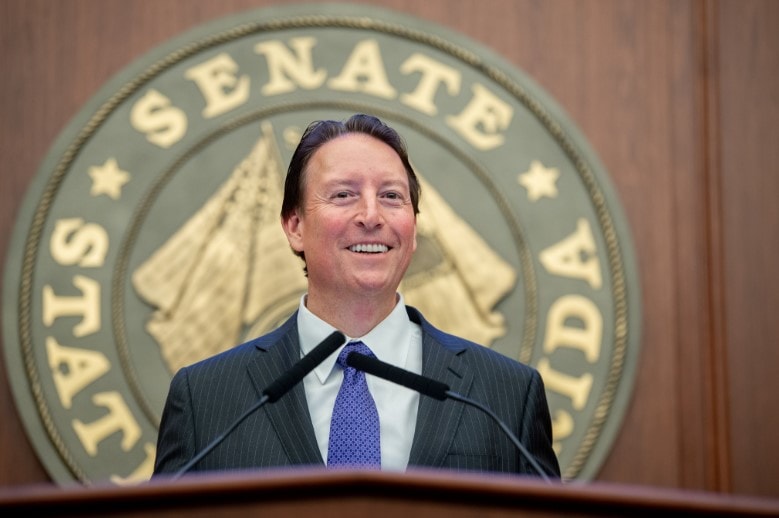 The 27th Annual Phil Galvano Golf Classic is expected to raise $500K for public education.
As golfers prepare to tee off Friday for the 27th Annual Phil Galvano Golf Classic, the namesake's son, former Sen. President Bill Galvano is reflecting on his father's life and legacy, and his desire to continue honoring that legacy through charity work the late Phil Galvano would love.
Phil Galvano died of cancer in 1996, after spending a lifetime of adversity, triumph, influence and fame.
The 18 holes of golf played in the late Galvano's name will benefit Manatee County public schools through the Manatee Education Foundation, but it will also recognize the sport that changed a life and influenced a new generation.
"He believed that there was no better way to a quality of life than education," former Senate President Bill Galvano said. "He didn't have the opportunity to have that education."
And so the elder Galvano taught — whether it was a lesson on golf swings or life.
Far from the celebrity-studded lifestyle in Anna Maria Island, a young Phil Galvano — born in 1915 to Sicilian immigrants — grew up in New York City where he lived through the Great Depression as a teenager and became homeless.
With jobs hard to come by, the elder Galvano began work as a caddy on Staten Island, carrying bags on each shoulder for 36 holes, or two full 18-hole courses.
He took notice of the golfers and decided to start playing himself. Without much money, he read about it and practiced. Eventually he started clearing records on some New York courses, which led him to the decision to become a golf pro.
"That depression-era, the stories I was told and you know, people were tougher back then," the younger Galvano said of his father who, despite his skill, was turned away from clubs whose leaders said he looked more like a dance instructor than a golf pro.
And so Phil Galvano stuck with it all the way up to a little help from a friend. That friend, a niece of J.P. Morgan, loaned him $2,000 to realize his vision to open an indoor golf studio right in the middle of the Big Apple herself.
It was a low-tech operation where clients would hit golf balls into a canvas, and Phil Galvano would coach them through their swings. But it was the 40s, so low tech didn't matter. It was perhaps a bit of luck that really launched Galvano's career as a golf pro.
To answer his hopes, coming to the rescue was Bob Hope.
Galvano was teaching Hope's agent, and after several lessons the agent was hooked, telling Galvano he was his secret weapon. As the story goes, Galvano reminded the agent that he was starving and he can't be kept a secret.
So the agent sent his boss.
After that, Galvano drew plenty of attention. Celebrities like Morey Amsterdam, Milton Berle, Joey Bishop, Carol Burnett, Johnny Carson, Perry Como and Vic Damone became clients.
He wrote two best-selling books, and even filmed his own golf show on television, filmed just a few studios down from where Saturday Night Live is currently filmed.
Phil Galvano and his wife, Betty, were motivated by success and decided to move to Anna Maria Island in 1969. It was a place they had already fallen in love with, after visiting it on their honeymoon at the suggestion of friend Bill Mote, the benefactor of Mote Marine Laboratory.
There, the elder Galvano helped create an executive golf course, which has since closed and become the Timber Creek community.
Phil and Betty had six children — Phil, Elizabeth, Richard, Peter, Mary and, of course, Bill.
All of the siblings became professional golfers — except Bill.
"I just got in my head I wanted a different career path not because I didn't want to do that but because I was very interested in law and politics," Bill Galvano said, adding that his family sometimes teases him about being a lawyer, complete with the lawyer jokes and everything.
But that won't stop him from enjoying this year's Golf Classic in his father's honor.
"He would say, 'If you go to bed and you can't think of anything you've learned, then you've wasted the day," Bill Galvano said of his dad, who found passion in education.
The event has raised $10 million since its inception, and is expected to raise a record $500,000 this year. It's been so successful, applicants for funds are rarely turned away.
Funds will benefit the Manatee Education Foundation to help Manatee County public schools and fund items, programs, events or other things that aren't typically covered under public education funding from taxes. Bill Galvano gave examples like sending student groups out of town for events or competitions, buying unique lab equipment for science classrooms or performances.
The Classic has come a long way since its inaugural event, when it raised just $11,000. Bill Galvano said the event grows every year.
But he's humble when he talks about the event's success. He likes to talk more about his dad and those who support the cause.
But one colleague has been with the former Senate President from the beginning. He said Galvano's stature as Senate President certainly didn't hurt the golf tournament's acclaim. Having a bunch of lobbyists turnout can never hurt. But that wasn't what ultimately led to success today, long after Galvano hung up his political hat.
"The secret is Bill," said Republican political consultant Anthony Pedicini who has worked with Galvano on the event. "Even in the early years anyone who was anyone was involved. And they stayed involved. He just really responds to and communicates with the community."
The Phil Galvano Golf Classic is at The Resort at Longboat Key Club. Friday's events kick-off with "Lunch Under the Big Top" and a shotgun start at noon with a helicopter golf ball drop. Food options will be available at many of the holes, including fare from Bonefish Grill, Pier 22, Anna Maria Oyster Bar, Glory Days Grill, Longboat Key Club, Taco Bus, Capital Grille and Classico.
Pedicini called Galvano "one of the nicest guys I have ever met in politics" and said the former Senate President is in it for all the right reasons.
"The fact that he is doing this after he's out of office, I think is a testament to his commitment to education and the community and it just goes beyond politics for him," Pedicini said.