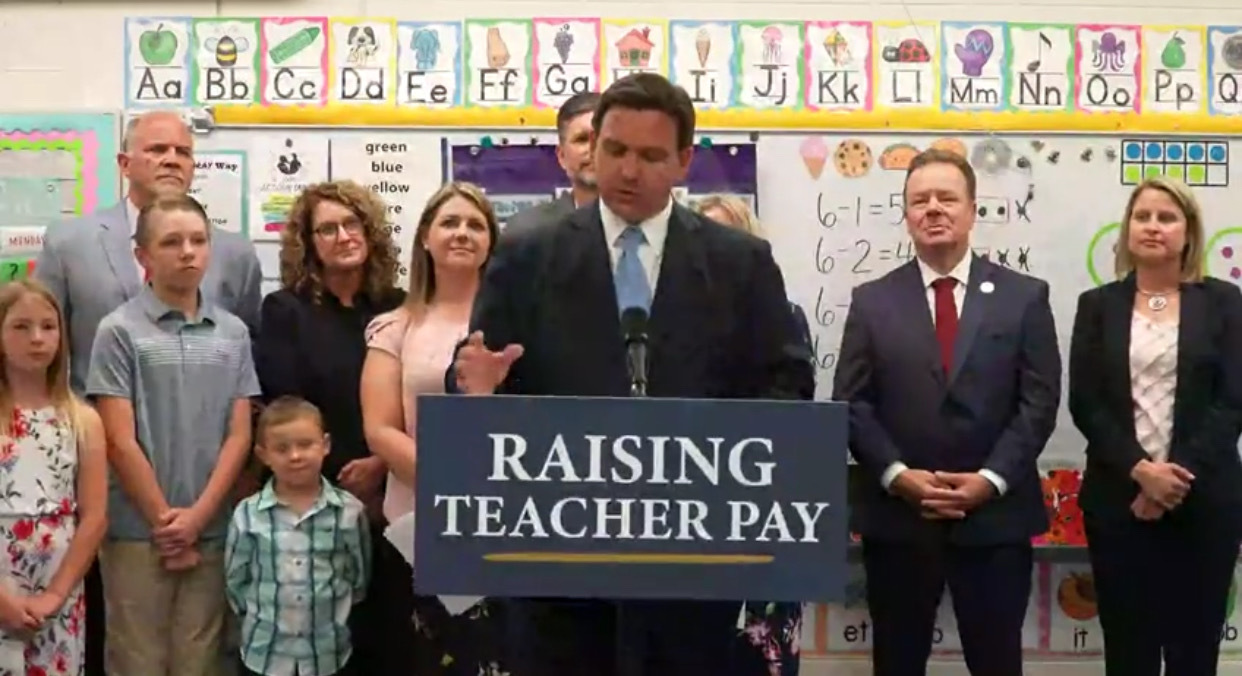 'I have seen the Left's indoctrination dangerously worsen in the last couple of decades.'
Ron DeSantis' Year of the Teacher is but a sepia-tinged memory now, with 2023 being the Year of the Terrorist.
That's one interpretation to be drawn from the Governor's latest text message to supporters of his presidential campaign, at least.
In a missive to his list Wednesday, the Republican candidate bashed those supporting Hamas terrorists as well as "radical" elementary school teachers, in a seeming attempt to lump ideological enemies into one box.
"I have seen the Left's indoctrination dangerously worsen in the last couple of decades — from student organizations praising Hamas at Ivy Leagues to elementary school teachers pushing radical gender ideology down the throats of first graders," DeSantis asserted, driving an inevitable call to action.
"Let me know here: do you agree with the businesses rescinding their employment offers to Pro-Hamas students?"
The landing page elides reference to teachers "pushing radical gender ideology down the throats" of young students, focusing instead on Hamas' depredations and "extremist students across the country (who) have signed letters of Pro-Hamas support and gotten their post-graduation offers of employment rescinded."
Respondents are asked what they think about said employment offers being pulled, and get a binary choice: "I completely agree" and "I think that's inappropriate."
DeSantis has worked regular attacks on "pro-Hamas" demonstrators into his road show for weeks.
In New Hampshire on Tuesday, the Governor said the "bozos" wanted a "second Holocaust," but suggested they were too dumb to realize that's what they were calling for.
Also on Tuesday, he took action to terminate student chapters at Florida universities that allegedly support "Hamas terrorism."
During an interview with The Blaze, DeSantis suggested that student protests against Israel's retaliation after the Hamas attacks merit cutting off federal funding for Harvard.
"We should not be pumping hundreds of millions of dollars into places like Harvard if they're producing students that are basically aligning with Hamas terrorists," he said.
On Newsmax earlier this month, he wondered why those protesters are in the United States at all, saying that the demonstrations are "almost like they're just pouring salt in the wounds by going out there and celebrating the atrocities."
"There's a sickness in our society when you have Harvard students signing these letters praising Hamas. And I just wonder, it's like, why are you even in this country if that's your belief on some of that stuff?"