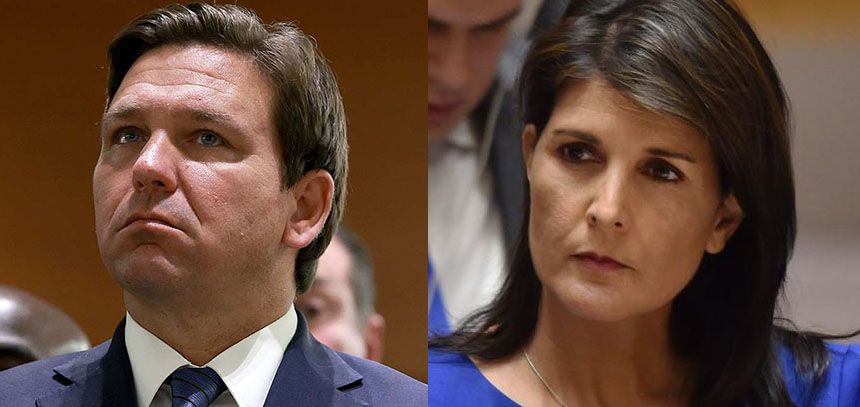 Meanwhile, just 2 points separate DeSantis and fifth-place Mike Pence.
A new national poll of Republican Presidential Primary preferences is the worst yet for Ron DeSantis.
The McLaughlin and Associates survey of 449 likely voters shows the Florida Governor at 8% in the polls, 47 points behind former President Donald Trump.
Perhaps more worrisome for DeSantis is that the field is closing in on him in the survey, fielded from Oct. 22 through Oct. 26.
The Florida Governor is tied with Nikki Haley in second place, the latest evidence that the former United Nations envoy and South Carolina Governor is competing for primacy as the Trump alternative in the race.
Meanwhile, two other names are marginally behind Haley and DeSantis.
Entrepreneur Vivek Ramaswamy has 7% support, while former Vice President Mike Pence is at 6%.
DeSantis was as high as 19% in the June 23 administration of this poll, meaning that in roughly four months he has lost nearly 60% of his stated support.
McLaughlin also tested a two-way race between DeSantis and Trump, and that hypothetical shows a strong preference for the former President in the case of an unlikely binary choice.
A full 73% of respondents claim they would back Trump in that scenario, with 27% backing DeSantis. The split gets worse when it comes to people who say they would "definitely" back their preferred candidate, with 55% of total respondents firmly behind the former President, and just 11% deeply committed to the Florida Governor.
DeSantis does take some very niche demographic cohorts, but they likely aren't the key to the Republican nomination.
When it comes to Republican Primary voters who approve of President Joe Biden, 54% say they would pick DeSantis over Trump in the two-way race.
DeSantis does even better with those who are voting in the GOP Primary but who intend to vote for the incumbent in the November election, taking 81% of that group.
And among Democrats who will presumably vote in open Republican Primaries, DeSantis takes 85% of them.