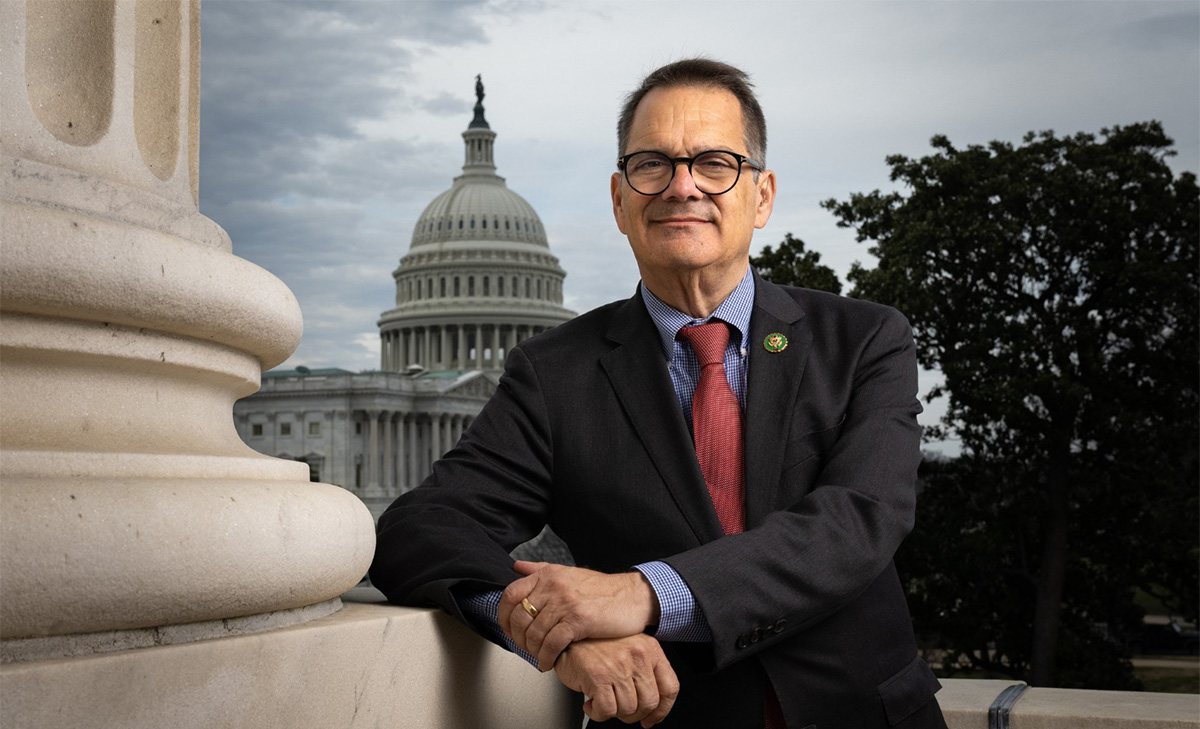 It's a very expensive photo-op.
U.S. Rep. Gus Bilirakis has booked perhaps the most influential headliner ever for an upcoming fundraiser: former President Donald Trump.
Trump will pose for photos with Bilirakis and supporters and deliver remarks at the fundraising reception Nov. 20 at Trump's Mar-A-Lago Club in Palm Beach.
And it's not a cheap affair. A photo with Bilirakis and Trump will set supporters back $23,200, while just attending the event to hear Trump's remarks is $6,600 per couple.
Bilirakis has long supported Trump, so it's no wonder the former President is offering his star power. Bilirakis endorsed Trump for President in April, before Trump announced his bid officially.
The same month, Bilirakis issued a statement supporting Trump and attacking a "weaponized" Department of Justice (DOJ) when the former President was arraigned in New York on 34 counts of falsifying business records, a trial that is ongoing.
"When a weaponized DOJ and a (District Attorney) that is more focused on pursuing vendettas and garnering national news attention than on ensuring the safety of the people he represents engage in the most outrageous politically-fueled witchhunt in American history, it is a sad day for the American people," Bilirakis said at the time.
"I truly believe it will forever be remembered as a stain on our democracy.  My colleagues and I in the House remain committed to rooting out the corruption and abuse of power that resides within our institutions as we work to regain the people's trust in our constitutional republic."
Both the endorsement and the statement on the arraignment came long after Trump did Bilirakis a solid, offering his endorsement for the longtime Congressman in January 2022, ahead of the Midterm Elections.
Bilirakis supported Trump's false contention that the 2020 Presidential Election was stolen, citing at the time "multiple reports of voter irregularities and what some feel are unconstitutional changes to various states' mail-in voting procedures." He also supported a Texas lawsuit asking the Supreme Court to intervene in the election, according to Bloomberg.
Since winning his seat in Washington in 2006, succeeding father and former U.S. Rep. Mike Bilirakis, Gus Bilirakis has focused on bread-and-butter issues that impact his constituents' lives.
In particular, Bilirakis has fought alongside Democrats and Republicans in the region on behalf of area veterans. He celebrated some of that progress earlier this year at the ribbon-cutting for the new James A. Haley Veterans' Hospital bed tower in Tampa. He shared the stage with a Democrat in Tampa Bay's congressional delegation.
The Center for Effective Lawmaking last year rated Bilirakis the most effective Republican member of the House among the Florida delegation. The Lugar Center, which tracks how often lawmakers work together across the aisle, scored Bilirakis as the most bipartisan member of Florida's congressional delegation in the last Congress. He was the 27th highest scoring member nationwide in the 435-member chamber.