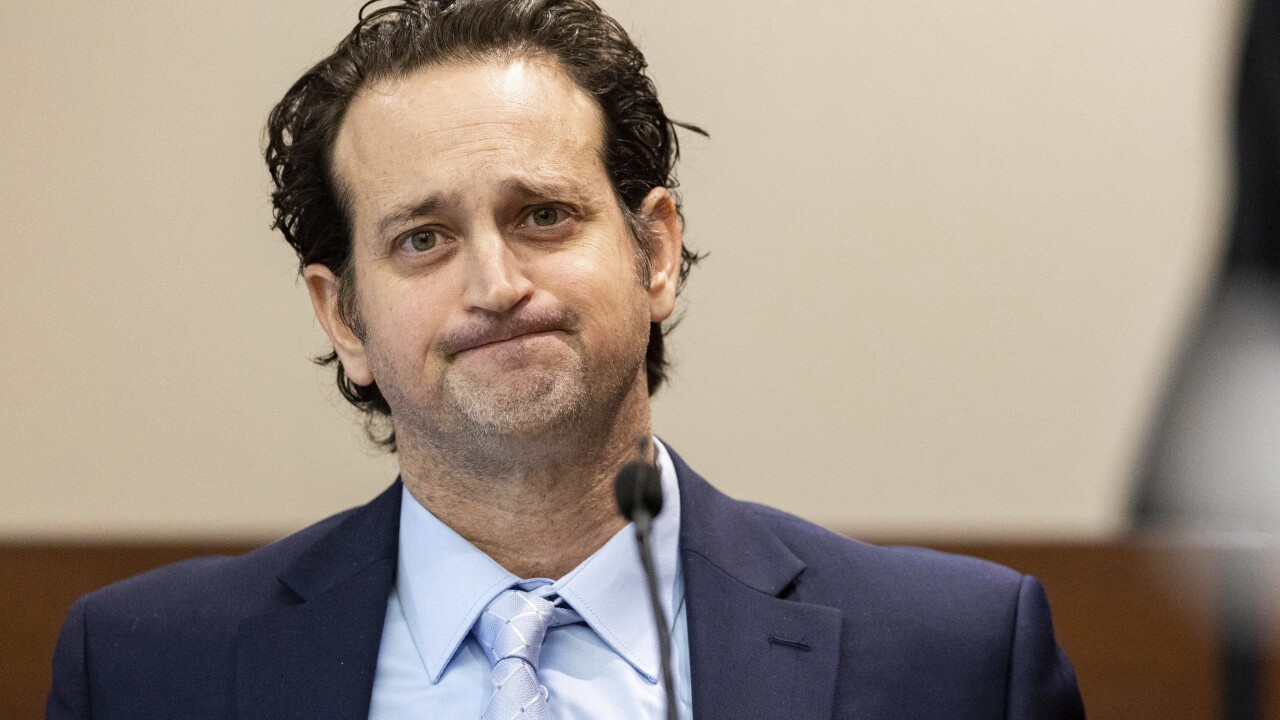 'Can you trust Wendi with a secret?'
Straight lines
Prosecutor Georgia Cappleman tore into Charlie Adelson's defense using a tool few can execute as masterfully as her: sharp, unflappable steadiness.
As the defendant continued to talk in circles, Cappleman pushed back with straight lines.
Cappleman challenged Charlie on nearly everything he said, probing details but even more importantly, tearing the veil of the bigger story.
The two went back and forth regarding the "layers" of the story — with Cappleman chipping away at the absurdity of how Charlie believed Katherine "Katie" Magbanua was protecting him — not a part of the "extortion"; how Charlie allowed Wendi Adelson to move from Tallahassee to Miami "closer to the killers"; how he never hired a private investigator or got a bodyguard after either extortion; and how Latin Kings somehow agreed to accept a many yearslong payment plan for what he says started off as a "pay in 48 hours or else we'll kill you" situation.
"Does your mom have a favorite child?" Cappleman asked, switching gears.
"My mom doesn't say she has a favorite," Charlie smirked, "but I don't think she likes my older brother."
"Why did Wendi testify that she was getting along well with Dan Markel prior to his death? Can we agree that wasn't true?" Cappleman asked.
"I wasn't leading her life," Charlie said before repeating a line that Wendi herself had used the first time she testified in 2019, also minimizing the acrimony by saying that no divorce was "pleasant."
"Is it part of your defense to minimize how nasty and pretentious this divorce was?" Cappleman said and then asked, "Can you trust Wendi with a secret?" Charlie disagreed that he was supposed to underplay how difficult the divorce litigation was on Wendi and Donna Adelson.
"Can we agree she obviously knew something about this crime?" Cappleman pushed. "It's not a coincidence she went to the crime scene, is it?"
Charlie denied that Wendi had done that, despite tight evidence that she had.
"She pulled up to the crime scene tape," Cappleman repeated. "It's like she couldn't help herself. She exposed you all to some degree by those actions, didn't she?"
Charlie again disagreed, saying nobody knew there would be a murder.
"And then she threw you under the bus, didn't she?" Cappleman continued, "She knew her husband had just been shot and she said your name — within the first 25 pages of a five-hour interview."
Charlie said he didn't feel anger toward Wendi for doing this and that she had said many people's names to the police.
"Are you pissed that she told all that stuff to Jeff Lacasse?" Cappleman asked, referring to things Wendi's ex-boyfriend had testified to regarding the celebration dinner and hit man solicitation and telling the jury that Charlie had bragged about his connections to criminals.
Charlie denied that Wendi had said anything incriminating to Lacasse at all.
"So, Jeff Lacasse is making it up?" Cappleman continued. Charlie seemed to agree.
"Isn't it true that financially you came up ahead," Cappleman asked, regarding the $138,000 plus many thousand he spent in an uncustomary monthly payment plan Charlie says his extorters agreed to, which in sum was less than he would have had to pay for the $333,000 offer to pay off Markel.
Regarding the positive financial impact of the murder on Wendi, Cappleman also pushed forward. "Did she get $2.7 million in benefits for her children plus $4,800 a month?" Cappleman said. Charlie was hesitant to admit this, instead saying that Markel's sister is the executor of "90%" of the money.
"She gets disbursements," Cappleman retorted, clarifying that these payments for the children end up going through Wendi herself.
"You know more than I do," Charlie replied.
Regarding Harvey Adelson's 70th birthday, which took place between the first murder attempt in June and the actual murder in July, Cappleman probed Charlie why Donna wanted him to erase a text and why there had to be any secrecy over such a thing. And then asked Charlie a series of questions, none of which he was able to logically answer, including, "Do you think everyone involved should be convicted? Even the person who hired the hit? Do you regret that Dan Markel suffered for 14 hours before he died? Did it surprise you that the cops were able to identify the Prius? Was the police work in this case thorough? Was the money damp?"
But the most biting question cut to the heart of his defense story: "Why did whoever did it have to kill someone to extort you? Why couldn't they just come and kill you?" Cappleman asked.
"Thank God they didn't," Charlie said.
"Thank God they didn't?" Cappleman balked.
"I would have gotten killed," Charlie replied, seemingly unaware of how such a comment would play to listeners.
"I still don't know how killing Dan Markel advanced their goal of extorting you," Cappleman asked, "Do you?"
Charlie didn't offer an explanation.
"You've gone to the police before," Cappleman asked, speaking of an incident with his child's mother, an attempted shakedown by another dentist, and an aggravated assault by a journalist's vehicle in 2018.
Charlie conceded he had.
Redirect with misdirection
Judge Stephen Everett welcomed the jury back to the courtroom, saying he'd hold in contempt anyone who hadn't shared the red velvet cake that an "undisclosed source" had told him was brought to their quarters for the break.
It was a moment of levity during an otherwise tense morning.
Then defense attorney Dan Rashbaum began redirect examination of his client.
Through this, Charlie testified once again that in 2014, he didn't yet believe that Katie was extorting him — that it wasn't until she had gone to trial and her finances were revealed that he believed Katie was behind it all. He said that for years, he had also thought that Luis Rivera was the shooter, not Sigfredo Garcia.
Regarding the State's theory that four members of the Adelson family — Donna, Harvey, Wendi and Charlie — had participated in the murder, Rashbaum asked, "Their theory is wrong about your sister?"
"100%," Charlie answered.
"Just like they're wrong about you?" the attorney followed.
"100%."
The defense rested. The State rested. Closing arguments will take place Monday.
___
Florida Politics provides ongoing coverage of the Markel murder case, which is drawing international media attention to Florida's capital city. Our reporting draws from sources including contributor Karen Cyphers of Sachs Media, who, with attorney Jason Solomon, advocates with the grassroots group "Justice for Dan" to draw attention to the case and provide analysis relevant to Florida's political, advocacy and legal communities.