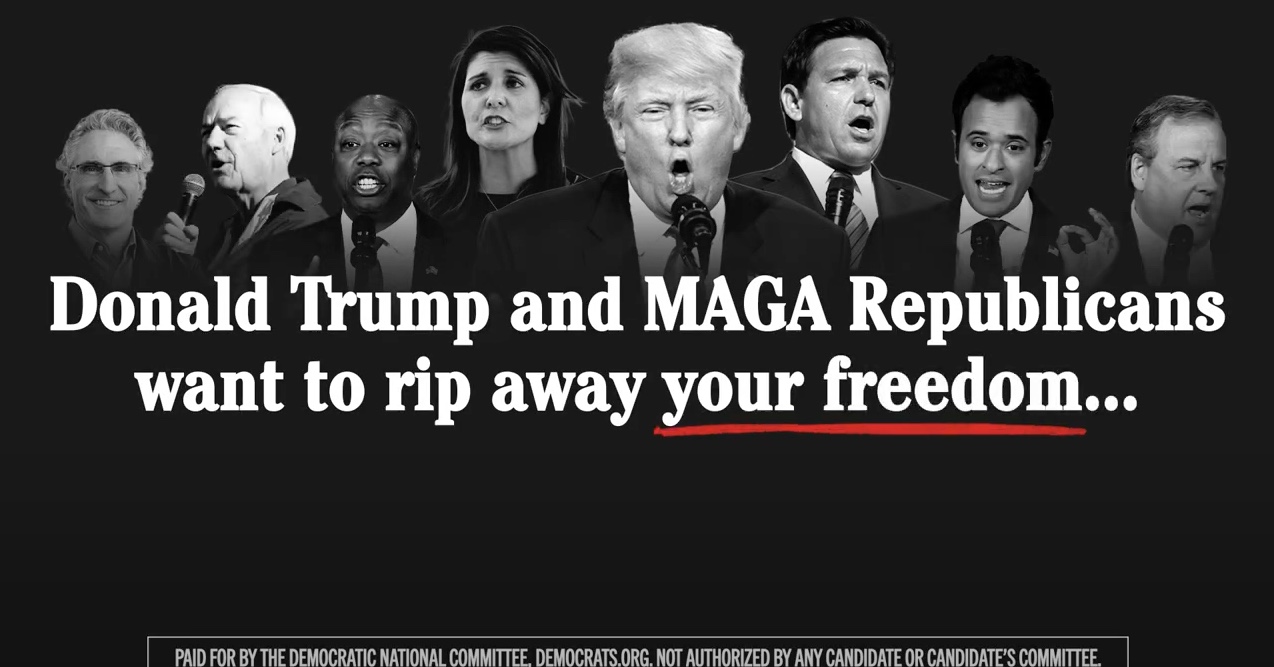 The 'freedom' in 'Freedom Summit' must be meant ironically, a rolling, animated billboard from the national Democratic Party indicates.
The Florida Freedom Summit is bringing GOP headliners to the stage today — and outside, a rolling reminder from the Democratic National Committee (DNC) of what freedoms Republicans aim to take away.
As former President Donald Trump, Gov. Ron DeSantis, U.S. Sen. Tim Scott, and others fire up the crowd at Gaylord Palms Resort & Convention Center in Kissimmee, the DNC plans a mobile billboard that's going to be highlighting how the GOP agenda might feel to some like more of a straitjacket than freedom.
"It's utterly ironic that Donald Trump and 2024 Republicans are attending the 'Florida Freedom Summit' when their entire platform is based on ripping Americans' freedoms away from them," DNC spokesperson Sarafina Chitika said. 
The billboard will be circling the premises from 11 a.m. to 7 p.m., tailing attendees who could be paying as much as $15,000 for an all-access VIP ticket. The billboard will have an animated screen that starts with a cutout photo of Trump appearing to yell into a microphone. And then the seven candidates who his poll numbers have dwarfed pop into the background.
"Donald Trump and the MAGA Republicans want to rip away your freedom …" it says with the last two words underlined.
And then comes the all-caps treatment explaining exactly what freedoms will be taken away: "to make your health care decisions and ban abortion."
The MAGA agenda also means less freedom to learn America's complete history because of book bans, the billboard says, also in all caps.
GOP politicians have countered that these books are still available, albeit not in some schools or at some grade levels.
Moms for Liberty Founder Tiffany Justice is slated to be one of the day's 25 speakers and will likely explain that more.
The last one is a little more confusing, as it makes the case that fewer gun regulations mean less freedom. The logic works, however, if you take a shot from one of these less-regulated guns.