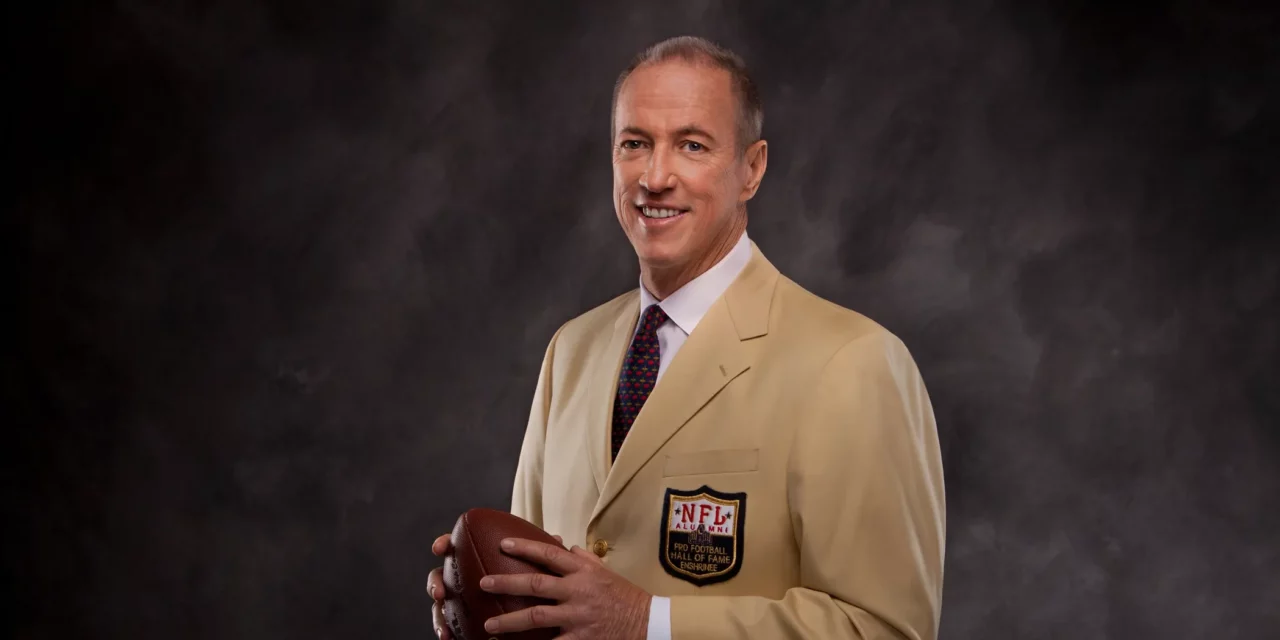 The Buffalo Bills QB lost a son to Krabbe's Disease and survived cancer. Now he wants hope for others.
Quarterback Jim Kelly played in four Super Bowls, but his greatest challenges in life tackled him off the field. His only son, Hunter, died at age 8 after a lifetime fighting Krabbe's Disease. Later, Kelly survived four personal bouts with cancer.
But as prepared to speak at the Florida Association of Health Plans annual conference in Orlando, Kelly appeared upbeat. Life provided him challenges, Kelly said, but also opportunities.
"I've been through it all. And right now, I travel the country speaking and hopefully, trying to be a difference maker," he said, "not only for the people out there with cancer, but anybody out there is going through tough times in your life."
The University of Miami Sports Hall of Famer, Kelly became a first-round draft pick to the NFL and played for the Buffalo Bills more than a decade. His team went to four Super Bowls in the early '90s but notoriously lost every one.
In 1997, he became a father on his birthday to Hunter, but within months the baby was diagnosed with Krabbe's Disease, a rare, inherited and fatal disorder. While doctors initially said Hunter would likely die by age 2, he lived to age 8.
Kelly and his wife, Jill, launched the Hunter's Hope Foundation, which continues to advocate for early screening for the disease. That's part of the message Kelly brought with him to Florida as he spoke at the Orlando conference.
He notes children in every state have a heel prick shortly after they are born, which provides samples for early screenings of diseases.
"Every state in this country, believe it or not, tests for a different amount of treatable diseases. When my son was born, the state of New York was only testing for 14. States like Mississippi would have 45. Illinois had 51."
New York did not screen for Krabbe's. While the disease is incurable, Kelly knows his son could have received treatments earlier and seen an improvement in quality of life. Florida still does not screen for Krabbe's Disease.
"It drives me nuts we cannot get this," Kelly said. "The politics in it drives me crazy. To be honest with you I don't want to get into it anymore because it gets me really, really mad. But this is just to wake people up and understand we've got to give these kids all a chance."
Kelly has also survived several bouts of oral and skin cancer. His most serious treatment required removing his fibula bone and several arteries and blood vessels from his arm and using that to completely replace his upper jaw. More recently, a procedure required removing parts of his nose and chin.
"I might have lost four Super Bowls but I kicked cancer's butt," he said.
He has advocated for early cancer screenings as well.
Kelly said he keeps strong through challenges leaning on his personal faith and his family for support. He and his wife have two daughters, and Kelly said all kept his spirits up during the worst periods of his life.
He also enjoys the support of fans. He played one season with the Miami Dolphins, his last in the NFL, but said even fans there sent him get-well cards when he was recovering from cancer.
Still, asked if he had a final message to deliver in Florida, it was an anti-Dolphins cheer from his days in a Bills uniform.
"Let's go Buffalo, squish the fish," he said.