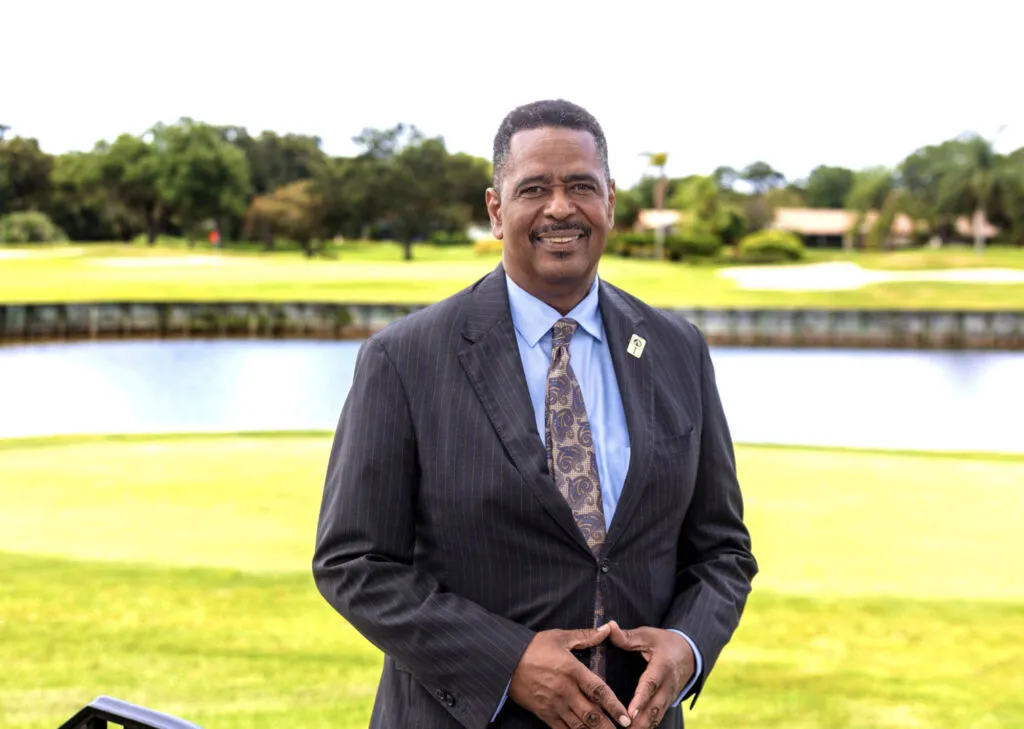 It's not clear if the alleged abuse happened during her pregnancy.
Decades before considering a run for U.S. Senate, Stanley Campbell's then-pregnant wife accused him of domestic abuse.
The Palm City Democrat plans Wednesday to launch a challenge to Republican U.S. Sen. Rick Scott. But he first must convince Primary voters to overlook explosive allegations of battery and financial irresponsibility.
As he grows buzz around a campaign, Campbell has touted family connections to both his brother, rapper-turned-community leader Luther Campbell, and his current wife, Human Health and Services Assistant Secretary Cheryl Campbell. The tech entrepreneur also served on NASA's advisory board, and he founded a consulting firm, Eagle Force Associates, which built hardware in airport scanners and software used to detect Medicare fraud.
But his first marriage, to Ethel Rowlett, ended in failure. Rowlett filed for divorce in July 1986 after seven years of marriage. In court documents, Rowlett accused Campbell of adultery and abuse.
Maryland court records show the candidate was charged in 1985 with two counts of misdemeanor battery following a complaint by Rowlett. A warrant on Campbell was issued and served on Dec. 11, 1985.
That's the day Rowlett moved out of the home she shared with Campbell, weeks before Christmas and less than six months before the birth of the couple's son in May 1986. Just over two months after the child's birth, Rowlett filed for divorce.
"He has assaulted and battered your plaintiff on many occasions, causing injury to her body and mind, and he has harassed, humiliated and degraded her in the presence of her acquaintances, friends and family rendering continuation of the marital relationship impossible," Rowlett wrote in a legal complaint.
In the document, Rowlett accused Campbell of "constructive desertion," or forcing the spouse to abandon the marriage through violence.
Florida Politics reached out to Campbell's campaign for comment and has not yet received a reply.
The personal matter isn't the only time Campbell faced a dispute in court, nor is it the most recent. Just last month, Campbell settled a years-long dispute over millions invested in Eagle Force Associates. Federal court documents show Campbell agreed to pay $1.38 million to the estate of Richard Kay.
A complaint filed against Campbell said Kay had provided $2 million to fund the company, with some funding dating back to 2014, and that Campbell repeatedly came back seeking more funds. Kay, in 2020, demanded Campbell start repaying the funding but the matter ended up in federal court instead. The case was not formally dismissed until last week.
Federal court records show Campbell also declared bankruptcy in Virginia in 2011. And Rowe Inc., an aviation company Rowlett owned dating back to the time of his divorce from Rowlett, was also involved in a financial dispute with Amzura Enterprises, which sued the company and other entities in federal court in Virginia.
In a lead-up to Campbell's formal Senate launch on Wednesday, the candidate's campaign has promoted his business background. It also has talked up his status as a Miami native.
"As a native Floridian, Stanley built his life in nearly every corner of the state. He was born and raised in Miami, Florida and later earned a degree in Physics and Mathematics at Florida A&M University in Tallahassee," reads an email blast from his campaign. "His military career brought him to Pensacola, Homestead, and the Tampa Bay area. He and his wife, Cheryl Campbell, currently reside in Palm City, Florida near the Martin Downs Golf Club purchased by Stanley in 2021."
But voting records show Campbell has voted in Virginia since 1997.
Still, the Campbell name holds certain political capital in Democratic and South Florida circles. Cheryl Campbell serves in President Joe Biden's administration through her role at HHS. And his brother founded 2 Live Crew years ago, a Miami rap group that became a poster child for First Amendment rights.
The campaign lays out numerous notable activities by his family in Miami.
"Stanley's late father, Stanley Victor Campbell, moved from New York to Miami at the age of 18 and spent nearly 70 years as an advocate for public schools and unions," the email blast says. "His late mother, Yvonne Campbell, was a hairdresser and community organizer who successfully organized local beauticians. And Stanley's brother, Luther Campbell or "Uncle Luke," is the rapper and Hip-Hop icon who successfully battled the Supreme Court in a First Amendment case championing music free speech."
The Miami native said it's his time for the public spotlight.
"I can't see my 10-year-old self becoming the man I am today given the challenges of education, immigration, business, a woman's right to choose, voting rights, and unequal justice," he said in a campaign statement. "I know who Florida is. I believe in its creed. And I believe in the creed of this great nation."
But with the public outing comes a new level of scrutiny on decades of personal matters.