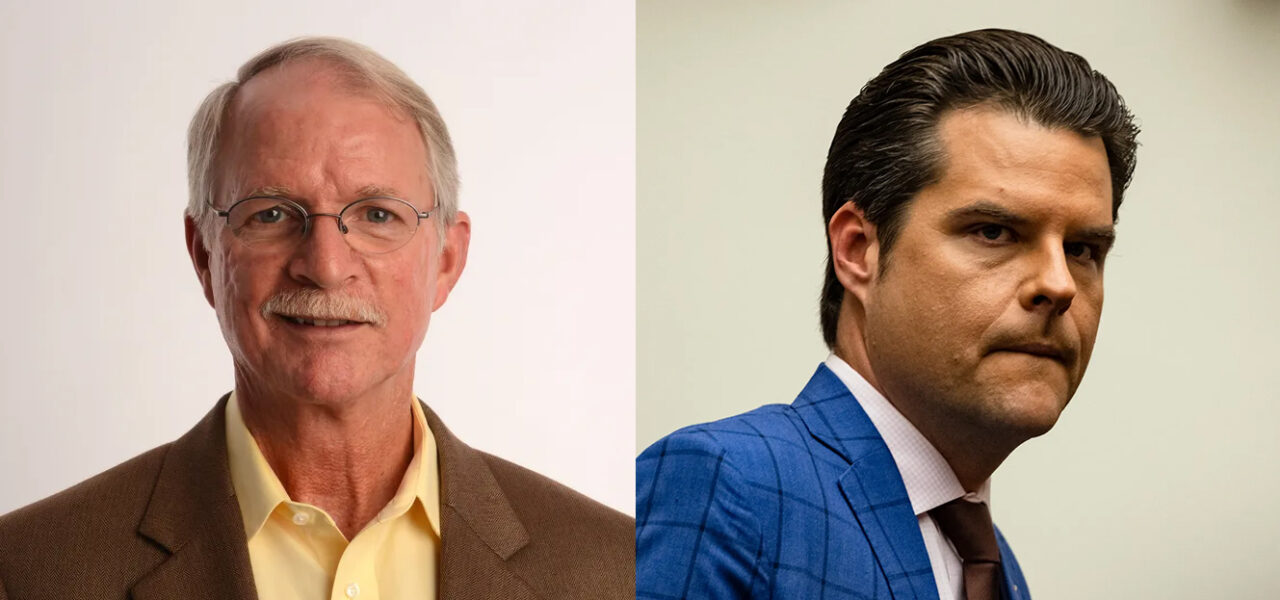 All Florida Democrats voted to keep government open. Republicans split 12-8.
The House approved a budget plan that most likely puts off concerns about a government shutdown until next year. But most Republicans representing Florida in the House voted against it.
New Speaker Mike Johnson's proposal to temporarily fund the government passed on a bipartisan vote of 336-95. Of the 93 Republicans to vote against the bill, 12 hail from the Sunshine State.
Another eight Republicans from Florida voted for the bill, as did all Democrats from the state.
During a podcast ahead of the vote, U.S. Rep. Matt Gaetz, a Fort Walton Beach Republican, said he could not support the legislation.
"Speaker Johnson is proposing a 'Laddered CR' to keep funding the government. If done right, we would be able to cleave the important programs from those that need itemized review," Gaetz said. "But a laddered CR without spending cuts, border security, and defanging weaponization is not sufficient."
U.S. Rep. Neal Dunn, however, voted up on the bill, but he did criticize having another continuing resolution to keep government open.
"It is an age-old tradition for Congress to kick the can until a few days before Christmas to put extra pressure on members to vote for massive omnibus spending bills," he said in a lengthy statement.
"That's why I opposed last year's last-minute, massive $1.85 trillion spending bill, and it's why I'm supporting Speaker Johnson's strategy to prevent that from happening again. To be clear, I do not like continuing resolutions! This is not a viable long-term solution. But Speaker Johnson was sworn in two weeks ago and deserves sufficient time to fight for conservative victories."
Likewise, every Democrat from Florida's delegation voted for the bill. U.S. Rep. Frederica Wilson, a Hollywood Democrat, said she felt a responsibility to do so.
"Governing is no simple task, but Republicans have wasted weeks on political theatrics, from failing to choose a Speaker to pushing forward heartless appropriation bills," she posted on X. "But today, Democrats put people over politics, and the American people won by averting a government shutdown."
U.S. Rep. Kathy Castor, a Tampa Democrat, offered a similar rationale for her vote.
"House Democrats continue to stand ready to work with House Republicans to pass all government funding bills that reflect the framework that was signed into law in June with the passage of the Bipartisan Fiscal Responsibility Act," she said. "I encourage my Republican colleagues to work in good faith with Democrats and end their partisan and costly shenanigans."
U.S. Rep. Aaron Bean, a Fernandina Beach Republican, cast a "no" vote.
"As our debt surpasses a staggering $33 trillion, it has never been more apparent that our nation cannot sustain (President Joe) Biden-(former Speaker Nancy) Pelosi spending levels for one more day, let alone 77 days," Bean said in a statement.
"We owe it to our children and our grandchildren to do something about our unsustainable debt and leave them a nation that is financially stable. We cannot ask the next generation to pay for the greed of today."
U.S. Rep. Cory Mills, a Winter Park Republican, felt similar and voted "no."
"Congress must curb their addiction to overspending and use vote single point appropriation bills while addressing necessary cuts, reforms, and an economic growth strategy. Let's put America and the American people FIRST!" he posted on X.
But U.S. Rep. John Rutherford, a Jacksonville Republican, voted in favor.
"In the short-term, this bill funds Agriculture, Energy and Water, Military Construction and VA, and Transportation and HUD appropriations bills through January 19th and the remaining eight bills through February 2nd," the Jacksonville Republican said in a statement.
"This two-step place holder keeps the government open so that House Republicans are in the best position possible to negotiate with the Senate and fight for fiscal responsibility in Washington as we advance conservative policies that will grow our economy, tackle the crisis at our southern border, deliver peace through strength, and improve the lives of everyday Americans."
U.S. Rep. Lois Frankel, a West Palm Beach Democrat, voted "yes" and said that staved off unwise budget cuts.
"The continuing resolution the House passed tonight will keep the government fully funded through January 19th at current levels, and includes none of the draconian cuts Republicans have been pushing for weeks," she said.
"We still have more work to do to secure long-term funding for Israel, Ukraine, child care, and other essential programs American families rely on, and House Democrats are ready to work in a bipartisan way to make that happen."
A day before the vote, U.S. Rep. Debbie Wasserman Schultz, a Weston Democrat, issued a lengthy statement slamming the laddered approach. But she ultimately voted for the budget.
She still posted on social media, "The GOP's funding bill furthers House Republicans' goal of eliminating public education," with a graphic suggesting Johnson's budget plan could kick 1,162 teachers from classrooms in her district alone. That appears to reference 1% across-the-board budget cuts that kick in only if Congress doesn't continue funding when the issue comes up again next year.