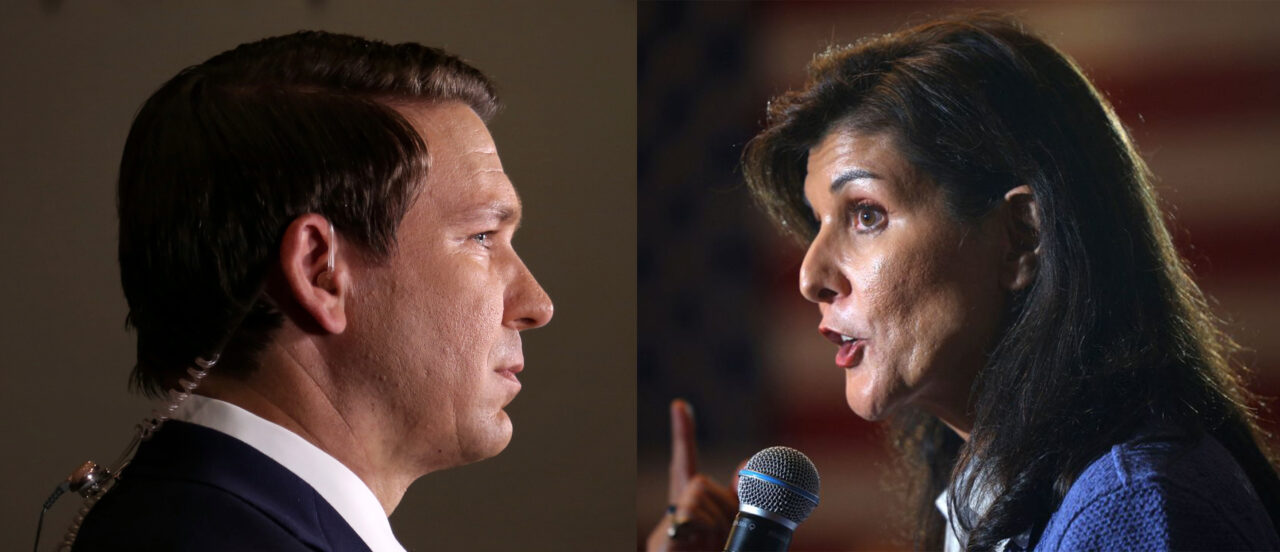 'You had nothing to do with it. Did you tell that cop to do anything?'
Florida's Governor is betting that the killing of George Floyd and a key opponent's reaction to it may be the jump start his presidential campaign needs.
On Saturday in Ottumwa, Ron DeSantis lashed out at "liberal Republican" Nikki Haley for her belief that the Black man killed by a Minneapolis police officer in May 2020 should have been "personal and painful" for Americans.
"She has accepted liberal narratives on a whole bunch of things. When the BLM riots happened, the George Floyd riots, I called out the National Guard. I was not going to let that happen in Florida. I stood by the police," DeSantis said. "She said that it needed to be personal and painful for each and every American."
"Why would it need to be personal and painful for you? You had nothing to do with it. Did you tell that cop to do anything? Of course not. It's just buying these ridiculous narratives. And so I think it's clear what she's trying to do."
DeSantis made a similar point recently on a radio show, accusing Haley of "tweeting that it needed to be personal and painful for every single person. And I'm thinking to myself, 'Why does that need to be personal and painful for you or me? We had nothing to do with it.'"
Time was when DeSantis accepted what he might now call a "liberal narrative" regarding the shocking death that led to a summer of street protests far beyond Minneapolis.
His office issued a statement saying the "murder was appalling, and the Minnesota perpetrators need to be brought to justice, but this cannot be used as a pretext for violence in our Florida communities."
He elaborated on this read soon thereafter.
"When I saw the video of that cop murdering George Floyd, I was just absolutely appalled by what I saw," DeSantis said in June 2020. "But I immediately asked folks at the Florida Department of Law Enforcement and others, 'How in the hell could you get away with even doing that tactic?' And sure enough, (in) Florida, you do not put knee on a neck like that. That is not good training."
DeSantis continued to express revulsion at the police violence, the Tampa Bay Times notes, quoting him as saying "what made this even more egregious, the guy was handcuffed. It's like, 'Are you kidding me?'"
That position was short-lived, with DeSantis moving to the right soon enough.
By the next year, he was working on bringing "mistreated" cops to Florida, targeting not just police officers who didn't want COVID-19 shots but other  officers who are disgruntled for a variety of reasons, he said, including an inability to "take that environment" in places like New York, Seattle, and Minneapolis, flash points in last year's street protests in the wake of the George Floyd murder.
"We are 100% excited about saying that anyone that's being mistreated, if the morale is low, if you can't take that environment, and we have openings here, you're going to get an environment where people are going to support you," DeSantis said.