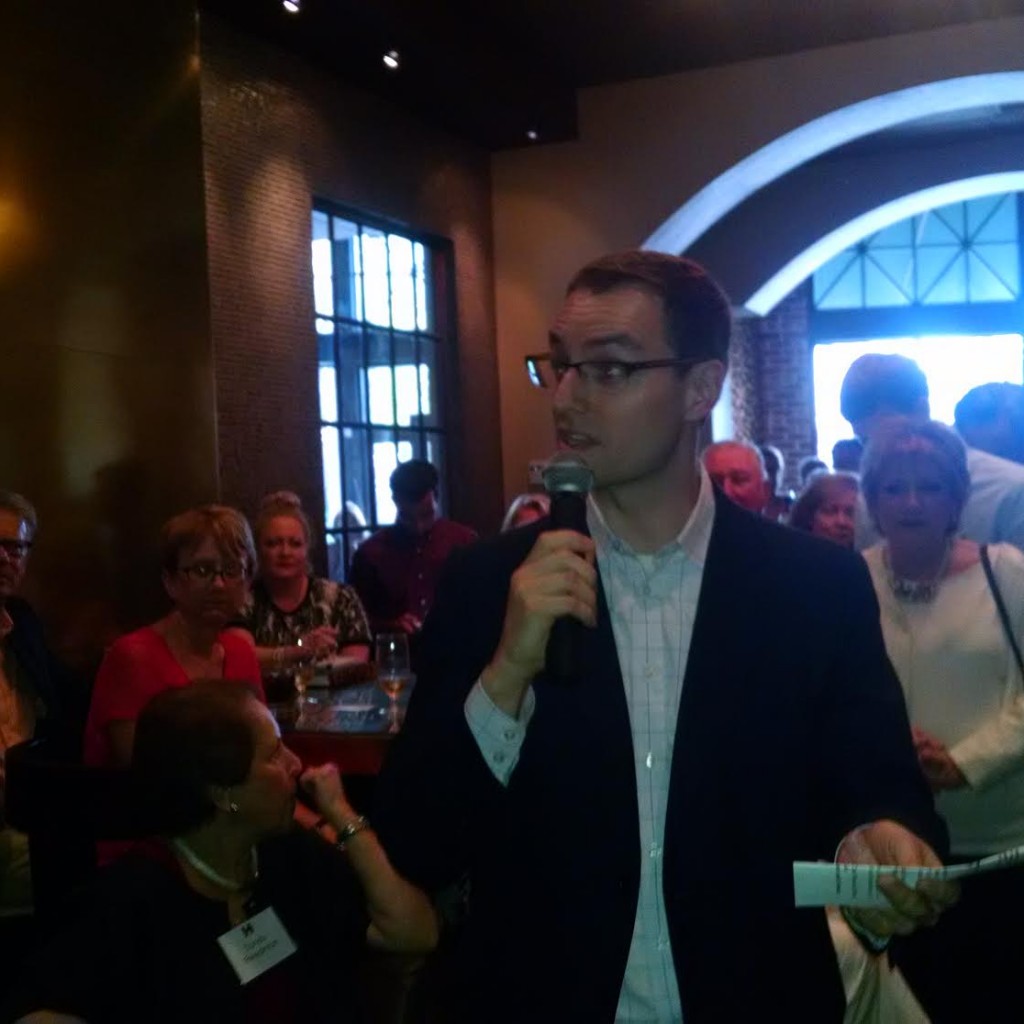 Hillary Clinton will give a speech within the next three weeks giving her take on how she would deal with Wall Street bankers and the financial industry.
That was the one major nugget of news to emanate from Robbie Mook's appearance at the Mise en Place restaurant in Tampa on Monday night.
Mook is the 35-year-old campaign manager for the Clinton campaign. He was the featured player at the low-dough fundraiser at the downtown eatery, where people could contribute as little as $25 to nibble on ravioli, purchase drinks at the bar, and maybe mingle with like-minded Democrats, already in the mood to work towards electing Clinton.
"We take nothing for granted," Mook vowed to the crowd that appeared to be at least 150 in number (Organizer Alan Clendenin now tells us more than 200 were in attendance). Though he never mentioned the words "Bernie" or "Sanders," he said the Clinton campaign is taking the primary campaign extremely seriously, and would work hard in every part of the country for it, especially in the first four states: Iowa, New Hampshire, South Carolina and Nevada.
Although some Democrats in attendance could be heard talking down Sanders' chances before Mook spoke, the 73-year-old Vermont senator is playing to large audiences in Iowa and New Hampshire, and in a CNN/WMUR poll in New Hampshire taken last week, trailed the front-runner by only 8 percentage points: 43 percent said they preferred Clinton, and 35 percent Sanders.
Also, The Wall Street Journal reported Monday there's still a chance Joe Biden may get into the race. The paper reported that his late son Beau urged his father to do so.
Mook didn't spend too much time on the competition. He celebrated the Supreme Court's decisions last week on the Affordable Care act and same-sex marriage. "This has been a fantastic week for our country," he exclaimed. He also said he looks forward to Florida having two Democratic senators next year, though he didn't allude to a specific candidate.
He repeated what has become a mantra in the early weeks of the 2016 Clinton campaign:  that the former New York senator, first lady and Secretary of State will fight for everyday Americans.
Mook repeated the four essential "fights" that Clinton will be fighting about:
"Creating the economy of tomorrow";
Fighting for America's families, which provided a segue into immigration reform. Mook said Clinton is all about fighting for a path to citizenship for undocumented immigrants and keeping families together, and vowed she wouldn't do half-measures like those espoused "by your former governor," Jeb Bush;
Fighting to protect America's security; and
Fighting to reform campaign finance laws.
"We're going to end the super PAC!" he said excitedly, which sounded a bit weird, considering that Clinton has her own super PAC, Priorities USA Action, that her camp hopes can be as competitive as any the Republicans such as Scott Walker and Bush are using.
Mook seemed to slightly startle the crowd when he said he hoped they will contribute every month to the campaign, as well as volunteer.
Although hosting a fundraiser for a Democrat is virtually de rigeur at Mise en Place, such events are usually held in the Lafayette Room in the back. Not Monday. Although that room was used as a VIP greeting place for Mook to yuck it up with select Democrats, he actually addressed the packed crowd in the main dining room, where former Tampa Mayor Sandy Freedman sat below Mook, fanning herself furiously in the increasingly warm room.
Seemingly everybody who is anybody in Democratic politics in the Tampa Bay area was in attendance: Tampa Mayor Bob Buckhorn (who introduced Mook), former CFO Alex Sink, former U.S. Rep. Jim Davis, state Senate Minority Leader Arthenia Joyner, Tampa City Council members Harry Cohen and Frank Reddick, St. Pete City Councilman Karl Nurse, School Board members Cindy Stuart and Susan Valdes among others.
Mook repeated Buckhorn's declaration that Tampa and Hillsborough County was "ground zero" in deciding the election next year, though he was less forthcoming when it came to responding to a question about when the candidate herself will be coming to the Tampa Bay area for a campaign appearance.
"Soon," Mook promised. Then it was all over.