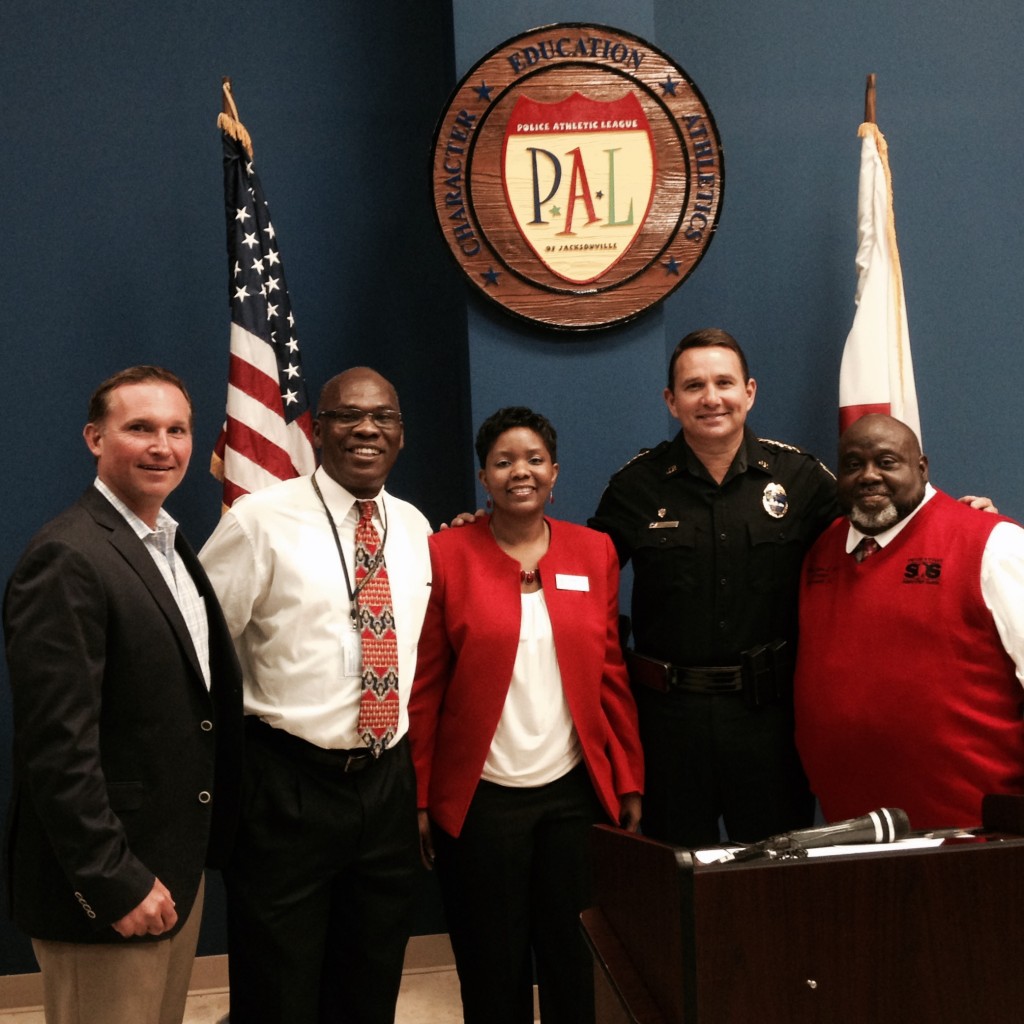 Bishop John Guns, Jacksonville Mayor Lenny Curry, Sheriff Mike Williams, and Councilwoman Katrina Brown convened at a Wednesday morning press conference promoting the "One City, One Jacksonville Leadership Week for Young Men."
The one-week "leadership academy" for 100 teenage boys from the urban core precedes the new school year, encompassing Aug. 17 through 21.
Pastor Guns, in kicking off the event, noted how it tied into the One City One Jacksonville concept.
Citing the "powerful, important, and compassionate men and women" convened at the Police Athletic League building in Grand Park on Wednesday, Guns noted, regarding One City One Jacksonville, that "we decided to buy into that."
"Two days after the inauguration," Pastor Guns continued, Curry and Williams were "already willing to invest their name and resources," their "voices" and "individual credibility."
Curry spoke next, and his words addressed collective connection and responsibility.
He spoke of how One City One Jacksonville transcends the individual, and carries on what he said during his inauguration speech about "love transforming the city."
Curry reiterated other Inauguration themes, such as "touching at-risk kids" and being "committed to being in the trenches."
Everyone speaking, he added, were "people of action."
Next up: Sheriff Williams, who asserted that it "took me about two seconds" to answer the call when Bishop Guns called.
Williams described the event as "the first of many things we will do together," saying that "this is how you reach out and touch young men and women."
Councilwoman Brown, meanwhile, described this initiative as aligning with one of her top priorities: public safety and reducing crime.
Guns then took the mike again, describing the "amazing forty days" from the "inauguration until now."
Referring to Curry and Williams, two men who took their share of ad hominem attacks during the campaign, Bishop Guns said that "these two men have proven to me [that] they care. This is a risk for them to stand with us in this way, at this level."
Guns had kind words for State Attorney Angela Corey as well, saying that he spent an hour and a half with her the other day, and that it was an education. He glowed as he said that the mayor, the sheriff, the Superintendent of Duval County Schools, and the City Council were "all on the same page," devoting resources to this week to benefit "100 at-risk men."
"All of us are committed to investing in them," Guns said. "This is unique."
The men in the leadership academy will be, Guns said, "exposed to the city."
They will be able to talk to Curry, who Guns said "loves talking about his vision for the city with young men."
They will be able to walk through the police memorial building, "and they won't be in handcuffs."
And they will spend time with State Attorney Angela Corey.
"She's going to feed them, and spend time with them," Guns said.
This is but the beginning of a process. The students will, Guns said, be monitored throughout the school year.
"We're asking Jacksonville to rally around them," Bishop Guns said. And he predicts a multiplier effect.
"If we start with 100, we [can] end up with 10,000," Guns said.
That would be a game changer.
"We're going to give it a ride," he said. "We might as well try."
And this is a citywide commitment. During the Q&A, we asked Mayor Curry about the "risk" that Bishop Guns said that he and the sheriff were taking.
"Whatever the perceived risk," Curry said, "this is the right thing to do."
"Whatever it takes, I'm all in," the mayor continued, as the room erupted in applause.
For Curry and Williams, men of quiet but resolute faith, initiatives like this might meet with skepticism in some quarters. However, their vision of public service is yoked to the concept that faith without works is dead. Collaboration with Bishop Guns and the faith-based community is central to that. And even those who supported other candidates during the election have noticed.
After the event, I spoke with Pastor John Allen Newman, who was an Alvin Brown supporter during the seemingly endless campaign season, about Curry's first few weeks in office.
"He's doing a great job," the reverend said, "of reaching out to the entire community."
He added that with the election being over, the goal among everyone was to "come together," do "what's best for the city," and "heal and be one."