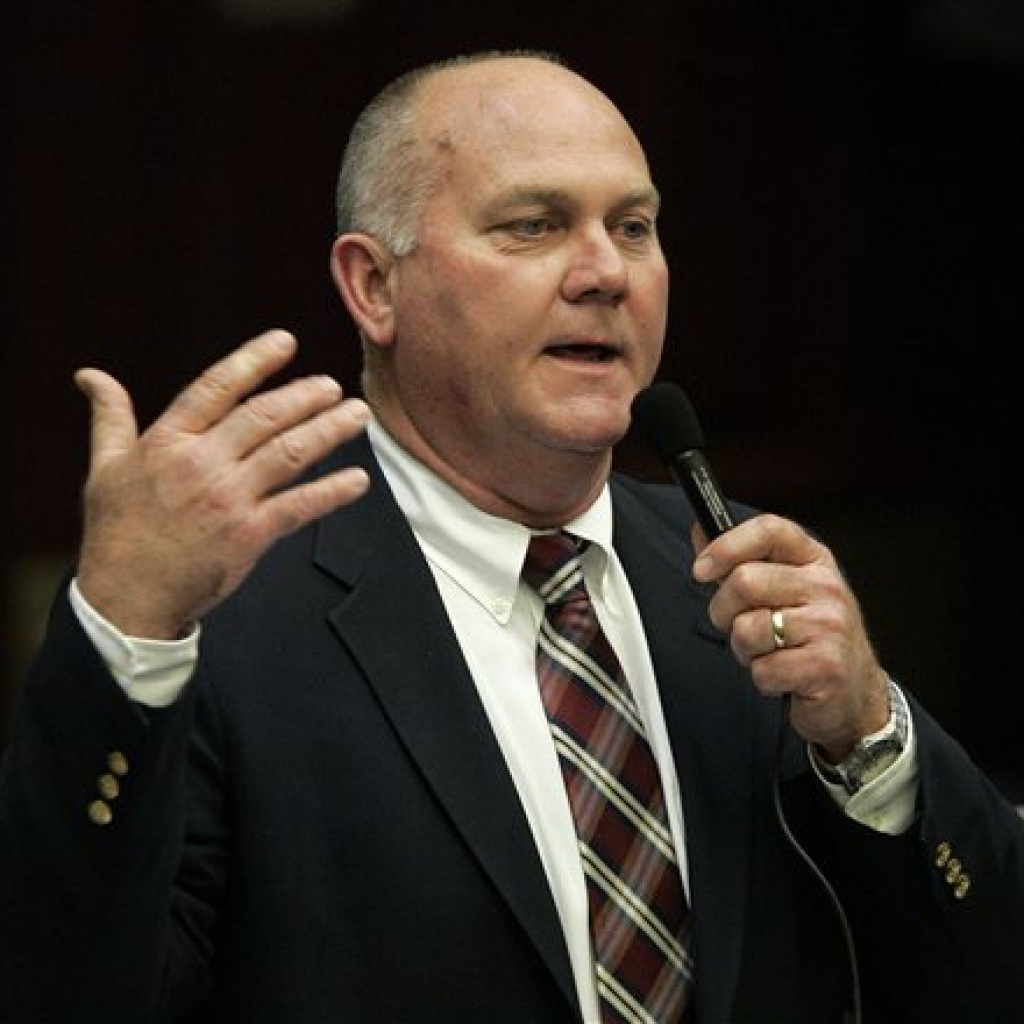 Earlier this year, citizens in the Lakewood Estates neighborhood of St. Petersburg were outraged at the construction of a homemade gun range built in the backyard of a resident, named Joseph Carannante. But their complaints to local law enforcement went nowhere, because of a 2011 state law that restricts local communities from enacting their own gun restrictions.
Although Carannante ultimately removed the structure on his own, the issue prompted St. Petersburg state Representative Daryl Rouson to propose legislation that would ban gun ranges in residential areas for recreational use. But initial resistance from the NRA played a part in Rouson's bill failing to get enough votes to get out of the House Criminal Justice Subcommittee, where it appeared DOA.
It was later revived in the session though by Panama City Republican Jay Trumbull, who tweaked the language of an amendment sufficiently enough to get the NRA's buy-in this time around. However, it was one of many pieces of legislation that ended up on the cutting-room floor when House Speaker Steve Crisafulli called for his caucus to leave Tallahassee three days before it was scheduled to, after it became apparent that the House and Senate couldn't come to an agreement on a budget deal.
The bill will come up again next January, as Polk City Republican Neil Combee has now filed legislation that could lead to misdemeanor charges for people who shoot guns recreationally — such as target shooting or celebratory shooting — in certain residential areas.
"It's very similar to Representative Trumbull's amendment," Combee told Florida Politics Monday morning, while making the drive to Tallahassee to begin the second special session of the Florida Legislature this year, this time on redistricting congressional lines.
Combee says he's spoke with Rouson about the legislation, and the St. Pete Democrat intends to be a co-sponsor of the law, which will have major support going into the 2016 session.
"The Police Chiefs Association, working the NRA, asked me to do it this year," Combee says.
The bill (HB 41) could lead to first-degree misdemeanor charges for recreational shooting "in an area that the person knows or reasonably should know is primarily residential in nature and that has a residential density of one or more dwelling units per acre." The bill, however, includes an exception if, "under the circumstances, the discharge does not pose a reasonably foreseeable risk to life, safety, or property." It also includes an exception for people defending lives or property or performing official duties.
Combee was the sponsor of a bill in 2014 that extended immunity to people who threaten to use force in self-defense, the so-called "warning shot" bill (though Combee disdained that terminology). The bill passed in the wake of the publicity around the Marissa Alexander case. Alexander, was a Jacksonville African-American woman who faced the possibility of 60 years in prison for firing a shot into the wall during a domestic dispute. The case drew nationwide attention, and her conviction was overturned when a judge ruled the jury had been given incorrect instructions. She ultimately struck a deal with the state, and after spending more than 1,000 days in jail, was released earlier this year.