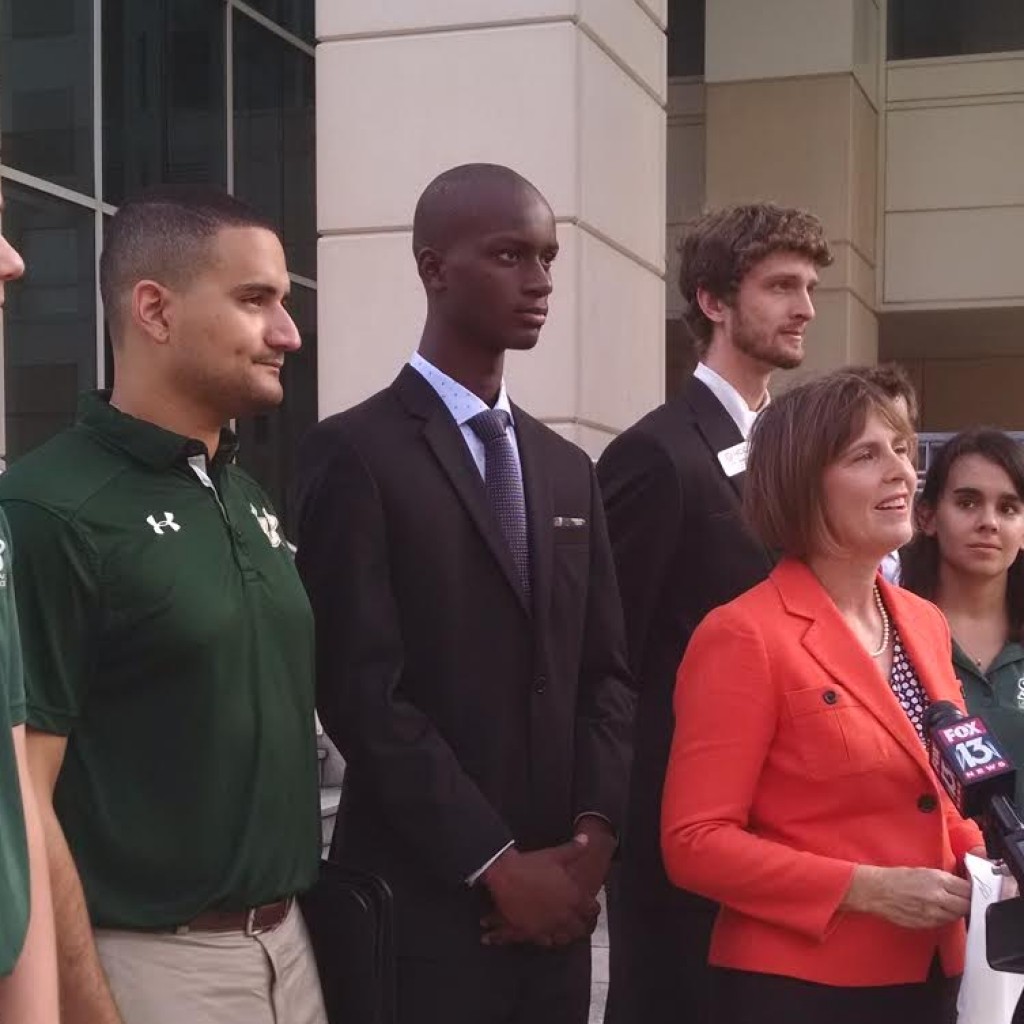 Mounting student loan debt continues to grow in the U.S., and there doesn't seem to be any end in sight. Recent reports put the cumulative student debt level at $1.2 trillion. It's a hot issue on the campaign trail, and yesterday in Iowa, President Obama announced a new initiative that will allow students and families to apply for financial aid earlier to try to reduce the problem.
In Tampa today, Congresswoman Kathy Castor held a news conference to call attention to her own piece of legislation that she's recently introduced that would allow borrowers with federal students loans to be able to refinance those loans to lower interest rates.
Castor's Bank on Student Emergency Loan Refinancing Act also allows those with private student loans in good standing issued prior to July 1, 2015 the option of refinancing their high-interest private student loans into the federal program, also obtaining lower interest rates.
"Remember, the state of Florida is a low wage state, so if you're burdened with student debt over time, you're going to have less of an ability to make those investments going forward," said Castor while speaking in front of the federal building in downtown Tampa on Tuesday. The Congresswoman also cited a recent study by the financial data website WalletHub, which showed Florida 40th out of the 50 states in coping with student debt.
Joining Castor at the news conference was several college students from USF as well as two bankruptcy attorneys, who warned that former students in serious debt incurred from college loans don't have the option of resorting to declaring for bankruptcy.
"It's a very high standard that they have to meet in order to do so," said Tom Curran, an attorney with the law firm Shumaker, Loop & Kendrick. "They have to show that a former student can't even maintain a minimal standard of living if they're forced to pay the debt. They have to show that inability to pay will continue for a significant portion of the repayment effort, which sometimes can be 25, even 30 years."
Curran said that when he graduated from law school four years ago, he had nearly $200,000 in debt, which has forced him to reduce contributions to his retirement plans. "I imagine a small business owner may not be so fortunate," he said. "I can't imagine dealing with over $100,00 in student loan debt and that's' why reform like this is necessary."
Tampa attorney Kelley M. Petry urges former students facing large student loan debts to seek counsel and don't assume the worst about their particular situation. "You don't have the necessary knowledge to make the proper decision," she warns, adding that another big driving factor in student debt is the rise of for-profit colleges. "They are likely to fail the entire program and default on their loan."
The three-year default rate stands at roughly 13.7, and the average amount in default per borrower was just over $14,000 in the third quarter of 2014. Congresswoman Castor says the average level of debt for Florida students is $24,000, and over $30,000 for those who have left the University of Tampa.
Castor's bill would allow college graduates locked into federal student loans with high rates to refinance and lower their rates to about 3.86% interest. She says she's finding more co-sponsors are signing on to the proposed legislation.