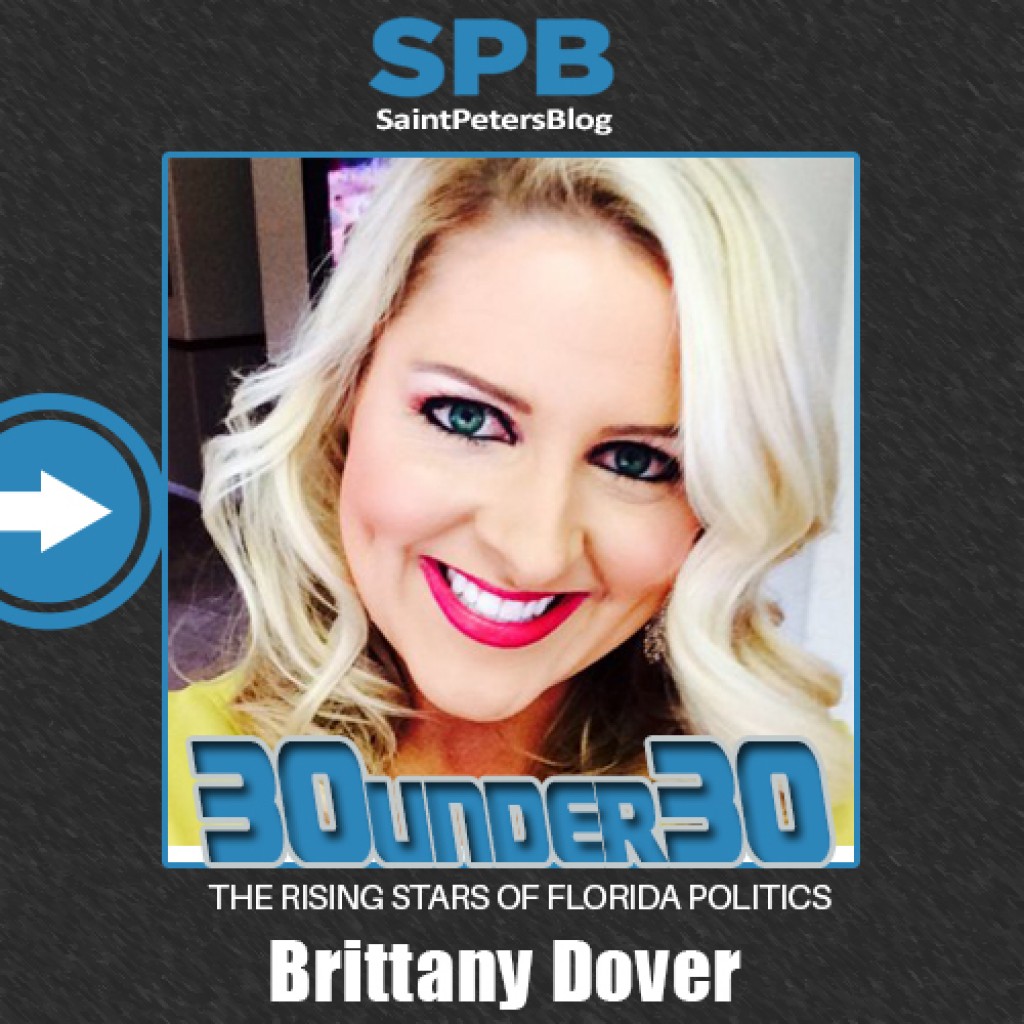 Brittany Dover may be an up-and-comer on Tallahassee's political track but isn't too proud to live next door to her parents on the North Florida farm where she grew up.
Dover, 28, has worked her way from the Republican Party of Florida, where she got her first break, to working in legislative affairs at the departments of Corrections and Environmental Protection, to her current job as lobbyist at Hopping, Green, & Sams.
Her work in the capital's influence industry shouldn't come as a surprise: Her mother is Carol Dover, president and CEO of the Florida Restaurant and Lodging Association since 1995.
If she hadn't fallen into that world, she may well have been a journalist, saying she became "addicted to Fox News at a very young age."
Pete Murray, for whom Dover worked an an analyst at DOC, says she "always stepped up to take additional tasks knowing that it would enhance her skill set."
Here's Brittany in her own words:
I am … 28 years old.
I live in … Tallahassee. I grew up on a farm in Midway (just outside of Tallahassee) and currently reside there. Don't ever think that you are too old to live next door to your parents.
I graduated from … Flagler College where I earned a bachelor's degree. GO NOLES!!
I got into politics because … they always say the apple doesn't fall far from the tree, right? I grew up in the world of politics and I became addicted to Fox News at a very young age.
One principle I always put above politics is … I have more than one that I live by daily in this process: 1. LOYALTY 2. Never burn bridges. 3. Always put others before yourself. 4. Be willing to follow your path even through life's curves. 5. Work hard every day.
Person or people who gave me my first shot … Andy Palmer. Andy offered me my first gig at RPOF in 2010. I am forever indebted to him for where I am today. He is my mentor.
I've already worked for/on (campaign, issues, etc.) … Managed the Presidency 5 build-out, which saw a record attendance of more than 5,000 attendees; assisted in organizing CNN's 2012 Republican Presidential Debate in Jacksonville, the Republican National Convention in Tampa, and various major donor events and fundraisers.
When I begin a project or first work on a campaign … I ask questions to be sure I fully understand the task at hand and then I research. I love to research. I am a stickler about giving inaccurate information. I always want to be proud of my work.
I've been blessed to have these people as my mentors … Andy Palmer, Andrew Ketchel, Debbie Aleksander, Sandy Moore, Andrea Reilly, Gary K. Hunter, Jr., French Brown IV, David Childs, Frank Matthews and many, many more.
The people I most admire in politics are … My mother. She is my hero. I strive daily to follow her footsteps and to be the best I can be for her. I have learned so much from her and all the times in my childhood I would get angry at her (sometimes, I still do) for being so hard on me. My values and success are a reflection of her guidance. (Of course, my daddy has a huge role in that too). For those of you that don't know who I am talking about, her name is Carol Dover. I love you, mom. The list goes on of others I admire in politics but none as much as her.
One lesson I've already learned is … Oh my … Just one? I have already learned so much. Never give up. I think one of the most important lessons is to have determination and to never give up even when you feel as if you can't go anymore. "What defines us is how well we rise after falling." I believe that whole heartedly.
If I wasn't working in politics … I'd be working in journalism and on FOX NEWS! I have always had a dream of being a news anchor. I used to always dress up and pretend to report news as a kid to my family. They would always tell me I was really dramatic. I would love to be Elisabeth Hasselback or Kimberly Guilfoyle one day.
In 10 years, you'll read about me … Hopefully receiving 40 under 40. (Peter… hint…hint…)
You can connect with me on social media at … I don't put much out there for people to read. I like to read what others create. I Instagram about my wonderful life that I am so blessed to live. I am a career focused woman that loves to be outdoors. I love my family, my boyfriend Jacob and my Maltese, Analyse.