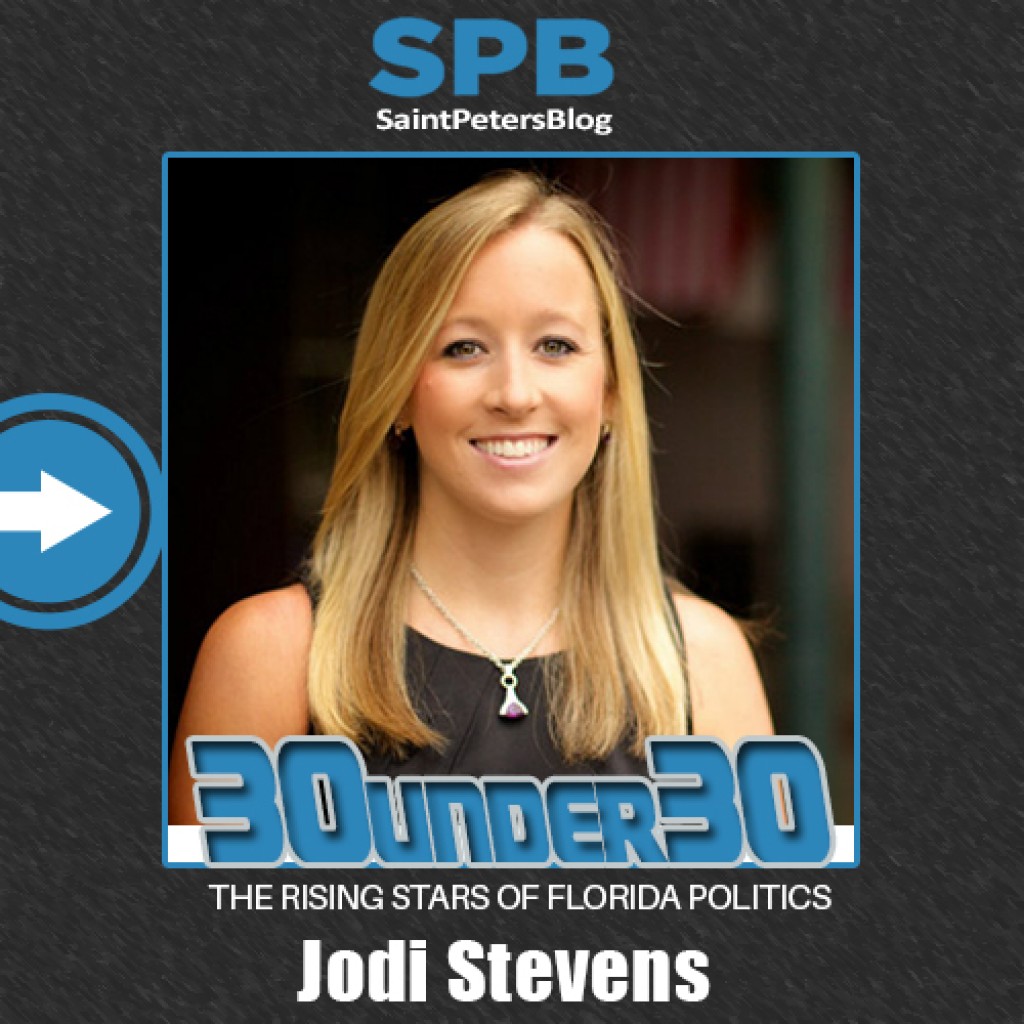 Based on her work, Jodi Stevens might be described as the secret weapon behind Tallahassee's Mayernick Group lobbying firm.
The 28-year-old handles a plethora of behind-the-scenes duties, from coordinating meetings with lawmakers and monitoring legislative hearings to heading the firm's research projects.
She also "works on campaign and fundraising endeavors for several key legislators throughout the state," she says.
Stevens operates a political committee, Alliance For Honest Government, that has raised more than $40,000 since last year and gives mostly to Republican candidates, including state Reps. Matt Gaetz and Jamie Grant.
She got her law degree from Florida State University's law school in 2013 and later passed The Florida Bar. Stevens also went to college at FSU, receiving a degree in psychology and criminology. She's a native of Bartow.
Here's Stevens in her own words:
I am … 28.
I live in … Tallahassee.
I got into politics because … I liked the idea of being able to learn about a variety of different issues and serve so many different clients that are all making a real difference in the lives of people across the state. Our clients are doing incredible things for the people and communities in Florida, and it keeps the job interesting and exciting.
One principle I always put above politics … is the importance of family. My family is my constant support system. When I'm stressed out about work I know I can go visit my little nieces and nephews and it puts things into perspective for me. My family keeps me grounded and in our business that's incredibly important.
Person or people who gave me my first shot … I got the unique opportunity at a young age to intern with several firms. I interned with Akerman Senterfitt right out of college and then with Southern Strategy Group while in law school. Both firms have very different business models, and each gave me an opportunity to see what works for them and why their firms are so successful. My first real shot after law school was with The Mayernick Group, and I'm still here. They took a chance on me and I'm eternally grateful.
I've already worked for/on (campaign, issues, etc.) … several projects that may not make headlines, but are incredibly important, like securing funding for newborn screening and mentoring programs that are making a difference in the lives of children across the state. I have also been lucky enough to build a great relationship with members like Sens. Joe Negron, Garrett Richter, Kelli Stargel, Aaron Bean and Rep. Neil Combee; all of whom have been extremely supportive of my career.
When I begin a project or first work on a campaign … I want to make sure it is a project or idea I believe in, and can connect with. If you lobby for a product or a position you truly believe in and are passionate about, it makes it so much easier to convey that message to members of the Legislature.
I've been blessed to have these people as my mentors … Tracy Mayernick and Heather Turnbull have been my closest female mentors in this industry. Both are powerful women working in politics that navigate the industry with style and grace. One of the most impressive women I've met in Tallahassee is Sarah Bascom, who has built a powerhouse firm composed of smart, strong women who are a force to be reckoned with. I have also been fortunate to be around some guys that have helped me learn and grow. Frank Mayernick is not only a mentor, he is my friend and sounding board. He's kept me out of trouble and shown me how to navigate this madness. I'm not sure it's fair to say that my husband is a mentor, but Monte Stevens helps me every day. It's a blessing to be married to someone that understands the unique pressures that come with this process. He's been around a little longer than I have and has helped me understand the big picture of what it means to work in "the bubble."
The person I most admire in politics is … Sen. Kelli Stargel. As a Polk County girl, I'm probably biased, but every time I get the chance to spend time with Senator Stargel, I come away more impressed. She represents her district with a quiet confidence, and is a principled leader that doesn't stray from her core beliefs. She is also incredibly nice to everyone, which is a quality that is increasingly hard to find.
One lesson I've learned is … to keep your head high. Not everything comes as easily as you would hope but you never progress if you don't get out there and try.
If I weren't working in politics, I'd be … the next Erin Andrews. Growing up in a family of all boys, I grew to love sports and always thought that would be a fun career. Honestly though, if I wasn't working in politics I would probably be actually practicing law. That was my plan when I started law school, but my interest in politics grew and changed my path early on.
In 10 years, you'll read about me … winning Tally Madness 2025.