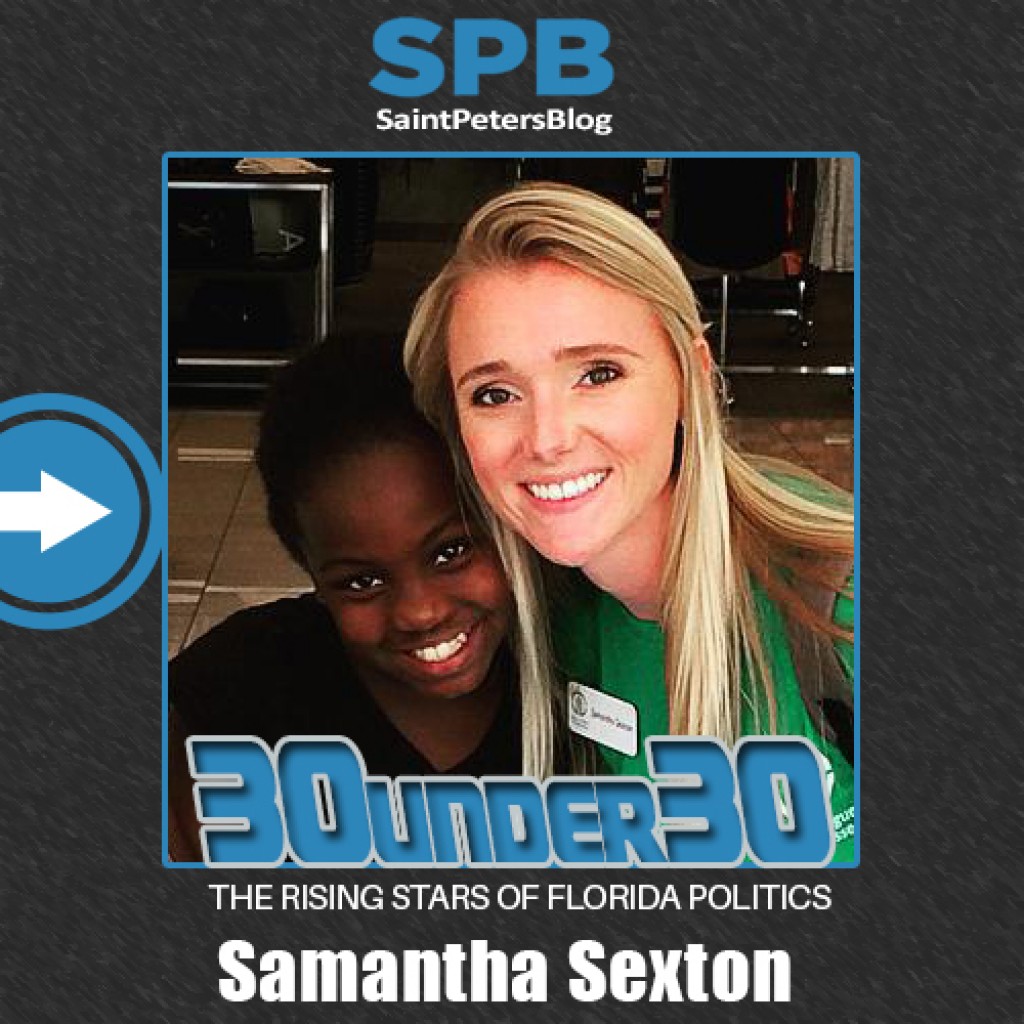 Some kids want to go to Disney World. Samantha Sexton spent her summers visiting Revolutionary War and Civil War battle sites.
The 26-year-old now is associate director of government relations for the PACE Center for Girls, a non-residential delinquency prevention program throughout Florida.
Long before that, she was learning her American history, including "the importance of giving back to those who gave before us through volunteerism," she says.
Her parents also brought her along to hurricane relief efforts, coastal cleanups and holiday gift giveaways, further instilling her sense of doing for others early on.
Sexton received undergraduate and graduate degrees in Political Science and Political Campaigning from the University of Florida, where she was involved in Kappa Delta Sorority and UF Student Government.
She was honored as a Bob Graham Civic Scholar and awarded the Ralph Gonzalez Memorial Award for her work in campaigns, including for State Attorney Dave Aronberg and Connecticut U.S. Rep. Elizabeth Esty. 
Here's Sexton in her own words:
I am … 26 years old.
I live in … Tallahassee, but spent six years in Gainesville at the University of Florida (Go Gators!) and grew up in Melbourne.
I got into politics because … I couldn't avoid it after 18 years of politically charged dinner conversations and civically engaging family outings. These are the things that happen when your dad is a local labor union president and your mom worked for Florida Today.
One principle I always put above politics is … do the right thing and everything will always be OK.
Person or people who gave me my first shot … It wasn't my first or second paying job, but the Pew Charitable Trusts' Southeast Regional team members were the first to provide me the opportunity to transfer my strategic campaign-world knowledge to a foundation/nonprofit setting. My unique skills kept our team at the top of the national weekly leader board and achieving our goals ahead of schedule.
I've already worked for/on (campaign, issues, etc.) … Elizabeth Esty for Congress (Connecticut's 5th Congressional District), Obama '12 and a handful of local races.
When I begin a project or first work on a campaign, I look for … Option C: the stretch goal that nobody else has reached for, but is attainable when the appropriate resources are leveraged. Option C will always have the largest ROI (return on investment).
I've been blessed to have these people as my mentors … Dave Mica, who helped to shape me as a student leader and young professional; Jack Levine, who challenges me to see big change through; and my grandparents, who remind me of my values and the importance of every day.
The people I most admire in politics are … those that unwaveringly put their values and families first.
One lesson I've already learned is … to value a challenge. Goals can always be achieved if you work smart and commit to being flexible.
If I wasn't working in politics, I'd be working in … nonprofit management.
In 10 years, you'll read about me … in INFLUENCE Magazine and not be surprised that I'm still championing the issues I am most passionate about.