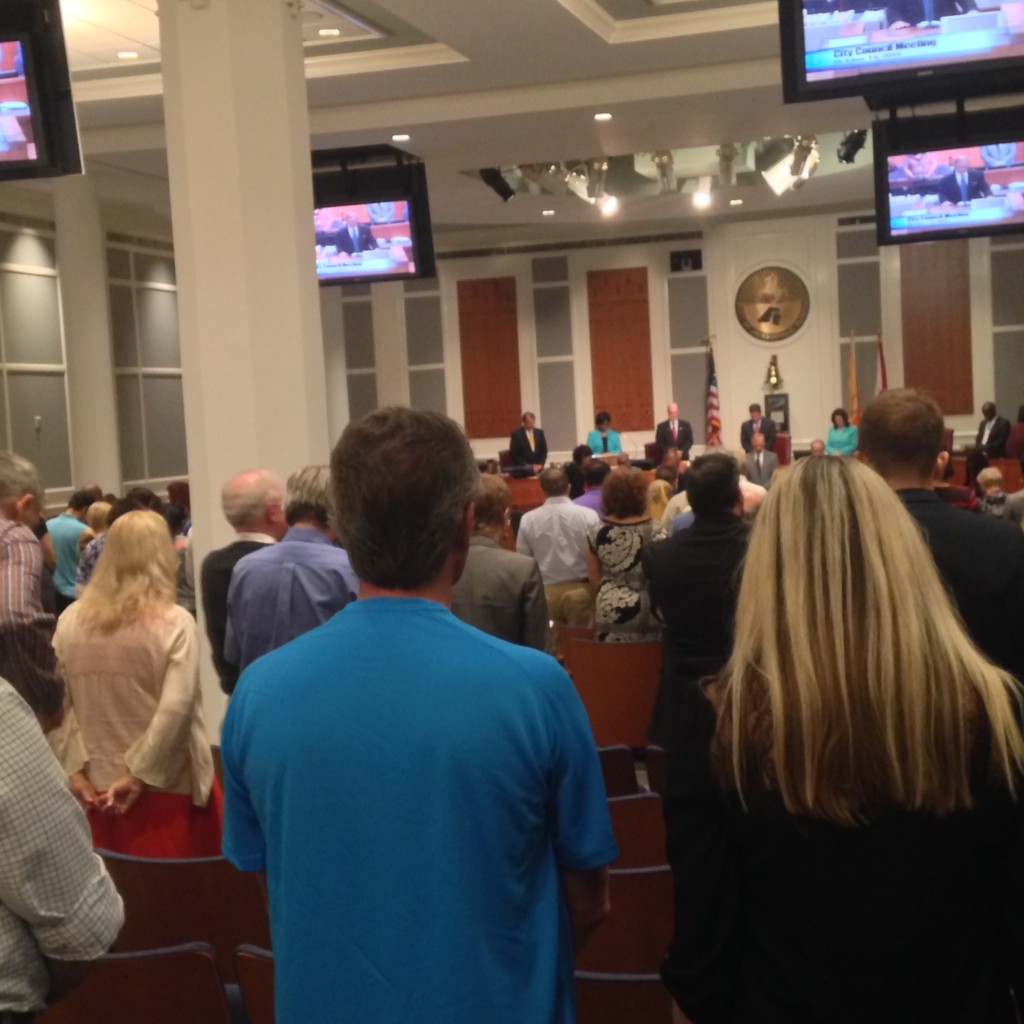 Finally, Jacksonville City Council meetings are lively again.
Between reactions to a good chunk of Council being sued for texting a lobbyist during a budget meeting, the removal of a Lenny Curry appointment of Jay Demetree from the consent agenda, and a public comment protest campaign planned in reaction to the replacement of Planning Commission member Joey McKinnon and chair Lisa King, Tuesday evening's Council meeting offered the kind of real drama that has been absent in recent months.
The room was not exactly HRO-full, but it was as packed as it has been at any time in the last few months.
Zoning doesn't draw the crowds, of course. Passion plays do.
Peggy Sidman started off the meeting requesting the shade meeting related to the Concerned Taxpayers of Duval County lawsuit, which Council President Greg Anderson referred to, with an edge in his voice, as a "cheery note."
Then, the next fun part: Democrat John Crescimbeni opposing the appointment (2015-603) of Jay Demetree to the Jacksonville Aviation Authority, for not being willing to state a position on lengthening the runway at Arlington's Craig Field. Crescimbeni's position had no tangible support; Demetree was approved 15 to 1.
The fun continued with Tommy Hazouri opposing the removal of "distant cousin" Ernie Isaac from the Jax Aviation Authority for Russ Thomas, as part of 2015-604. Hazouri re-stated his position that replacing board members mid-term undermined Consolidated government.
Thomas had answered, on the phone, questions that Crescimbeni had regarding the Craig Field runway; he would not put them in writing, and Crescimbeni joined Hazouri in objection.
Then, Reggie Brown, who took a position that may have surprised some listening regarding these appointments. At least those who didn't know the backstory.
"The mayor has the privilege to remove… individuals serve at the mayor's privilege," Brown, a Democrat like Hazouri and Crescimbeni, contended, countering his party mates.
Brown's position is rooted in the fact that, when Mayor Curry removed him as the representative to the Florida League of Cities in favor of Matt Schellenberg, Council (including Councilman Brown himself) voted in favor of the resolution.
Brown, in conversation with this reporter, noted that he could have objected to the move on different grounds, but he chose not to.
His position: "if it's the mayor's purview, it's the mayor's purview. If Council doesn't like it, they should change the law," requiring a supermajority for removal of board and commission members mid-term.
Russ Thomas was appointed 14 to 2.
After a fashion, the program moved to an extended period of public comment. What in many weeks was a great bathroom break in this week promised to be eventful, especially related to Lisa King, Joey McKinnon, and other perceived board and commission overreaches by the executive branch.
The pro comments, which vastly outnumbered those of Mayor Curry's supporters, hit the expected talking points, stressing the qualifications of King and McKinnon, and how politicizing these boards counters "One City One Jacksonville." Saying it was a terrible precedent to set.
Several groups of names were announced in opposition to their removals, even as they demurred comment.
But still more spoke. Dozens more.
Eddie Diamond: "I challenge the Council to say no… I would advise to have a real debate about this… but let's have a little fun. Tell him no. No disrespect. Just tell him no. But when you tell him no, let me see the expression on his face."
Wayne Wood: "I'm here to speak against forcing Lisa King and Joey McKinnon out of office. It's a slap in the face to tens of thousands of us who need good zoning and planning to go forward. I realize there are a lot of political forces in play, but it's wrong… If you cast them out, it will cast a pall… I've given over 10,000 hours of my life working for non-profit organizations for the benefit of this city. Do what's right for good government."
James Eddy: "I'm opposed to it… for any commissioner that has been asked to step down. There's a reason they're given four years. If we wiped the slate clean every time a new mayor came in, we'd never get anything done. If someone does not want to step down from their position, let then do their four years."
Reverend Ray Henderson: "You've heard the arguments… what I hear tonight from all the people who've stood in opposition is they are kind of asking the question why? what is happening here? Why are we doing this?"
Carmen Godwin: "There is a reason that the City Council reviews the appointments. It is to vet them… we are concerned with the loss of continuity… and the loss of leadership… and the lack of experience of the proposed candidates. We've been working really hard," the chair of the Riverside Avondale Preservation, "to educate members of the Planning Commission on issues related to our neighborhood.
Crissie Cudd: "Keep Lisa and Joey in their current seats. There is no reason to replace them just to serve some political agenda."
Genora Crain-Orth: "No mayor has ever asked for the resignation of Planning Commission members mid-term. To replace five out of nine members is obscene… Lisa is known as a moderate, fair voice… and she was elected chair by her peers, which speaks volumes."
Kelly Pope: "This is the kind of thing that gets young people motivated… angry. This is the kind of thing that gets us involved and might make us vote differently than we would have."
Kris Zolondek: "To me, this is not an issue of partisanship… my first concern is what's best for Jacksonville. I urge the City Council to have a real debate on these changes, on what's best for Jacksonville."
Abner Davis: "The decisions that we make have consequences… we will be setting the tone for the future… the decision that you make on this issue will be widely affecting the future of this city."
Chevara Orrin: "With all due respect Councilperson Brown, just because this falls under the mayor's purview, doesn't mean it should… I share Councilperson Hazouri's sentiments and I oppose the removal of Lisa King and Joey McKinnon."
Orrin quoted Ani DiFranco, which, unless Clay Yarborough did that at some point, is a first for this august body.
And then there was the guy who compared Curry to a dictator of a Banana Republic, who wondered what Lisa King's last request would be.
And speaking on her own behalf, Lisa King herself.
"It has been my honor to serve the city on the Planning Commission," she said, as "one of two natives" on the Committee.
"I came to the Planning Commission as a neighborhood actives and a developer," she added, going on to talk about "staggered terms" between commission members and the administration.
"With five new members at once, the work will slow down," King said, underscoring her refusal to resign.
"I do agree with the mayor that streamlining government should be a priority," adding that the mayor incorporated her suggestions into his transition plan.
"Is this how we're to treat our citizen volunteers? Is this how we're going to motivate our citizens to participate?"
Joey McKinnon spoke on his own behalf as well.
"The recommendation is to appoint my friend and next door neighbor… I'm not aware of his qualifications for the position," McKinnon said, pointing out that with four months tenure, he was a "fresh face" and a "Florida licensed geologist" who was confirmed unanimously, who had written his master's thesis on the very stormwater issues that bedevil the city.
"This isn't about me," he said, but it's about the "erosion of institutional knowledge" and the impacts that may have.
"They say potholes aren't partisan, and the mayor's office says this isn't partisan," McKinnon, the recent leader of the Jacksonville Young Democrats said.
And then there were those who were for the moves, both connected to the Duval County GOP.
Karyn Morton, Duval GOP Vice Chair: "I find it difficult to believe that in a city of this size… we don't have other people who are capable of filling those positions… I am hard-pressed to think of anything that could demonstrate more the lack of pulling in the same direction than refusing to submit a resignation… I can only imagine what kind of tactics we would see down the road.."
Andrew Moss: "It's in the mayor's purview to make these appointments to put people on the board… we need to let the mayor work his vision out… I firmly support the mayor's purview."
Denise Hunt: "Mayor Curry has a reason for what he's asking. Eureka Gardens stayed like that for years, and none of the people against Lenny Curry right now took a stand for the least of us. I support Lenny Curry. He came to me in support of the people in the Northwest Quadrant and I stand by him. One City One Jacksonville has to stand for something, and they have to take a public stand. Where was the Commission? Lenny Curry came up. I asked him and he came, and he deserves loyalty."
Opponents of the moves, suffice it to say, dominated.
After the meeting, FloridaPolitics.com spoke to Lisa King.
When asked if she thought she still had the votes, King wasn't sure.
"I guess we'll find out," she said, adding that "it's not really about that. It's about the principle. I don't know the ins and outs of every board and commission, but I do know the one I've been on for 3 1/2 years."
King contended that removals of her and McKinnon, and the introduction of five new members will slow things down, and impose an especial burden on Land Use and Zoning, which would be forced to handle the slack in the Planning Commission, where, to perform well, even new members have to "vote on every item" and "make decisions."
The impact of five neophytes, she said, would slow the process, and unduly impact the "quality of decisions" rendered by the body.
McKinnon's geology background, she added, was "invaluable experience," and the Planning Commission would be poorer for its removal.
"Respectfully, the mayor's made a mistake. This is the only way I can address it," she said of her own actions in defense of her position.
Regarding the public comment campaign, she said that "I didn't try to stage manage this. I didn't even know half those people who are here. I don't expect to agree with everyone."
Ultimately, King contended, the role of a planning commissioner "comes down to what is best for a key part of the development pipeline that grows jobs."
The commission, she added, can handle everything from a zoning variance for a dog groomer to a borrow pit.
"There is a range of items that come before us. It's not an easy process," King continued.
"That's why I have to take this stand," she added, saying that the mayor may have gotten "extraordinarily bad advice" in making these moves and in not reversing course.
With that in mind, it's "left to Council… to use their authority."
If they side with the mayor, King added, "decisions have consequences."