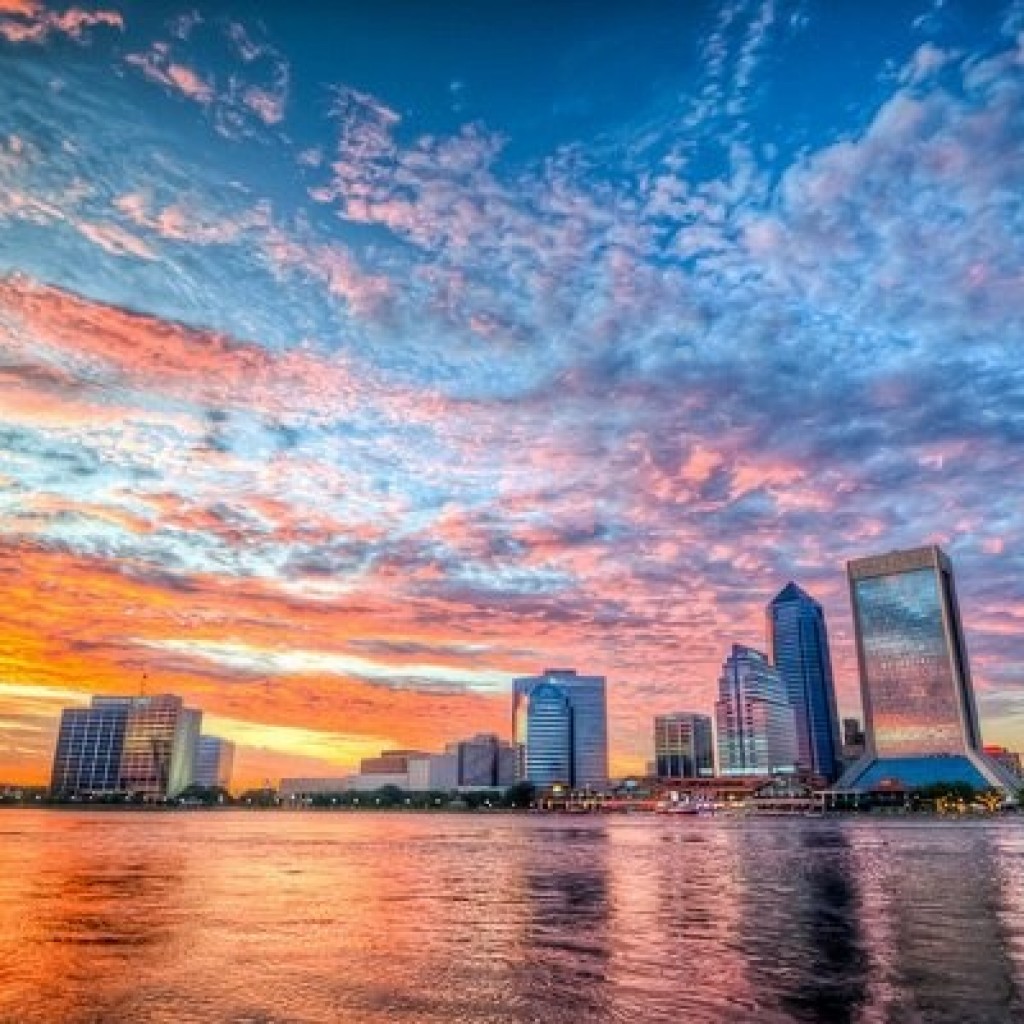 Jacksonville City Council chambers was largely empty Tuesday afternoon, except for those proposed for appointments to Jacksonville boards and commissions, a smattering of reporters, political junkies, and a TV camera. The latter parties were there to document the moves that Mayor Lenny Curry contends are necessary to execute his vision, moves that opponents – most prominently Councilman Tommy Hazouri – say are "unprecedented."
Lisa King, the Planning Commission chairwoman who Curry seeks to replace, was on hand, sharing a jovial moment with Ron Littlepage, the Times-Union columnist, and Abel Harding, slated to replace King's colleague Joey McKinnon. Karyn Morton of the Duval County Republican Party was there, while Jordan Elsbury, the former GOP operative responsible for delivering the bad news of removal to many board and commission members, enjoyed background conversation with fellow Louisiana transplant Nate Monroe, one of three T-U scribes in the house.
Everyone was polite. So polite. It didn't last.
John Crescimbeni, who along with Hazouri has been the primary critic of Curry's moves, was in the house.
To keep the TV ratings up, King's move was programmed to be last.
The first agenda items: appointments of Delores Kesler and Thomas Petway to replace JEA Board members Lisa Strange Weatherby and Peter Bower respectively.
Kesler led off. Crescimbeni wondered whether she had been on boards before; she had been on the JEA Board, 30 years ago, for about a year.
"You like to ask tough questions? I'm all about tough questions. We'll get along great," Crescimbeni said.
Hazouri, meanwhile, thanked her for the years of service she gave while he was mayor.
The vote was 5-0 for approval. Jim Love and Anna Brosche were absent.
Then came Petway, a prominent Curry mayoral campaign supporter, who had been appointed by Hazouri to the JTA almost three decades prior.
"I love Jacksonville, and I'm looking forward to serving again through the Jacksonville Electric Authority."
Another 5-0.
John Allen Newman, an Alvin Brown appointee, was reappointed to the JAXPORT Board.
Then came John Baker, slated to replace Nancy Soderberg on that body, a move controversial to some.
"Excited to serve," he said, citing his family's past involvement with that body.
Hazouri pushed back, sort of, thanking him for his dedication before saying a series of nice things.
"I appreciate what generations of your family have done," regarding education and making a "better Jacksonville."
Baker had led the Task Force to explore dredging options; he was approved without dissent.
The next moves of note were Planning Commission ones.
Abel Harding was brought down to discuss his nomination to replace his next door neighbor McKinnon on Planning … a move that certainly will enliven Springfield's Porch Fest in a few weeks.
As McKinnon sat alone and impassive, arms draped over the back of a chair, Harding discussed being a seventh-generation Floridian who had just finished up as Cultural Council board chairman.
"I've had a long record of public service," he said.
Hazouri, though he thinks the world of Harding, objected on the grounds of having "replaced someone who hasn't resigned."
Then he beefed with Matt Schellenberg about King, saying that "she deserves an opportunity" to address the board on the "most controversial of all appointments."
"I do think that we owe it to Miss King to address this body," Hazouri said. "I want to hear from Miss King … and this committee and this city deserves to hear."
Hazouri then pressed Harding on his background, which includes reporting, working for Mayor Alvin Brown, and a long history in commercial banking, including significant work with the Planning Commission.
"I realize you're replacing McKinnon, and I want to hear from him as well," Hazouri said, citing "continuity" and the replacement "flying in the face of consolidated government."
"I was asked by the mayor to serve, and that's why I'm here," Harding said.
Before the vote, Hazouri pressed again for McKinnon to have the chance to speak.
"He's one of two today who has not resigned … I'd like to hear from him one last time."
Schellenberg gave McKinnon two minutes.
The Democratic activist thanked Hazouri, pointing out living next to Harding, a "great guy and a good friend," yet his experience as a "Florida-licensed geologist" was key, given the "wildlife surveys and so on."
McKinnon worried about the "erosion of institutional knowledge" that his removal would occasion, saying that he's a "better fit" than Brown's former spokesman.
"I do have a lot of commission experience," McKinnon said, as Schellenberg urged him to wrap it up.
Then, Sam Newby called for other voices, which brought Duval GOP Vice Chairwoman Karyn Morton to the podium.
"I think that the other side should be able to speak," Newby said.
Hazouri was agitated; Schellenberg gave Morton time.
"I am speaking to the point of reality here," Morton said. "Regardless of whether someone has resigned … this shows the spirit of One City One Jacksonville" regarding a "shared vision" that could be obstructed by someone who might "impede progress."
"The mayor has the prerogative. He has the right … regardless of whether the person filling this position has served their full term," Morton said.
"I have been mayor," said Hazouri, who emphasized that this is about "independence … the very foundation of Consolidation."
"They're not there to be removed every time a new mayor comes in. They're there to serve the public … not the mayor, not his vision, not his lack of vision," Hazouri thundered.
"It's about consolidated government. It's about the independence of these agencies … not to be a puppet or shadow" for the mayor, Hazouri continued.
"Developers may not agree in this case. Too bad!"
Schellenberg attempted to dial down the heat, before saying that the proposed appointees were upgrades.
"We don't want to be where we were the last four years," Schellenberg said about the Brown appointees being shown the door.
Harding was approved, 4-1.
Ben Davis was next, and his interviews were much more cordial, allowing everyone to take a collective deep breath before King's star turn.
Then, Donald Adkison, brought forward to explain why he should replace King, as Curry's spokesman walked down the aisle.
Adkison brought up his commitment to be "business friendly," which occasioned some pushback from Crescimbeni.
He also brought up having to "stand up to the lobbyists" at times as well.
Then, Hazouri, who reiterated his desire to bring King up, mentioned a very cordial meeting he'd had with Adkison this week.
He wanted to know if Adkison, a towing company owner, a rancher, and a half-owner of Road Rangers and a bio-waste plant, had the courage to buck the mayor.
"You can't waver on your decisions," Adkison said, citing his adherence to the "comprehensive plan."
"Yes, I would be able to stand up to the mayor, to yourself, to anybody else," Adkison said.
Hazouri and Adkison had a very cordial conversation, then the councilman reiterated his opposition.
A letter from the absent committee member Jim Love, in "full support" of King's retention, was read.
"The fact that her colleagues voted her chair speaks volumes," Love wrote, saying he would have voted against her removal if present.
Then, King got her two minutes.
She made her case, as a "neighborhood activist as well as a developer," citing her sterling attendance record on the commission.
"I declined to resign … because I care for the commission," King said, saying she supported Curry's vision to "streamline government."
"As someone who has been a developer, I know that time is money," King said, bringing up Curry incorporating her suggestions into his transition plan.
"All I'm trying to do is speak my mind for the people of Jacksonville. Because that's the team we're on: the city's team."
A Republican party member, Sharon Light, spoke in opposition to King as a "private citizen."
"We like to think that we are indispensable; however, we are not," Light said, adding that King is "not indispensable and can easily be replaced."
Four yeas. One nay.
After the vote went down, King said it was "about what I expected," citing a discrepancy in the GOP logic, mentioning that Mike Anania and Geoff Youngblood ran for council while on boards.
Willingness to serve, she said, demonstrated an "extreme commitment to public service."
Regarding the Duval GOP reps in the house, King said they showed at Rules in part because the public outcry a week ago at council unnerved them.
And regarding Newby pressing for them to speak, King found it "surprising because I thought both sides were allowed to be discussed."
Curry Chief of Staff Kerri Stewart, meanwhile, said she was "very pleased with the outcome today," saying the appointments aligned with code and statutory requirements.
"Consolidated government celebrates lay people on boards," Stewart said.
Meanwhile, Councilman Al Ferraro, who beat King for council and was backed by Adkison in the election, accused this writer of being a King partisan as we spoke outside council chambers, saying "that's your person there," before delivering vanilla ice cream in the form of "I agree with the mayor."
Newby, who called Republican Party members up to speak in favor of Curry's bills, said that they "just happened to be Republican Executive Committee members" and  he was attempting to provide "both sides of the coin" by having them say their piece.
Meanwhile, Hazouri, who expended a lot of political capital on these board moves, noted that while the REC folks "have the right to be there," their presence showed that these moves were "clearly partisan" and political.
Regarding Adkison, who replaced King, Hazouri said that he was a "nice guy, but a follower."
He had thought about pushing for deferral; ultimately, though, he realized it was a "lost cause."
And there you have it. These appointments move to full council next Tuesday.