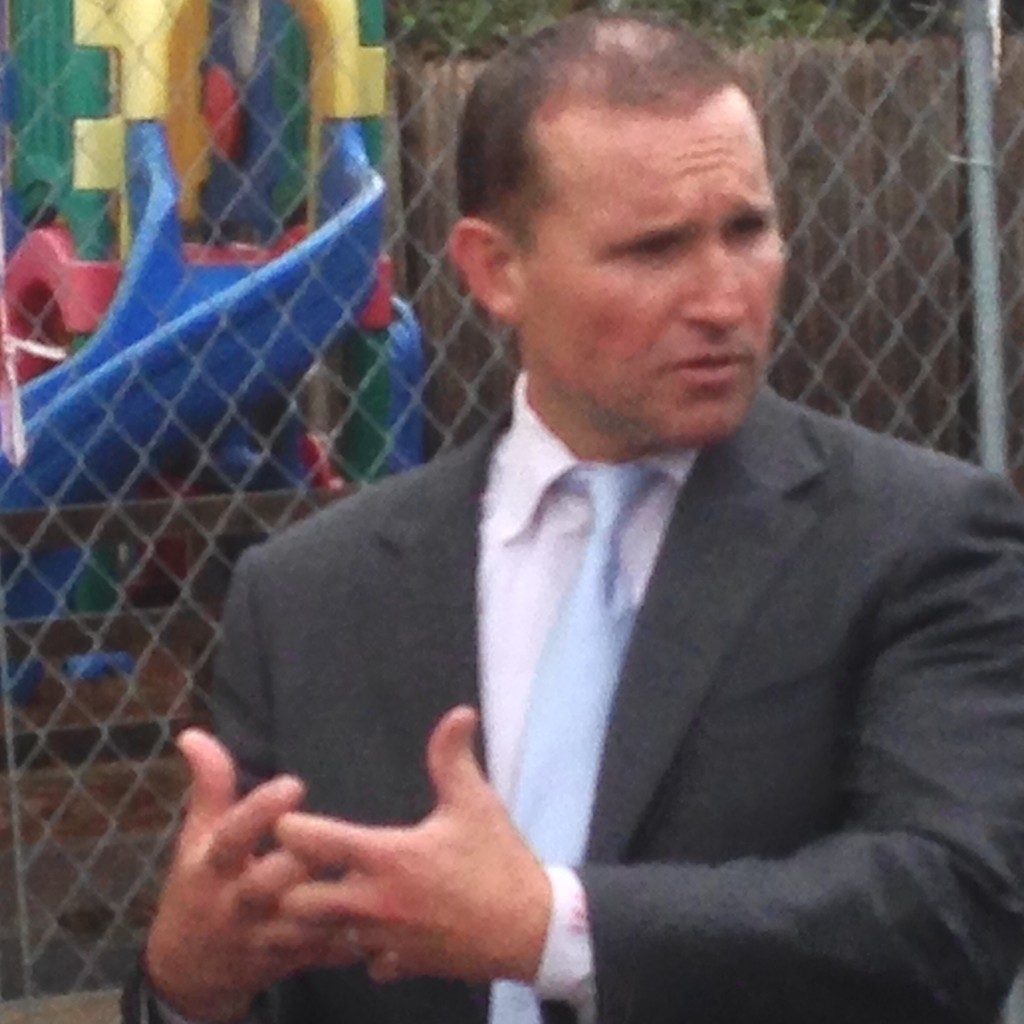 The first thing you might notice, when you walk into the Alternative to Out of School Suspension facility at Southside Middle School, is that it's like a time warp.
Its wood-paneled walls seem like something from the Hans Tanzler administration, and spotlight a non-negotiable truth in neighborhoods receiving Jacksonville Journey program dollars. Namely, they are areas that time forgot, with old housing stock and apartment complexes nearby that need a lot more than a fresh coat of paint.
Despite these facilities not being plush in any sense of the word, important work is done inside. Duval County School Superintendent Nikolai Vitti has long held forth in favor of in-school suspension, and his visit to the Southside facility, along with Jacksonville Mayor Lenny Curry, was intended to showcase the benefits of keeping wayward youth in structured environments.
The ATOSS program, said Curry spokeswoman Marsha Oliver, was actually started in the initial wave of Jacksonville Journey programs, intended to show these young people "how to engage in productive activities."
It has been successful, Oliver added, because it provides a safe, supervised environment for kids.
For Curry, meanwhile, programs like this are central to his public safety agenda, a hybrid Prevention, Intervention, and Enforcement approach, which is predicated in getting them young, so the policy makers of tomorrow don't have to police their way out of today's social pathologies.
As Curry, Vitti, and others walked through the facility, there was a unique tension between the message discipline of polished politicians and the fundamental truth-telling anarchy of kids who aren't thinking in those terms. The most interesting moment: when Vitti asked a group of students, congregated around a table for a self-esteem workshop, if they'd rather be in the school building or at home on suspension.
A clear majority said they would have preferred to be in school on suspension rather than home; however, the answer was not unanimous. One kid, who clearly had the rapier wit of the group, said that he was only there because his ex set him up.
A life lesson there, for sure.
For those set up by their exes, or not, the Alternatives to Out of School Suspension include classroom instruction, as well as access to a social worker and a case manager.
Vitti said that it "replicates the classroom environment," providing controls to ensure these potentially at-risk students don't "fall too far behind" or "fall in with the wrong group of students."
Curry, in speaking with the young people, asserted a point of connection to them.
"Last time I was suspended was in 8th grade," Curry said, adding that he "won't get into why."
Middle school kids, of course, are not the only beneficiaries of Jax Journey program dollars; there are also infants and toddlers who need these dedicated resources, as a trip to Little Wise Kids Early Learning Center indicated.
The day care facility, which currently has 73 students, is in a converted house in hardscrabble neighborhood near the intersection of Arlington Expressway and University Boulevard, next to an indie convenience store and a short walk from an apartment complex where full grown men of working age while away the days in the courtyard.
Little Wise Kids, like Southside Middle School's in-school suspension facility, is staffed by people whose empathy outstrips their resources. The peeling paint on some walls likely wasn't noticed by the infants and toddlers stretched out for nap time.
Center director Katrina Wise spoke bluntly about the challenges, saying "some of the kids in the neighborhood aren't up to par" when it comes to being able to achieve learning outcomes. For example, some of the VPK students are "behind in speech," a function of inadequate socialization… the kind of thing that, if left unchecked, leads to greater issues as these young people mature.
There is, of course, never enough money to deal with these issues. The center is short staffed, with long hours facing those who work there. Jax Journey funding, said Wise, helps with "additional funding, upkeep, and payroll."
One of the interesting things about Curry is how he, a father of three, interacts with children. Despite the din of reporters and the flash of cameras, an infant held by the mayor was unfazed by the commotion. From there, he negotiated the terms of a picture book with a toddler, who seemed significantly calmed down by his interaction with the mayor.
And for Curry, ultimately, an event like Monday's spotlights what these programs are intended to do.
"It's one thing to look at programs on a spreadsheet," Curry said, "another to go out and see what they're doing."
And Curry, who has significantly boosted the Journey commitment, with close to $6M in the current budget, expects to boost that commitment in the years ahead.
The reality is simple: "not every zip code, every kid, has the same opportunities," and in that sense, "getting out to see what works" is essential to the mayor.
 The Jax Journey initiatives are essential, in Curry's vision, as a way of remedying the inequities that seem immune to so many quick fixes. From infants to those full-grown and, often, with infants of their own, the Journey offers the tools for people who might not otherwise have anything approaching an even shot to thrive to, perhaps, find a way out of the resource deprivation that is part and parcel of poverty in Jacksonville.
Curry engages with it in ways that might surprise those who haven't spent time with him, whether it be during the campaign in the battle-scarred Grand Park neighborhood, or afterwards, as Bishop John Guns (whose "let's ride" phrase is key to the Journey branding) still brings young people in need of guidance to the mayor's office. What is clear, however, is that even with concentrated effort, the Journey and related initiatives will be an ongoing effort that will extend well beyond Curry's tenure in City Hall. Just as the problems weren't created instantaneously, the solutions likewise will take a long time to take hold.