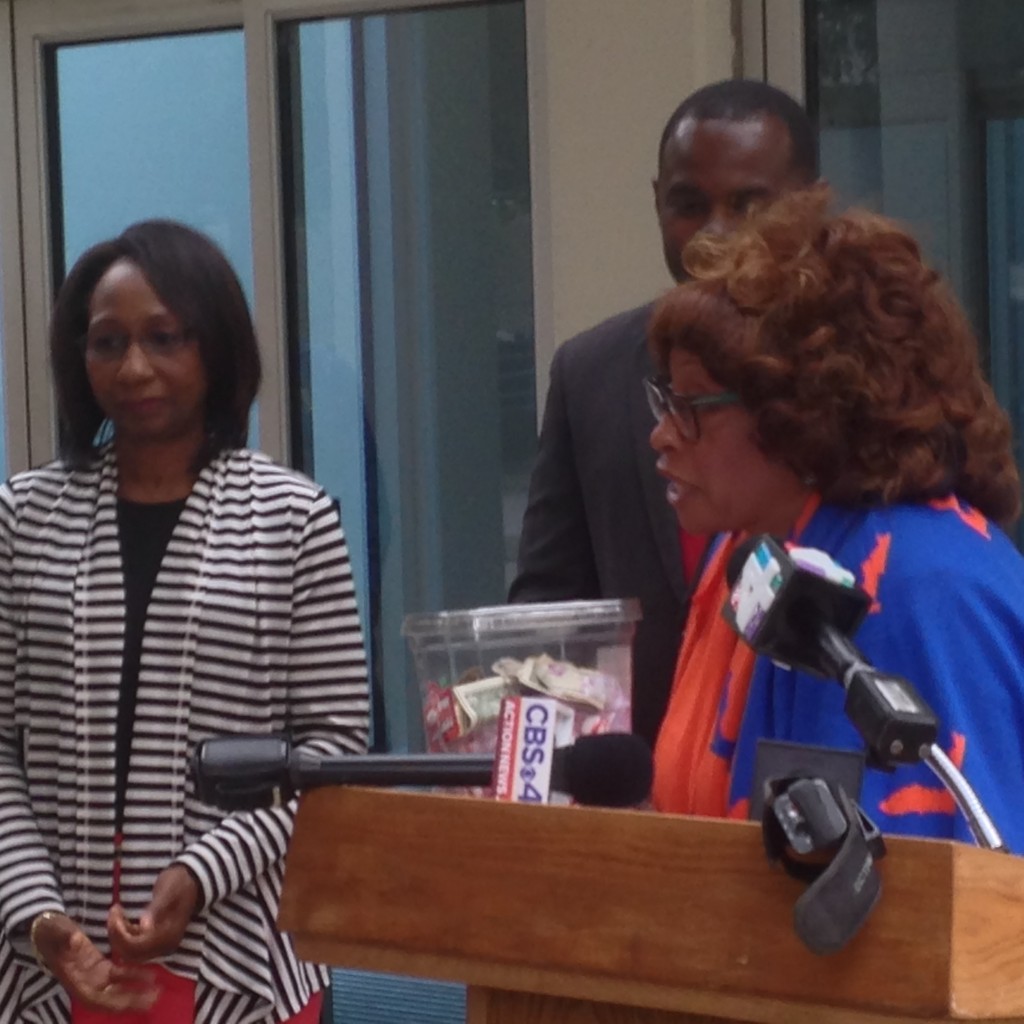 A good Corrine Brown press conference has a prop. The one she held on a misty Tuesday morning in Jacksonville, promoting a petition drive to get a referendum for Medicaid Expansion on the November 2016 ballot, had two.
The first prop: Decked out in orange and blue, Congresswoman Brown wore a Gator-themed shawl, appropriate because she was at UF Health for the event.
The second: a tub of peppermints.
The significance?
"Marie Antoinette said 'let them eat cake," Brown said, before a dramatic pause.
"In Florida, we say, 'Let them eat candy.' "
"But they can't have health care."
Brown, who has been fighting a not-so-secret war with the Rick Scott administration for its refusal to accept the terms of the Affordable Care Act, is going across the state to drive interest in a petition drive to put the question on the ballot.
With Veterans Day being her birthday, Brown is urging Floridians to "soldier up to make sure everybody has health care" by "putting it on the ballot and letting the people decide."
Needed to make that happen: 683,129 verified petitions. The goal of the congresswoman and her new PAC, Florida Health Solutions, is to get a 10th of that number in the next couple of weeks for a ballot initiative called Creation of a Healthy Florida Plan.
That would expand eligibility for Medicaid in July 2017 to 133 percent of the federal poverty line and create a special revenue account to accept federal funds. That would, Brown said, close the "doughnut hole" that has left 1 million Floridians still uninsured.
"The working poor, they work every day," Brown said, yet they don't have access to insurance, including the kind of preventive care that would keep them from using emergency rooms as their health care providers.
Brown mocked Scott's tax cuts that save "$10 on your light bill," saying they are a smoke screen for a larger grift.
"Floridians are being taxed," Brown said, adding that money is being "sent to Washington" then "sent to other states."
To counter it Brown intends to "take it to the people," including a trek to Tallahassee Tuesday afternoon then Miami on Friday, and soon to Orlando, Gainesville, and Tampa.
The goal? "To make sure they sign. To make sure we can read it when they sign."
In a year when at least one marijuana initiative will be on the ballot, Brown and her team contend that health care expansion should be a slam dunk. That's especially in light of $14 billion in federal dollars that have already been forfeited by policy out of Tallahassee.
After discussing health care, Brown spoke briefly about the presidential election, and her support for Hillary Clinton, which has been steadfast since 1992.
Meanwhile, of Donald Trump she said, "He's an entertainer" and that she often turns on the TV to "see what he did today."