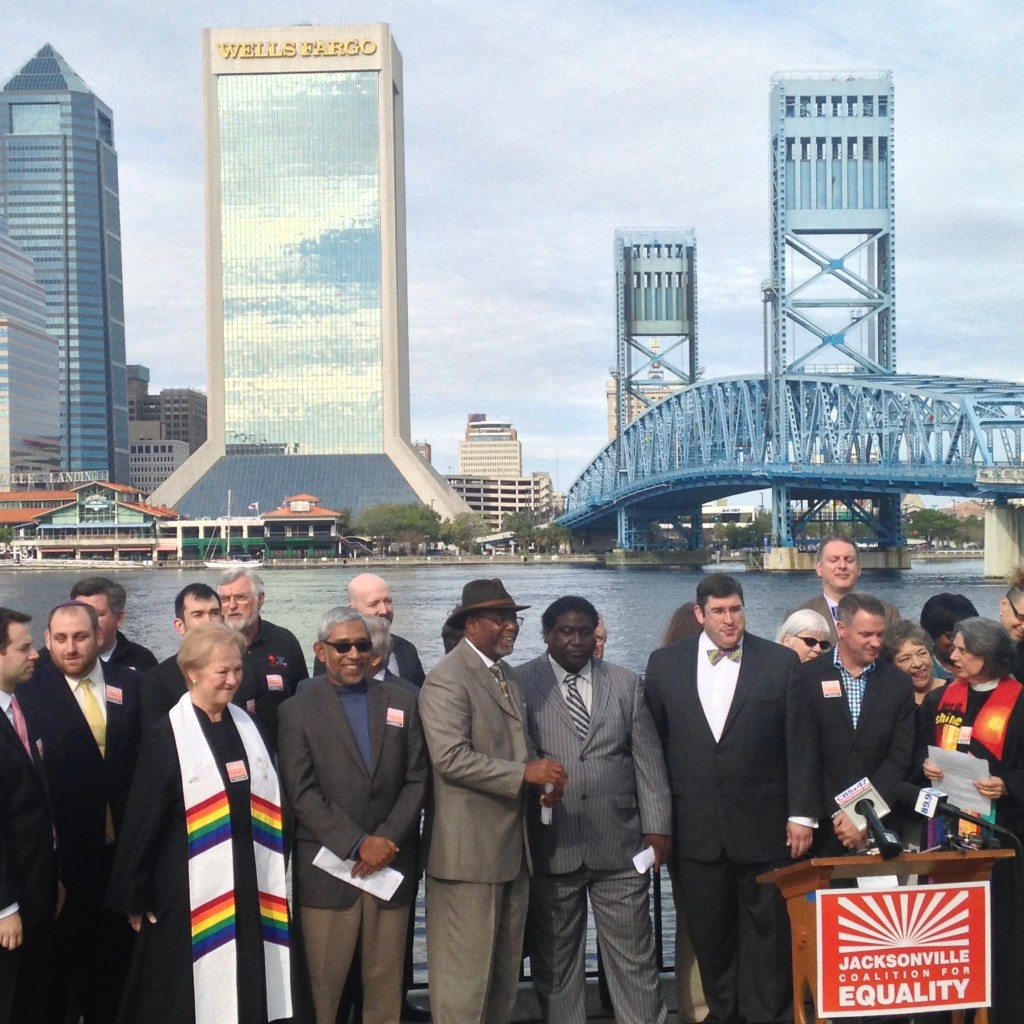 Ahead of the Thursday evening Human Rights Ordinance  Jacksonville "Community Conversation" on religious issues related to expanding the HRO to the LGBT community, the Jacksonville Coalition for Equality held an afternoon presser with some of the 75 faith leaders who support a fully-inclusive HRO.
Among those faith leaders in support: Jacksonville Mayor Lenny Curry's own pastor, Bruce Jones of Southside United Methodist Church.
The statement of support:
"Love and respect for one's fellow human beings are among the most prominent and universal core values shared among all spiritual and religious traditions. Though each tradition differs one from the other, all spiritual and religious persons and groups can at least agree with this basic tenet: We have a deep and abiding obligation to love and respect others."
"Indeed, not treating others respectfully or as we would want to be treated ourselves is seen as moral failure by all faith traditions. As leaders of faith representing a wide variety of spiritual expressions in northeast Florida, we strongly support full civil rights, including protections from discrimination, in the areas of housing, employment and public accommodations based on sexual orientation, gender identity and gender expression. We see such support as being fully consistent with our spiritual beliefs."
Among the pastors and faith leaders in attendance:
Pastor R.L. Gundy – Mount Sinai Baptist Church
Rabbi Joshua Lief – Congregation Ahavath Chesed
Rev. Kyle Reese – Hendricks Avenue Baptist Church
Rev. Clare Chance – Avondale United Methodist Church
Bishop Lorenzo Hall– Greater El-Beth-El
Rev. Linda Girouex – Riverside United Church of Christ
Dr. Parvez Ahmed – Jacksonville Human Rights Commission
Pastor Regina Jackson – Restoration of Truth Ministries
The dozens of pastors in attendance represented a spectrum of faith leaders, Muslim and Methodist, Jewish and Baptist, but all came forth with an unambiguous message.
That discrimination is wrong. That legal protections for the LGBT community are necessary. And that the time is now for Jacksonville to codify them into extant law.
Their modes of expression were as diverse as their faith. Gundy called on the city to "come out of the Godless age of discrimination" and support the HRO "with gender expression."
Rabbi Lief, meanwhile, asserted that "freedom doesn't give us the right to harm others, including harming others on the basis of gender expression."
Pastor Jackson, whose congregation serves many transgender believers, spoke of the "horrifying stories" she had heard from her flock, unable to get a place to work and live, shunted to the streets in many cases. She called the fully-inclusive HRO a "critical solution that will address this need in our community."
And Parvez Ahmed, speaking as an "American and as a Muslim," noted that "my values inform me of the same thing; treat others as I'd like to be treated.
He urged that the city do the "right thing" and do it "quickly."
Reverend Chance, meanwhile, said that "a lot of theological issues are complicated. This one is not," adding that "there's equality and there's discrimination."
For these faith leaders, this isn't an issue of nuance, of fretting over "the language in the bill."
To them, this is something more elemental.