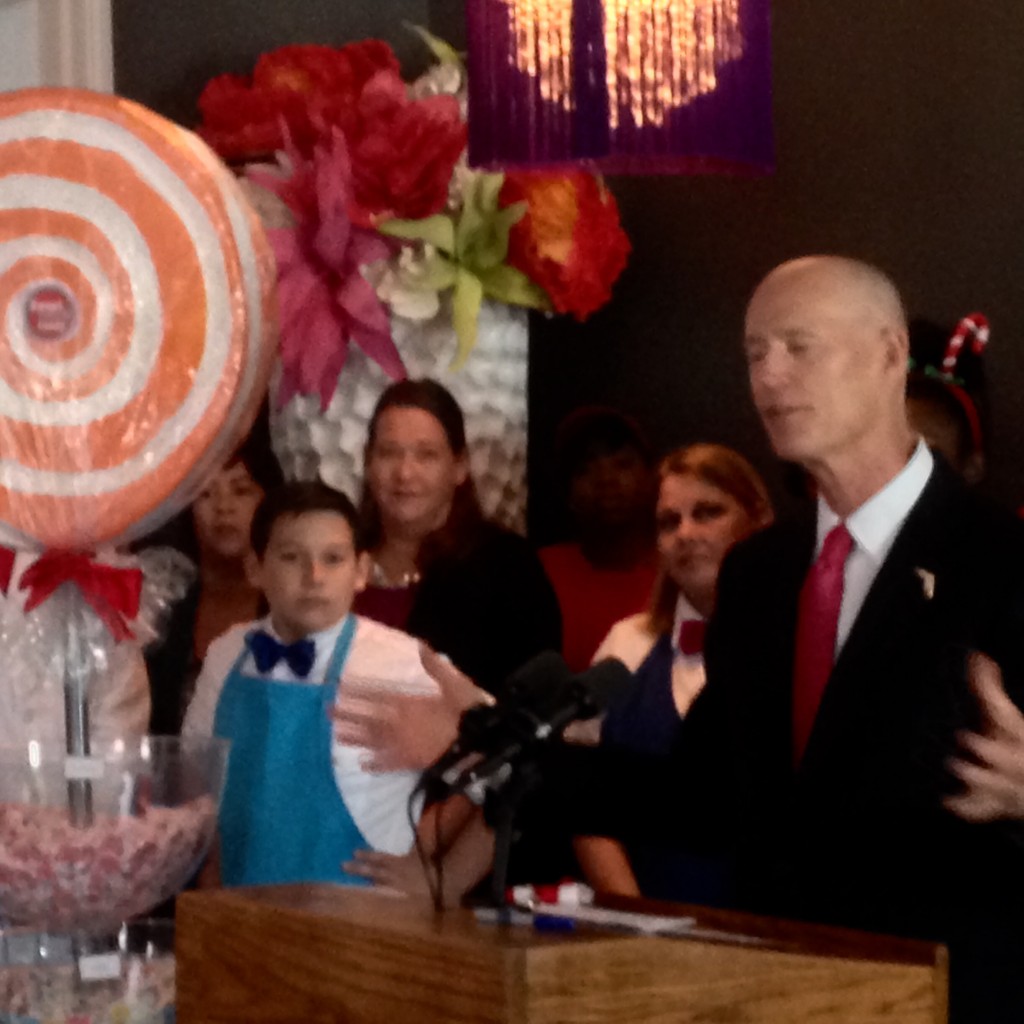 Florida Governor Rick Scott made another in an extended series of visits to Jacksonville Monday.
The reason for the visit: job creation.
The locale: Sweet Pete's, the Cowford Confectionary just across the street from City Hall.
Yet for Governor Scott, the draw is not the gourmet chocolate marshmallows, or is it the Grand Marnier cherry cordials, which are two of what Scott called "over 1,000 varieties of candies and chocolates" on offer. Rather, it's the jobs created in the crafting of such sumptuous sweets.
And Sweet Pete's embodies such a success story, as Scott noted, with over "100 jobs here," 75 of them added in the last twelve months.
Scott, who makes frequent visits to Jacksonville, used some familiar anecdotes, including the story of buying two doughnut shops at the age of 22, after getting out of the Navy, to give his mother a place to work.
Scott also brought out a familiar set of messages.
"The state's on a roll," said the Governor, pointing to 36,000 jobs created in October, and 978,000 created in the past 4 years and 10 months.
The hope, he added, was that the Friday job numbers would reach into the seven figures for job creation.
As well, Scott made his usual pitch for diversifying the economy, beyond tourism and other traditional sectors, and reprised calls for eliminating the income tax on manufacturers and retailers, while permanently eliminating the sales tax on manufacturing equipment, and cutting the tax on commercial leases.
Beyond the realpolitik of promoting his administration's agenda for January, a relaxed Scott was happy to draw parallels between himself and Pete Behringer, the owner of Sweet Pete's and scion of the Peterbrooke chocolatier family.
"Pete grew up eating chocolate," Governor Scott quipped, and "I like eating chocolate."
"He's living his dream," Scott continued, and that takes "money" and a willingness to assume "risk."
On hand also, Jacksonville Mayor Lenny Curry spoke of his first time in the cafe': a December "campaign dinner" with "lots of people," where the mayor and his entourage were "treated so nicely."
"Good business is about good people," Curry said.
Meanwhile, Representative Lake Ray spoke of the macroeconomic improvements that have happened under the Governor's watch.
"If you roll the clock back five or six years," Ray said, "I don't think there was much of a future" in Florida.
Instrumental to that future: the "amazing transition" that the Governor has spearheaded, regarding port policy and other economic drivers.
Ray, calling Scott "the right Governor at the right time," then pivoted into an assertion of how the "world wants American made products."
"We make the best in the world," Ray said, and we "have the best workforce in the world by far."
Scott's policies, meanwhile, "encourage companies to come to Jacksonville," to "Florida," instead of "Chicago" or other domestic competitors.