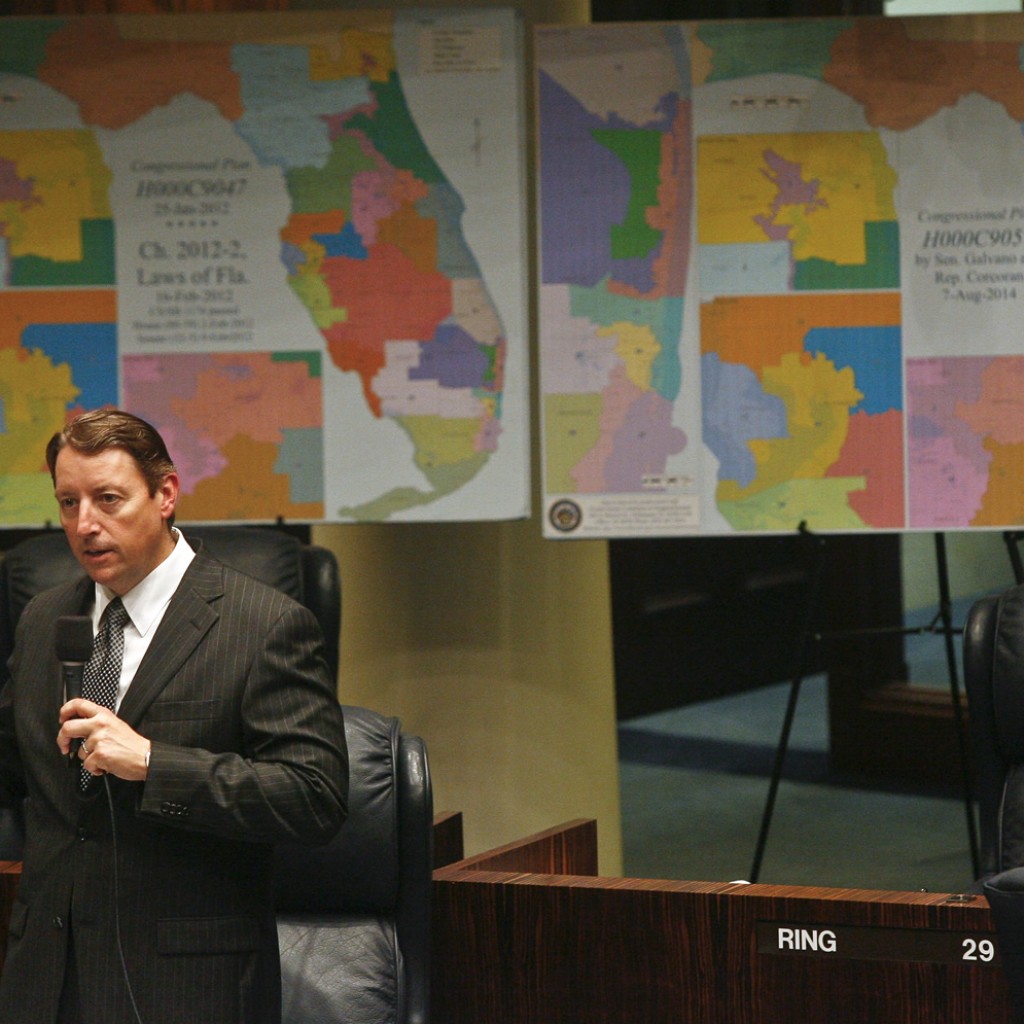 A plaintiffs' lawyer on Monday squarely set up his boogeyman for this week's state Senate redistricting trial: Sen. Bill Galvano, the chamber's redistricting chair, its Republican leader and a future Senate president.
"He made all the significant decisions regarding their map," said attorney David King in his opening statement. "None of the other senators ever saw the (Senate) map before it was filed, even President (Andy) Gardiner never saw the map that he approved before it was filed."
Galvano, a Bradenton Republican, "had every reason to protect his majority in the Senate," King told Circuit Judge George Reynolds, who is hearing the case without a jury.
For instance, King explained that of all the proposed maps Galvano had at his disposal to redraw the state's 40 senatorial districts, the one he finally pushed had no Republican incumbents drawn into the same new district where they would have had to fight each other for a seat.
"By all the metrics … our map is hands down better than the maps produced by the Legislature," King said.
Reynolds also on Monday allowed the state's elections supervisors to intervene in the case, scheduled to go through Friday.
Ron Labasky, attorney for the supervisors, told the judge that elections officials need to know the new Senate district map by mid-March 2016; qualifying for state Senate seats begins June 20, and candidates have to know what district they're in to run.
Figuring out a new map will be a challenge: Before opening statements, lawyers said they agreed on 416 joint exhibits to possibly put into evidence this week.
Reynolds, however, previously said he will likely pick one of five suggested maps, one submitted by the Senate and four from the plaintiffs, rather than combine elements or try to draw his own.
Raoul Cantero, the Senate's outside counsel, told Reynolds the Senate map is the best choice, saying it was born from a "pristine process."
For example, his first witness — House of Representatives redistricting staff director Jason Poreda — attested to the lack of influence on him while he drew several alternative maps for a recent Special Session.
The map drawing was "open to public view" and everything was recorded, Cantero said, "to make sure there was no appearance of political intent or to protect incumbents."
The League of Women Voters of Florida, Common Cause and others had sued the Legislature, alleging the current Senate district map was rigged to favor Republicans and incumbents.
The Senate settled the case by admitting fault and agreeing to redraw the lines with the House. Both chambers, however, came to an impasse over the best way to do that during a recent Special Session, ensuring that the courts would have to figure it out.
Reynolds now must figure out a configuration that abides by the state constitution's Fair Districts amendments. They're aimed at ending gerrymandering, or the drawing of political boundary lines to benefit particular parties or people.
And whatever Reynolds decides, it will have to go back to the Florida Supreme Court for final approval.
King summed up the pressure on the court, saying it will have to move at "warp speed."
At the same time, for good or bad, Reynolds has a plethora of directions to follow: "You will never deal with a case with more legal instruction provided for you," King added.