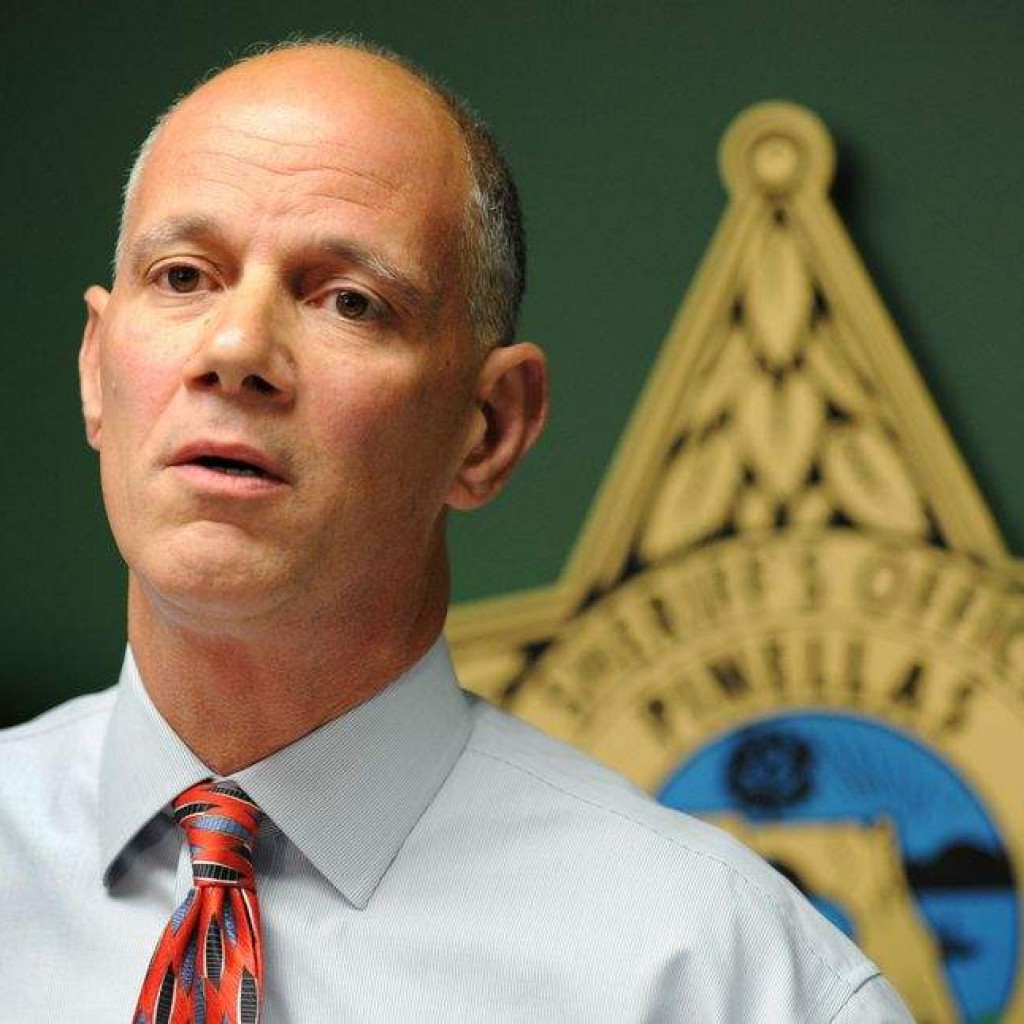 The Florida Sheriffs Association (FSA) issued a statement on Monday giving their full support to Pinellas County Sheriff Bob Gualtieri, who has been under a firestorm of criticism in recent days for comments he was quoted as saying last week regarding the open carry legislation being debated in the Florida Legislature.
Gualtieri and the FSA oppose the legislation, but in a story written by Margie Menzel for the News Service of Florida Thursday, the sheriff was quoted as saying that if an officer arrives at the scene of a crime and sees someone with a weapon, "At a minimum, they're going to be thrown down on the ground with a gun pointed at them — or worse."
That was followed up by another quote where he said that if a citizen with a concealed weapon walks into a bank during an armed robbery, Gualtieri said, "He's going to take one in the chest because he's a threat."
"To set the record straight, Sheriff Gualtieri never told the reporter that an officer would be at a 'crime scene' and react when seeing a firearm," the FSA said in its prepared statement of support for Gualtieri.  "His full statement is clear that he was talking about a hypothetical, in-progress situation and the challenges faced by law enforcement officers in determining the law-abiding citizen with a gun from a criminal who could be a potential threat to the officer at a disturbance or other situation."
The original comments were posted by a blogger for the Sarasota Herald-Tribune, and later distributed by Florida National Rifle Association lobbyist Marion Hammer, resulting in the sheriff receiving numerous phone calls, emails and comments on social media that tore him apart for his seeming advocacy of wanting to "have our deputies trained to shoot concealed gun owners, which is just absolutely irresponsible rhetoric," a disgusted Gualtieri said on Monday afternoon. "To say it's the furthest from the truth is an understatement. It's just complete nonsense."
Gualtieri says his quotes weren't accurately presented, and the News Service of Florida has written a new story on their  website on Monday reflecting on their original story (this reporter doesn't have a subscription and thus can't provide a link). Menzel reported that those original quotes "paraphrased much of Gualtieri's remarks opposing the open-carry bill."
Gualtieri said on Monday that the new story by Menzel is "more accurate," but says the original story carried two major inaccuracies that need to be corrected.
In her new story, Menzel wrote up the longer Gualtieri quote regarding an officer arriving on a scene and seeing someone with a weapon.
"It's a question of whether, at 3 o'clock in the morning at the 7-11 store, when there's a silent hold-up alarm and the deputy pulls into the parking lot, and the citizen is walking out of the store with a .45 stuck in their holster, let's say, and a cup of coffee in their hand – it's not going to be a good situation for that citizen," Gualtieri said. "At a minimum, they're going to be thrown down on the ground with a gun pointed at them – or worse."
Gualtieri said on Monday that he never said anything about showing up at a "scene of a crime," and said the example he provided was about a handful of men fighting at a traffic intersection before a law enforcement officer shows and he sees one of the men with a gun stuck his waist band.
"There's no way to determine whether that's a good guy or a bad guy or what's happening in the middle of this fight," he said. "And the law enforcement officer is going to have to secure the scene, and that most likely means when people are actively fighting and somebody's got a gun, somebody is going to probably securing it in some fashion, and probably will be told to get on the ground on something like that. And that was the discussion. And boy is that so different."
And regarding his quote about a citizen with a concealed weapon?
This is also from Menzel's story on Monday. Similarly, here is the broader quote on the scenario about a bank robbery:
Picture this. … You take as an example a 60-year-old man who is unassuming, not a threat to anybody, just your average citizen who has a concealed-carry permit and carries that gun absolutely everywhere he goes," Gualtieri said. "And he walks into his local bank today to make a deposit, and he walks into the middle of an armed robbery. And when he walks in — unassuming, non-threatening — and he's got his gun and it's concealed, when he walks into that bank, there's a good chance that that bank robber is not going to be threatened by him and is not going to shoot him because he happened to walk into the middle of a bank robbery. And you take that same 60-year-old guy, and he walks in there, and he's got a big old .45 on his hip when he walks through that door, and that bank robber's in the middle of robbing that bank and he sees that gun, he's going to take one in the chest … because he's a threat, he's a visible threat.
Gualtieri's original comments led to a biting  blog post on the website of the Sarasota Herald-Tribune by a reporter by named Lee Williams on Friday, who wrote:
"A county sheriff who's threatening to shoot his constituents for exercising their Second Amendment rights is a worrisome situation, one which I hope gets whispered into the ear of Gov. Rick Scott.
"The governor needs to take swift action now, before a law abiding Pinellas County resident is "thrown down on the ground with a gun pointed at them — or worse."
The sheriff's statements constitute official sanction for his deputies to use excessive force — or even deadly force — on gun owners.
And quite frankly, that should scare the hell out of everyone who lives in Pinellas County, regardless of whether they own or carry a gun.
Gualtieri says he spoke to Menzel over the weekend about the quotes, who he says apologized for not being more accurate with them.
In an email,the NRA's Hammer wrote to Gualtieri that, "Frankly, the Lee Williams column is merely an expression of what MANY people called to share with me after reading the News Service of Florida article. Comments like, "Oh my God, did you see that? It is outrageous." And "He scares the hell out of me," along with "I couldn't believe what I read. What the hell is the matter with him?" and "His statements disgust me"  are some of the more kind remarks I've heard. No one — let me repeat — NO ONE has called, emailed to texted me to say they think you are right after reading that article. They are all appalled at your comments and actions.  I truly don't know how you expect your words to be taken any other way."
To say that the sheriff has dealt with vitriolic responses over the past few days would seem to be an understatement.
"I have the utmost respect for law enforcement, that is until they start talking shit like you and the shit your talking gives more then the impression of placing one above the law and you sir are NOT above the law," wrote one man. "I am a Law biding CWP citizen and FYI I carry everywhere I go, 'including your county.' If open carry is passed and it's legal for me to do so, i'll open carry my AK-47 in your county if I so desire. You want to put one in my chest for that, have at ya prick. Do us all a favor and craw back up Obama's ass, stay there and shut your damn Nazi pie hole. PS: While your there please read the US Bill of Rights."
Gualtieri says the story has turned into "this irresponsible nonsense by Marion Hammer and by this guy Lee Williams from the Sarasota Herald Tribune, where they put this junk out that they said that I was going to shoot and have our deputies trained to shoot concealed gun owners, which is just absolutely irresponsible rhetoric." He says neither bothered to talk to him directly about his alleged quotes.
In their statement today, the Florida Sheriffs Association said, "Today, The News Service of Florida posted a follow up article that provides the full context and statements made by Sheriff Gualtieri which makes it abundantly clear that the initial article did not properly reflect the Sheriff's comments.  This does not excuse the individuals who took the incorrect information and created a false narrative even beyond the incorrect reporting. "
When contacted, Williams told FloridaPolitics.com he had no comment.
A call to the NRA office in Tallahassee went unanswered.