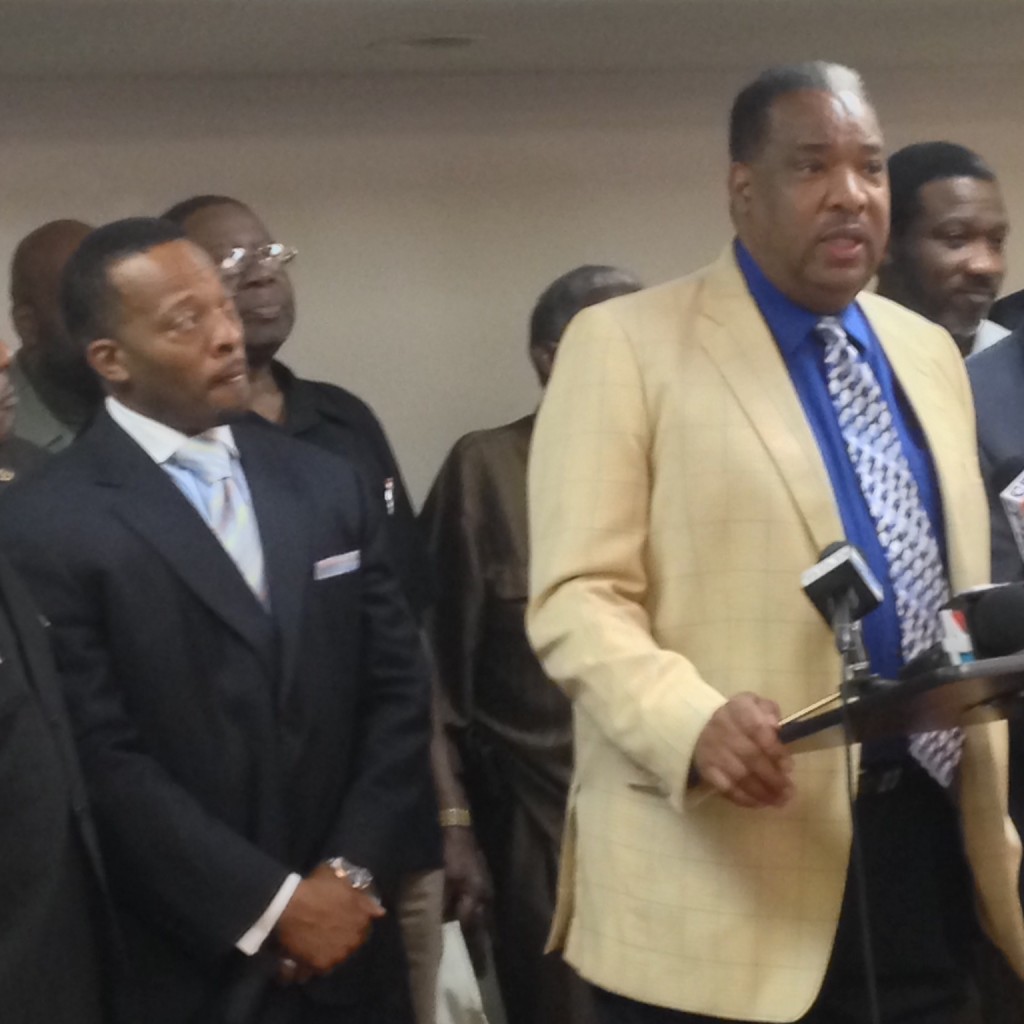 Though there is no Human Rights Ordinance expansion legislation yet, the possibility of such has been enough for many members of Jacksonville's City Council, who have been hearing, pro and con, about the positions of people on this issue.
This is especially true with the final Community Conversation on the subject looming at 6 p.m Tuesday  at Jacksonville University's Terry Concert Hall.
With this in mind, and with the risk-aversion of most on Council in mind, an idea that has been getting traction is the idea of putting HRO expansion up to a popular vote.
An HRO referendum.
There are questions about whether such could even be binding or not. But what's not at question: the push for such, one made last week by the Rev. Fred Newbill, speaking for a group of pastors at a press conference organized by Kenneth Adkins.
In a press event characterized by message discipline, Newbill, who was part of Jacksonville Mayor Lenny Curry's inauguration and his transition committees, stated the will of the group.
"We cannot and will not support any ordinance driven by sexual orientation," Newbill said, adding that the Civil Rights Act "covers what needs to be covered."
As well, Newbill added, "whatever comes out needs to be done by referendum."
"If the people of Jacksonville pass" such a referendum, Newbill says "we will accept it."
The referendum is necessary, said Newbill, because it's "become a citywide issue."
Not everyone agrees. The dean of local columnists, Ron Littlepage, recently wrote that "Newbill and those who joined him are wrong in calling for a referendum on the issue," with the "most obvious reason … reflected in the color of their skins."
Littlepage drew comparisons between the LGBT rights movement and the Civil Rights movement, saying that "basic human rights that all people should have, and the majority should never be able to deny them to a minority" included "the LGBT community having the right not to be discriminated against in employment, housing and public accommodations."
Newbill, born in Jacksonville, noted at the press conference that he had "no protection under law" when he was born, and rejected parallels drawn between the LGBT rights movement and the Civil Rights movement from the middle of last century.
"I lived it. Lived under Jim Crow," Newbill said, describing a time when his "mother had to get off a bus" during the height of segregation."
As Littlepage writes, Jim Crow never would have ended by referendum.
And HRO opponents know, meanwhile, that expansion won't happen, at least this decade, via referendum. Which is why they're calling for it.
It's pretty easy to imagine the tactics by which an interested party would "call" for a referendum; setting up a PAC with mailers calling for "the will of the people," and setting up some spurious bit of business like a Change.Org petition calling for it, perhaps using language like "Jacksonville can't let an elected few decide on human rights for ALL OF US. Sign this petition and urge that City Council and the mayor DO THE RIGHT THING and put the matter up for a popular vote!"
This would provide political cover for those who don't necessarily want to live up to the pledges they made to HRO advocates during the campaign. Rhetoric, such as "new laws aren't the answer; the answer is changing minds. And hearts," could be thrown out there as well.
The Fred Newbill press conference was significant in that it augured a potential message shift from the lurid rhetoric of some opponents to a simple populist call for referendum, and a repudiation of activists' attempted linkage of the HRO expansion movement to the Civil Rights Movement. It provides cover for further message recalibration by opponents, and forces a recalibration of messaging by proponents to answer Newbill and those who will pick up his talking points.
Newbill, by some magnitude, is the most significant public figure to come out against HRO expansion in 2015. One can expect him and his messaging to be used prominently by expansion opponents. And the referendum, and the exquisite political cover it would provide, is something that can't be discounted.
To put it another way: if opponents of the HRO aren't circulating a pro-referendum petition at Tuesday's meeting, then their consultants are asleep.