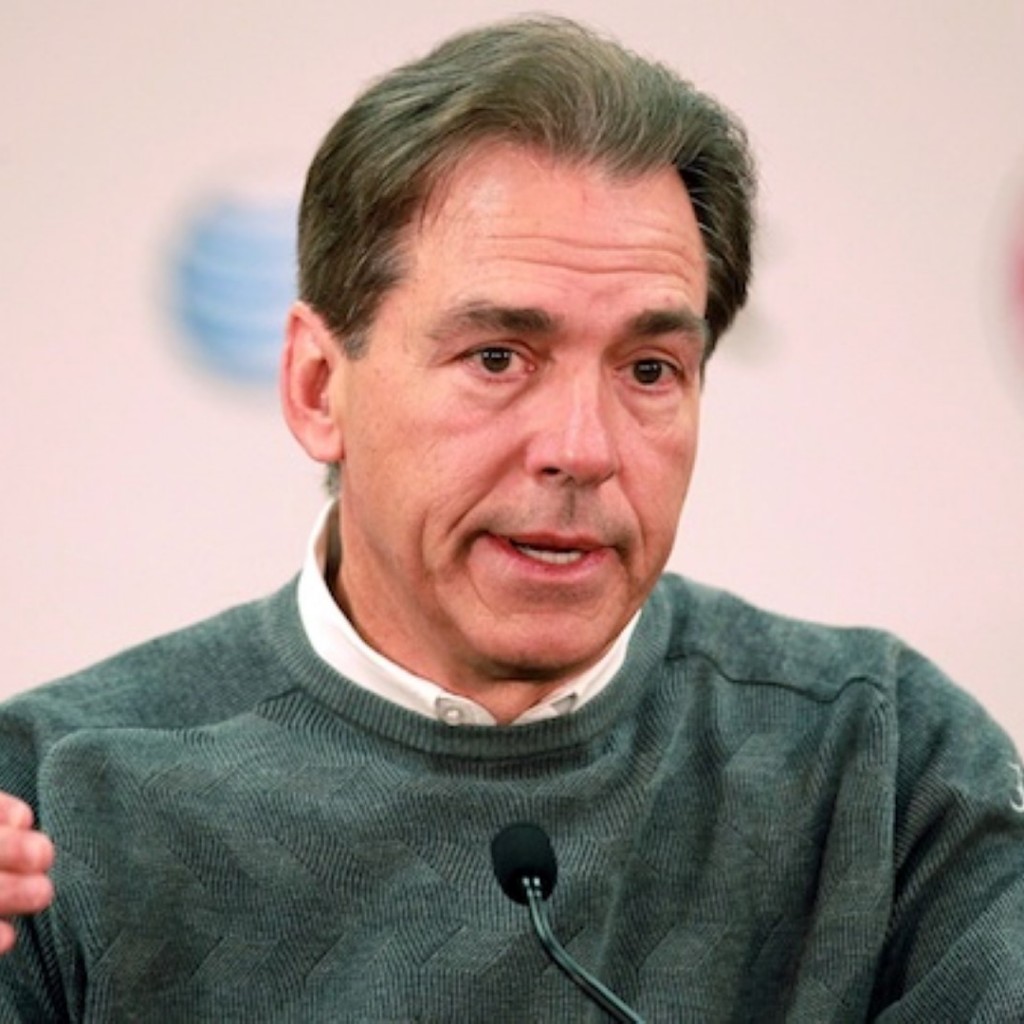 Greeting sportsfans, I'm Brent Toast of ESPN, along with former Heisman winner Johnny Twitt. Welcome to the most important event of 2016, the college football national championship! Who will prevail?
Will it be the Clemson University Tigers, led by evangelical whackjob Dabo Swinney, or the Crimson Tide of Alabama, coached by gazillionaire and part-time Bond villain Nick Saban?
But first, let's look at the second-most important event of 2016, the race for the White House. Who's playing with his hand in the dirt? Who's got his ears pinned back?
And — this is crucial — who's number one in pandering? Johnny?
Thanks, Brent. Right now I'd say you've got to give the edge to Carly Fiorina. Her 40 time ain't that hot — at 22 hours, it's right up there with the Matanuska Glacier — but there's nobody out there more shameless.
Check this out: minutes before Stanford took the field against an Iowa team already demoralized by the sheer number of Republican hopefuls crisscrossing the state, Fiorina sent this tweet: "Love my alma mater, but rooting for a Hawkeyes win today. #Rose Bowl."
Whoa, Johnny! That's impressively, you might even say, stupidly, brazen.
You got it, Brent. Between Christian McCaffrey's running and the Stanford band's halftime show featuring cow-tipping and references to FarmersOnly.com, Iowa collapsed like wet wheat. At least Fiorina tried to make a play. All Jeb Bush could come up with was free coozies at the pregame pep rally.
Coozies, Johnny?
That's right, Brent. Coozies, black and gold, with "Hawkeyes for Jeb" on 'em.
That's pretty tragic right there, Johnny. Not even "Jeb for the Hawkeyes."
No.
No. What about Marco Rubio?
Could be a momentum issue: the Michigan Wolverines delivered an old-fashioned fanny-whupping to Marco Rubio's Gators down in the Citrus Bowl.
That had to hurt. Bad year all round for Florida, Johnny. Houston owned FSU in the Peach and USF got slapped harder than a redheaded stepchild by Western Kentucky. Plus, Rick Scott is their governor.
Ugly, Brent. Ugly.
What's happening with the Democrats, football-wise?
Well, Brent, no one's actually seen the Democrats, since they held their debates on game nights, and Hillary Clinton has failed to tell us who she's supporting in Monday night's championship game. I have to think it's Clemson: the state of Alabama has pretty much outlawed Democrats.
South Carolina has an early primary, too. What about Donald Trump?
Well, that's the big question. We reached out to his campaign but all they'd say is that he roots for the Wharton School of Business.
The Wharton doesn't have its own football team, Johnny. Must be some confusion with the U Penn Quakers.
Au contraire, Brent. Trump specifically stated that the Quakers are "huge losers" and that he would kill ISIS the way they taught him to at Wharton.
Well, OK, then. In related news, we now know who bankrolled the skywriting over the Rose Bowl, you know, the "Trump is Disgusting"? A property developer from Tuscaloosa, Alabama. Name's Stan Pate.
Democrat?
No, a Republican.
Scary. Developer versus developer. It's like the Civil War.
Whatever. Trump's getting some football love from former Georgia Bulldog great Herschel Walker and Patriot QB Tom Brady …
Hot wife.
Can't argue with you there, my friend, but those guys have been hit in the head many, many times. Hard. Got to remember that, Johnny.
Stay with us — we'll be right back with Sen. Bernie Sanders, our guest picker on GameDay. Can he beat Rick Ross and Katy Perry?
***
Diane Roberts teaches at Florida State University. Her latest book is "Tribal: College Football and the Secret Heart of America."