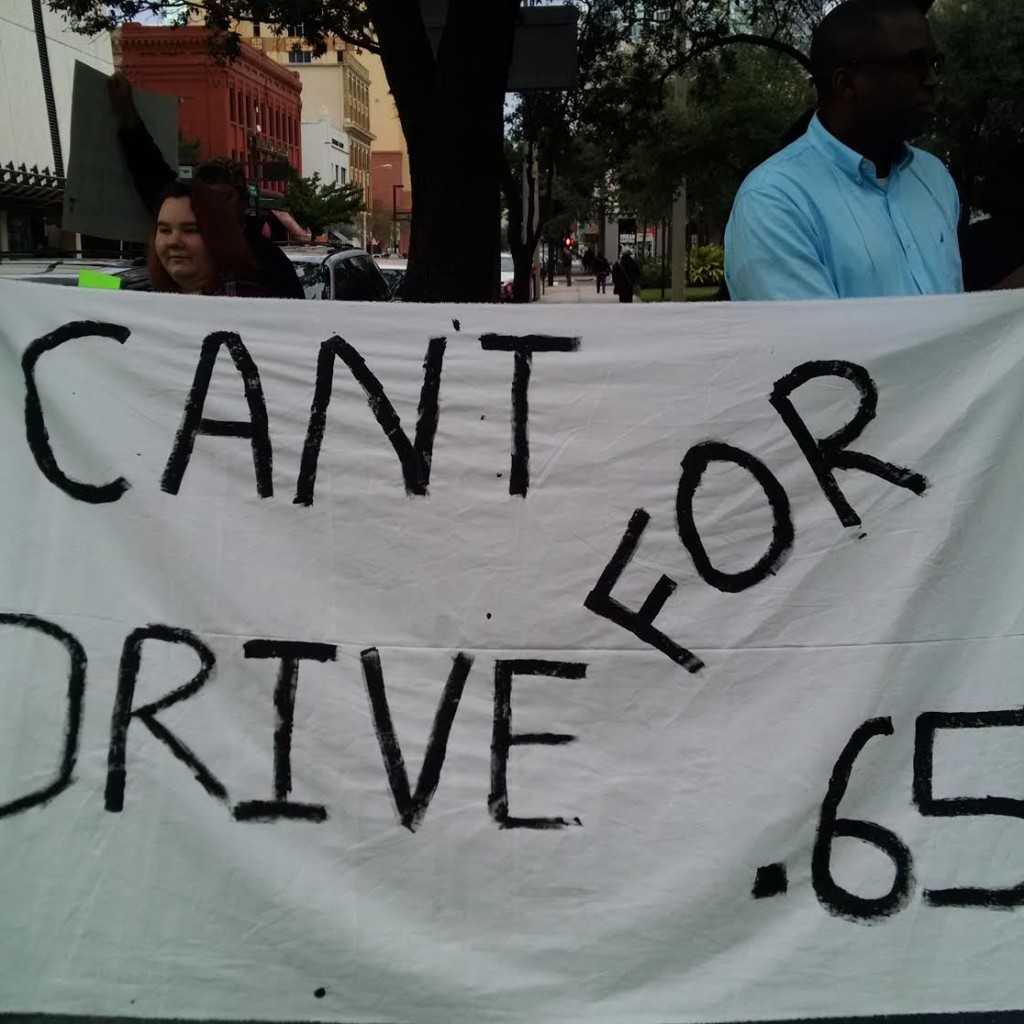 Since Uber began operating in the Tampa Bay area 21 months ago, it's been essentially a love affair among drivers, passengers, and most lawmakers, who have battled with the Hillsborough County Public Transportation Commission and the taxi industry to promote the "disruptive" and innovative form of transportation.
That love affair is ending on the part of many drivers this week, angry about the most recent cut in pay that went into effect last weekend in 80 jurisdictions nationwide, including in the Tampa Bay area.
Late Thursday afternoon, about 30 Uber drivers protested at Lykes Gaslight Park in downtown Tampa to express their unhappiness.
"It was a great experience, it got me through the holiday, but at 65 cents a mile, you just can't make a living on that, let alone pay a mortgage, pay an electric bill, or pay for gas," said Largo resident Ken Taber.
Last weekend, Uber cut the rate they pay drivers from 95 cents a mile to 65 cents a mile.
Carrollwood-based driver Jason, who wouldn't give his last name, has worked for Uber the past 16 months. At first, he said he was paid $1.80 a mile, and then the rate went down to $1.20 before the summer in a supposedly temporary rate cut that became permanent. Then it went to 95 cents a mile, and now it's 65 cents a mile.
"I'm not in business to lose money," he said.
Drivers said they were informed of the change this past Friday about the rate change, and had no choice in the matter.
"Enough's enough," said Spring Hill-based driver Steve Hill, an Uber driver since June 2014. He said he drives for Uber to supplement income, usually about 15 hours a week. "It used to be a nice $300-$400 when you worked a weekend, but now, I mean, it's pointless."
Drivers also say it's more competitive as Uber keeps recruiting more drivers, flooding the market.
"If you look at their media campaign, it's always looking for drivers. They never explain to anybody what Uber is because they have the rider market there," said Uber Select driver Dani (no last name given) of St. Petersburg, who has driven the upscale Uber product for 18 months.
"I came into this very optimistic. Be my own boss. Make my own hours, of course, nobody wants to work for the man, so this was the perfect job for me," Dani said. "But I'm going to have to look at other options."
Uber officials did not return a request for comment, but pointed to a blog post on their website indicating that the drop in pay is seasonal, an attempt to reduce rates for customers to increase demand in January.
The other option for disgruntled drivers who like working for Uber is to shift over to Lyft, which also operates in the Tampa Bay area and pays its drivers a higher rate. "I like Lyft and don't really know why it hasn't caught on here," Hill said.
It's considered to be the first protest by Uber drivers in Florida. There have been similar protests in Detroit and San Diego.
Although it's not a full-time job for some drivers, for others, Uber has been a way of life.
Cedric Hardman, 50, moved to Tampa from Chicago 10 months ago to be a full-time driver and loved it, working about 60 hours a week. He said the question he's asking himself now is what is too low to work for?
"I don't enjoy the fact that I'm losing $300 a week," he said. "That's what it amounts to in my average paycheck. I'm going to have to find other employment, maybe do it on the side."