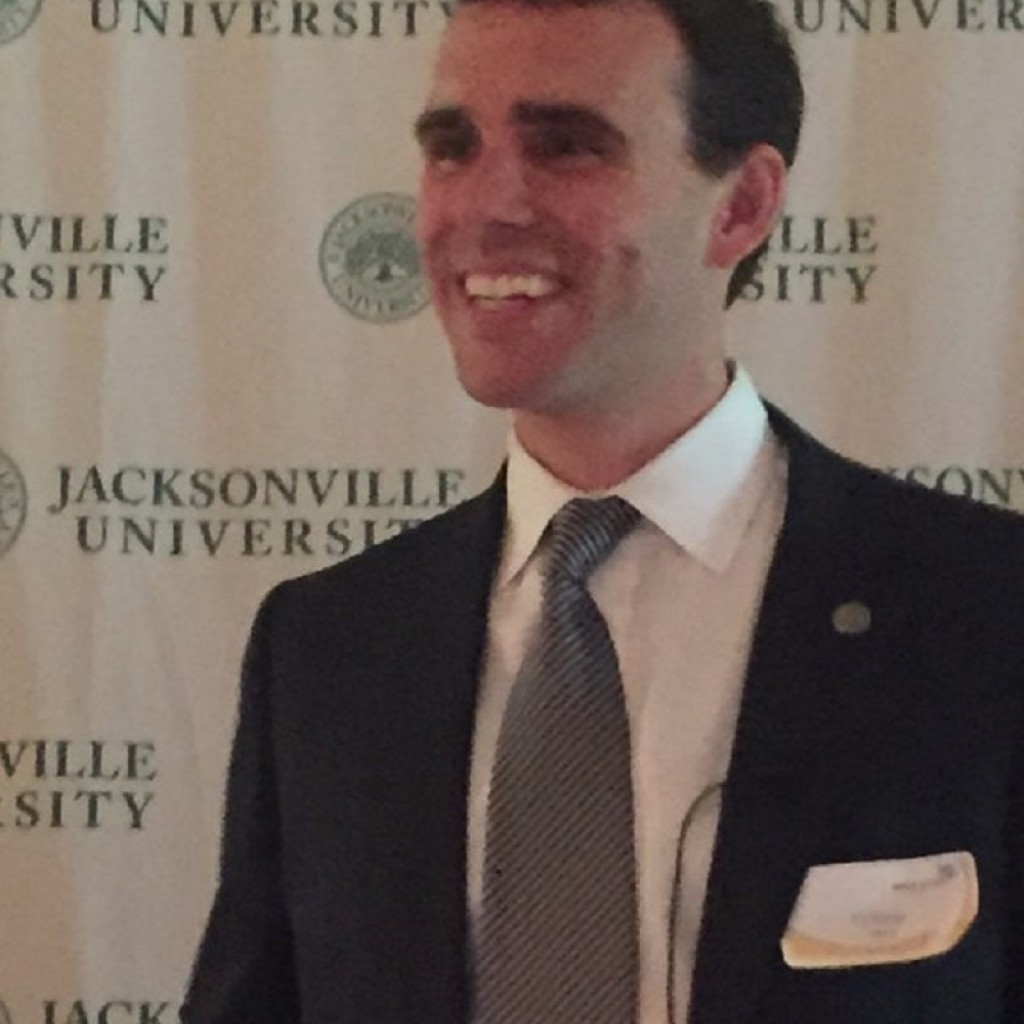 Just as lobbyists for the ride-sharing service Uber made their case for uniform regulations in Tallahassee this week, one of the company's whiz kids was sharing the secrets of the uber-popular app back in his Florida hometown.  
"We've gone from 3 million trips a month to 3 million trips a day," Ed Baker, the company's vice president of growth, said at a luncheon sponsored by Jacksonville's World Affairs Council on the Jacksonville University campus.
The Jacksonville native and 1997 Bolles School graduate has only been with the San Francisco-based Uber since 2013, landing there after a high-flying stint at Facebook.
In his talk, "Disruptive Technologies and Exponential Growth," Baker revealed Uber's simple growth plan: attract more riders and more drivers.
Also, move aggressively into international expansion (China, India) and offer new products such as Uber Eats and Uber Rush (think hot meals and luxury items delivered to your door a la Amazon, but faster).
The ride-sharing app was born when the company's founders had trouble catching a cab in Paris back in 2008. Growing from humble beginnings with just one private driver shared among a few friends, Uber is now in 400 cities, 68 countries, and has logged 1 billion rides.
Uber chose Jacksonville as its first Florida market in January 2014.
"We are now in all of the state's large cities, reaching 95 percent of Florida's population," said Baker. "In Florida, we've had 1.5 million riders, with 24 million trips alone in the past 12 months. Riders from 46 states and 78 countries have used Uber here in Florida."
Baker also pointed out that Uber is 30 to 40 percent cheaper in Jacksonville than a traditional taxi ride.
That said, Uber has faced its share of regulatory hurdles in the state (and in plenty of other locales as well). As FloridaPolitics.com has reported, the record 105 million tourists who visited Florida last year expect and demand services such as Uber to operate legally and predictably when they visit. The company's lobbyists have been trying to make the case that the state's current patchwork of city and local regulations are less than optimal for providing that assurance.
Meanwhile, as ride-sharing insurance legislation moves on to the Senate, Florida's Uber drivers continue to protest their low wages with the company in today's new "gig economy."