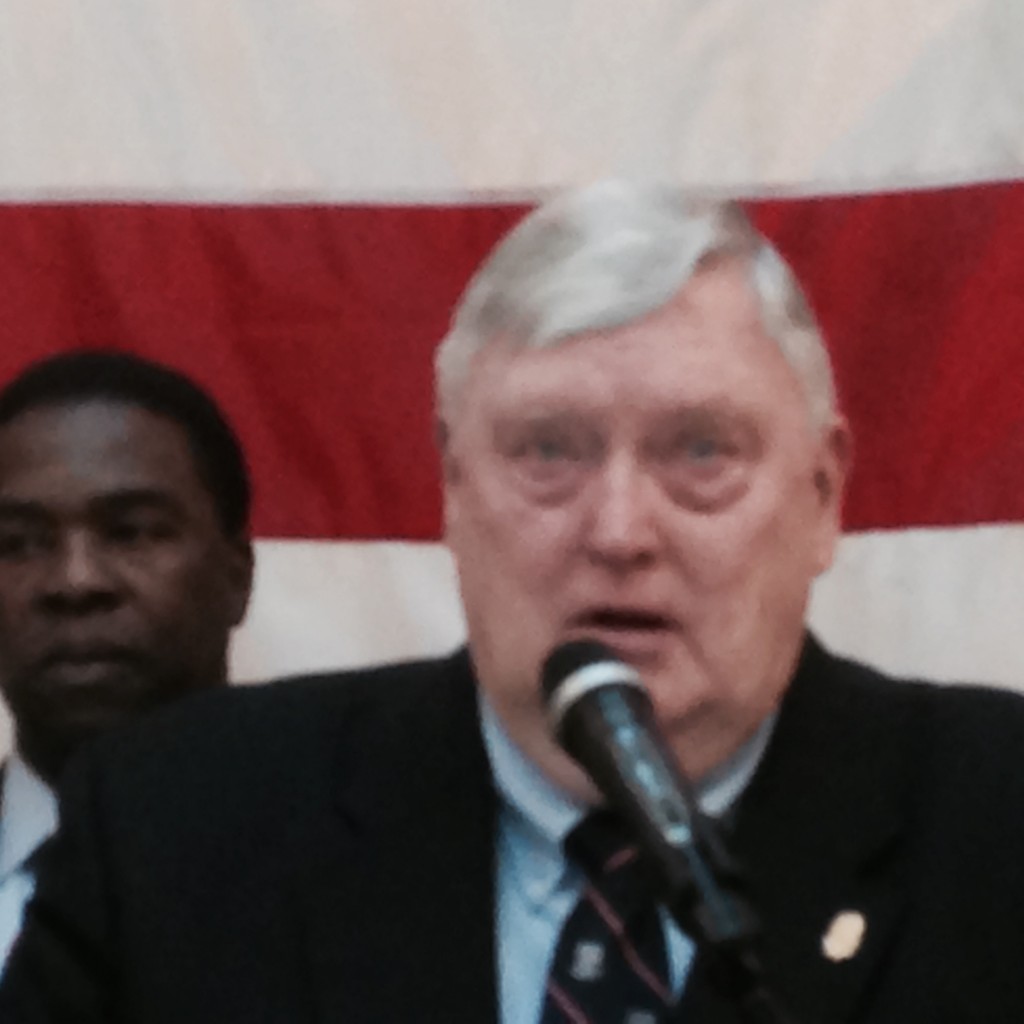 On Tuesday, the Jacksonville City Council's big bill involved attempting to finalize its ongoing conflict with former Police and Fire Pension Fund head John Keane with a settlement agreement.
Instead, they "postponed indefinitely," after a long and tortuous process of discussion and amendments. The goal is to get answers to questions and, seemingly, to show Keane and the PFPF that they're serious.
Even as it had cleared Finance Committee a week prior, two of the members reserved the right to vote against it on the floor. A third Finance member had told a reporter for a different outlet that he was leaning no also.
The first amendment to be addressed set Keane's 2016 payout at the midpoint between the senior staff fund number and the general fund retirement fund number: a mere $210,000 and change.
A concern: if the amendment were to be approved, the deal likely would be spiked by the PFPF and Keane.
John Crescimbeni, introducing the amendment by saying he "hates the bill," noted that any litigation would see "both sides of this legal battle" paid for by the city, and that the fee for that spectacle could soar into the low seven figures.
Crescimbeni noted that a 2010 public records case involving the same body has gone through circuit, appeal and now the Supreme Courts.
"I'm still wrestling with [this bill]," Crescimbeni said, as an elderly gentleman in the back yelped.
Councilman Al Ferraro chimed in: "I can't support the amendment because I can't support the bill." His constituents are all "fired up and they feel ripped off."
Councilman Bill Gulliford, the Finance Chair, voiced his own qualms before General Counsel Jason Gabriel spoke up on process.
"If we don't get both parties, I would submit we don't have a settlement. We'd end up in court," Gabriel said.
Gulliford was still "troubled" by the amendment. Lori Boyer echoed his concerns.
"It seems highly unlikely that the fund and Mr. Keane would approve the amendment as is," Boyer said, adding that "perhaps we're negotiating with ourselves" with the amendment, which could "muddy the water."
Reggie Brown spoke up: "we may not win this case," leaving the city on the hook for a million dollars in legal fees in addition to the settlement amount.
"This may not be the perfect deal… but we've got to get out early… litigation is not the best answer for taxpayers," Brown said, adding that "it's our responsibility to settle it once and for all and move forward."
Council, of course, was still on the amendment.
When asked if the Senior Staff plan was "illegal" by Danny Becton, Gabriel quibbled with the semantics, saying he preferred the term "unauthorized."
"Who has the legal authority to set up a defined benefit plan for the Police and Fire Pension Fund? My opinion… is that it is the City Council," Gabriel said.
However, Gabriel added, "a lot of facts come into play."
Facts that are "subject to debate… a host of facts that are at play," Gabriel added. He went on to say that if the amendment is approved and the bill were to pass, the fund would have the option to accept or reject the material change to the deal.
He then went on to say, when asked if similar scenarios happened elsewhere, that "Jacksonville is very unique in how it handles its pension."
Crescimbeni then spoke up.
"It's very likely that a citizen is going to bring another complaint against the Police and Fire Pension Fund," and that the Senior Staff plan was devised in meetings that were not properly noticed, thus creating a Sunshine Law issue.
"If this was created outside of the Sunshine, we should not even be here talking about this," Crescimbeni said, adding that he was "leaning toward the 'stand on principle' side."
Anna Brosche spoke up next, reminding Council that the "inputs to the pension are the obnoxious salary and the years of service," and that given the years of service, it was unlikely that a judge would spike the deal, Sunshine issues notwithstanding.
"I agree that it's not pretty. And I was going to be in support of the amendment… ultimately, we have two other parties who need to agree to that." And if they don't? "Scorched earth litigation" is a distinct possibility.
Gulliford noted that it was unlikely that Keane would accept the amendment, and approving the amendment would "put this thing in Court."
The amendment fell 3 to 15. Brosche, Newby, and Schellenberg were in support.
A second "technical" amendment was put forth, and after that, the discussion of the bill.
Schellenberg asked the question again regarding the money the Pension Fund lost last year: $60 million, a number related to the tanking of various markets last year, including foreign equities.
"When we look at going to court for two million dollars, it seems kind of insignificant," Schellenberg said. "It's time for us to be on the offense."
"By going to court, we will aggravate the Hell out of [John Keane]," Schellenberg added, saying that he doesn't want Keane to be able to "go on a cruise" or "enjoy his grandchildren."
"We're willing to aggravate you, because you've been disrespectful to this Council, the administration, and the taxpayers," Schellenberg demagogued, slipping into the second person to address John Keane, who was not in the room.
Gulliford then made a motion to postpone this indefinitely and have the General Counsel go forward with further steps in litigation.
"It does send a message. Maybe we need to be receiving rather than on the giving end… maybe some other parties want to come back with some type of offer through the General Counsel that might be amenable to everybody."
That "amenable" solution: Keane accepting a pay out in line with the General Employee fund, a mere $187,087 per year.
Scott Wilson offered support of postponement. Al Ferraro urged the Council to "stay united" on a negotiating position. Garrett Dennis floated the idea of "postponing payments" to the Fund until this dispute is resolved, which doesn't sound completely legal, but it's a brave new world.
Reggie Brown noted that "indefinite postponement is not a common practice in the city," signaling a lack of support for the amendment without a fixed date attached to the timeframe of postponement.
"We're losing. Lost. This is behind us," Brown said.
Crescimbeni urged against postponement, saying "I want to be united" and "we voted 3 to 15 to reject [the first amendment]."
Then Reggie Gaffney asked Gulliford to withdraw his motion so the bill could be voted up or down; Gulliford said he would not.
Lori Boyer brought up, again, the distinct possibility of the agreement being voided because of a Sunshine Law violation. In that context, Council President Anderson pushed for postponement and a shade meeting in the next two weeks to resolve various unanswered questions.
Gulliford said, again, "this is an appropriate course of action" and "gives us the opportunity" to hear answers from the General Counsel that are not suitable for public consumption in the context of pending litigation.
The bill was "postponed indefinitely" by a 14-4 vote. Crescimbeni, Gaffney, Becton, and Reggie Brown were the no votes.
The written communications bill, which seemed like it would be a big talker in committee, got pushback in Agenda from Council President Greg Anderson, who wanted the bill re-referred to Rules, with the intent of refining the policy rather than establishing ordinance.
Bill Gulliford, the sponsor, pushed back; Anderson noted "advantages to policy rather than ordinance," as "new technologies… evolve."
"There's a simpler way to address this," Anderson said.
Simple, with this Council, is never a simple thing though.
Before the deferral motion, Councilman Reggie Brown bemoaned that the bill "implies wrongdoing" and "could have a negative impact" on pending litigation between him and other Council members and the Concerned Taxpayers of Duval County.
"This is bad timing," Councilman Brown said, "and I reject it completely."
Gulliford took "exception" to "Mr. Brown's comments" in response, saying the goal of the bill was to create the impression of transparency.
He asked for General Counsel insight into whether the bill would be "detrimental" to any litigation, saying that the bill was intended to protect Council and that he had no "malice in [his] heart."
Anderson noted that Councilman Brown did not make it to agenda, by way of "asking the favor of re-referral."
Councilwoman Katrina Brown, "also in pending litigation," echoed Councilman Reggie Brown's caution. Then the bill was referred back to Rules.
Simple enough. For this Council.