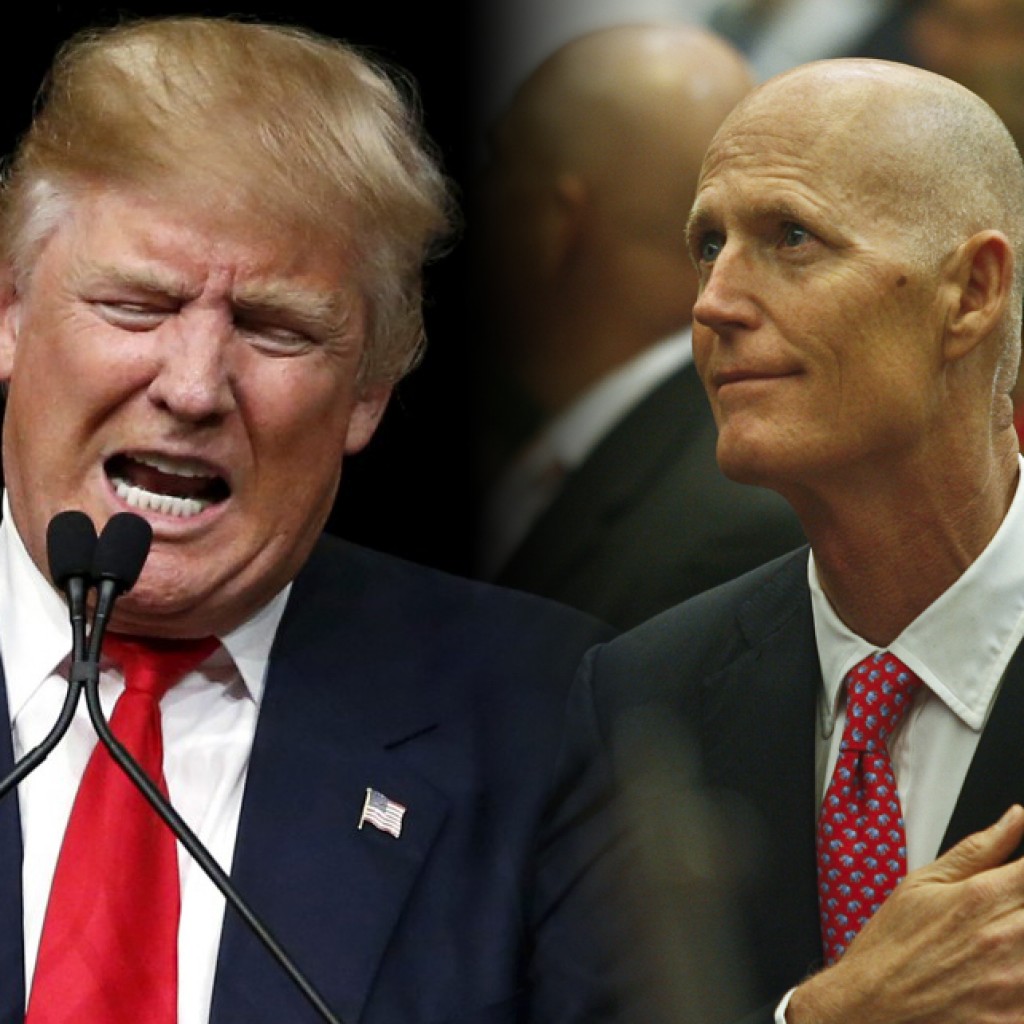 On Monday, Rick Scott said he wasn't ready to endorse in Florida's presidential primary election on March 15, but there are those who believe he might be leaning towards Donald Trump.
That speculation was sparked last month, when Scott penned an op-ed in USA Today, a column in which he wrote very favorably about the New York City billionaire real estate developer.
"I know Donald Trump personally, and while I currently have no plans to endorse a candidate before Florida's March presidential primary, there is no doubt that Donald is a man who speaks and tweets his mind freely. But I don't think his ability to give the most interesting interviews or speeches is the only thing that has him leading in the polls. I think he is capturing the frustration of many Americans after seven years of President Obama's very intentional government takeover of the U.S. economy."
The quiet speculation broke out into the open on Tuesday, when The Washington Post's Chris Cillizza listed Scott on a short-list of possible running mates that Trump might be contemplating as he continues to roll through the Republican primary and caucus calendar.
Like Trump, Scott was a lifelong non-politician until he opted to run for Governor in 2010. Like Trump, Scott made a fortune in the private sector.
Scott does have that unfortunate blemish on his business record: the $1.7 billion fine for Medicare fraud that occurred at Columbia/HCA. Scott created the health care company in 1987 and quit it in 1997, less than four months after a federal inquiry became public. But as Cillizza writes, "this is Donald Trump we are talking about."
However, as John McCain learned in his choice of Sarah Palin in 2008, the first rule of selecting a VP (generally) is that he/she shall do no harm.
Scott hasn't been the most popular guy in the Sunshine State, though he's been popular enough on two occasions to get more votes than Democrats Alex Sink and Charlie Crist. Could he bring home the Sunshine State for the Republicans in November? The philosophy regarding the Electoral College map is that the Republicans must win Florida's 29 electoral votes to win the White House, so it's natural for The Donald to look toward the Sunshine State for a possible running mate.
Yes, Jeb Bush and Marco Rubio could be available to serve if asked. No one on Earth can imagine Bush being offered the position, while Rubio's energy and ambitions may not be a good fit for Trump, he of the dubious temperament. Trump's insults towards Rubio have been relegated to mocking his tendency to sweat profusely during debates and consume mass quantities of water.
There haven't been many popular opinion polls taken regarding Scott of late, but a Quinnipiac survey conducted last summer showed he had a 45-44 percent job approval rating, the first time since one month after he took office in 2011 that he didn't get a negative approval rating.
Were Trump to select Scott as his running mate, the Florida governor would not have to resign his position to run. State law was changed (with Rubio's help) so that an office holder in Florida does not have to resign-to-run for federal office. Were Trump-Scott to win, the Governor would have to resign, making Lieutenant Governor Carlos Lopez-Cantera — briefly — governor. That is, unless CLC is also elected to the U.S. Senate. At that point, the line of succession dictates that Attorney General Pam Bondi would be named governor.