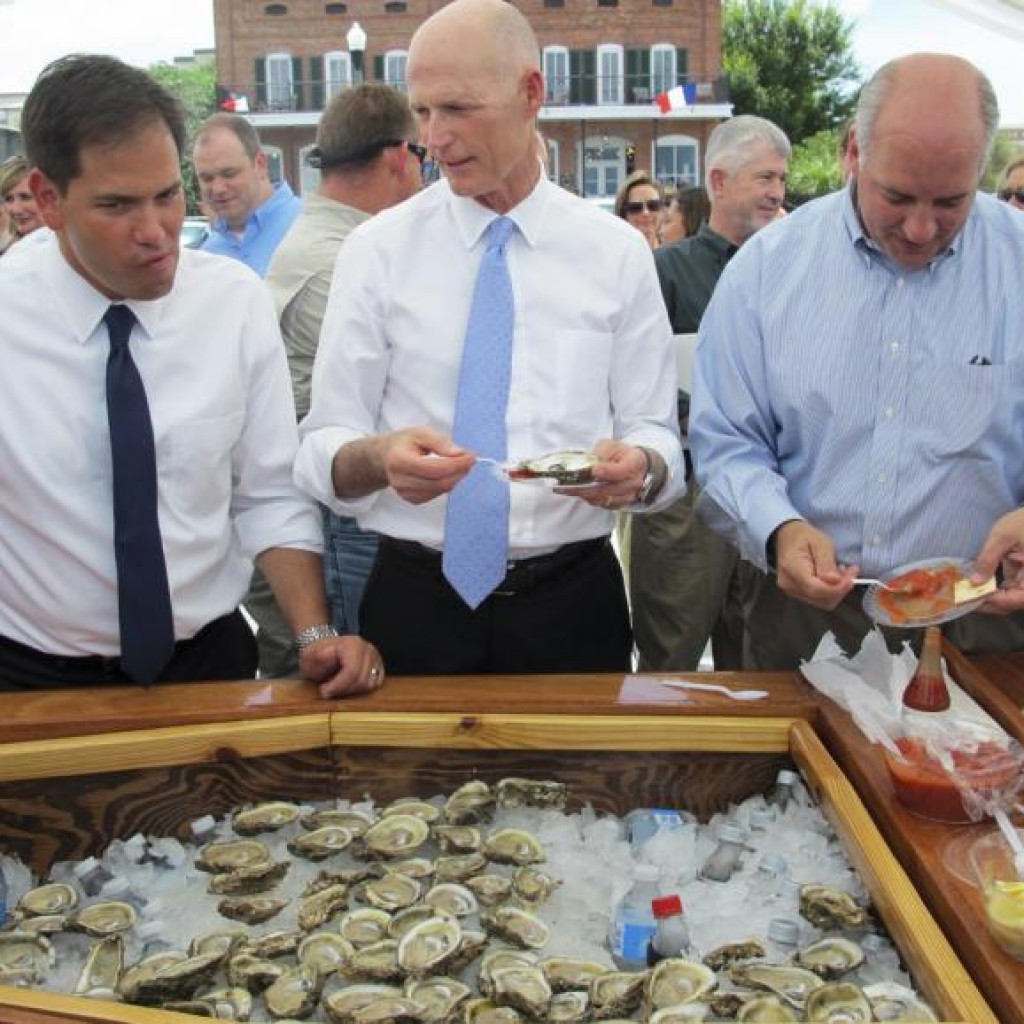 Rick Scott's favorable ratings have tanked to just 38 percent, according to a new Public Policy Polling survey released on Tuesday. However, he's not the worst-ranked Republican elected statewide in Florida.
That would be the state's junior U.S. Sen. Marco Rubio, the presidential candidate who is only at 31 percent support, with 55 percent opposing him.
Florida's other senator, Democrat Bill Nelson, receives 40 percent support, with 32 percent opposing.
Perhaps the most interesting listing in the PPP survey is on social issues, showing the state leans   left in the early going of this presidential election year.
Regarding the Affordable Care Act (aka Obamacare), is narrowly supported by Floridians: 42 percent to 41 percent. Among independents, it's 47 to 31 percent support.
"Obamacare is not a political liability for Democrats anymore," said Dean Debnam, president of Public Policy Polling. "Voters are pretty evenly divided on it nationally and in key states like Florida, so at this point it's really a wash."
Regarding medical marijuana, 65 percent of voters say they'll vote for the measure this fall, with 28 percent opposing. There's bipartisan support for the measure with Democrats (75/18), independents (70/22), and Republicans (53/40) all expressing their favor for it.
However, it should be noted that Quinnipiac was publishing surveys in 2014 showing that the measure before the voters that year was receiving over 80 percent support at one point. The measure ultimately received over 57 percent support, but not enough to get over the 60 percent margin needed for passage.
Meanwhile, 76 percent of voters in the state support increasing the minimum wage to at least $10 an hour, compared with only 11 percent who think the status quo is fine and another 11 percent who would like to eliminate it altogether. That includes 92 percent support from Democrats, 74 percent from independents, and 62 percent of Republicans for going to at least $10 an hour. There's also 69 percent support in the state for the EPA's Clean Power Plan, with only 25 percent of voters opposing that. It has 86 percent Democratic, 72 percent independent, and 51 percent Republican support. And there continues to be a broad mandate for background checks on all gun purchases. There's 86/8 support for that overall, including from 89 percent of Democrats, and 84 percent of both independents and Republicans.
Public Policy Polling surveyed 1,012 registered voters, including 464 likely Republican primary voters and 388 likely Democratic primary voters, this past Wednesday and Thursday. The margin of error is +/-3.1 percent for the overall sample, +/-4.6 percent for the Republicans and +/-5.0 percent for the Democrats. Eighty percent of participants, selected from a list-based sample, responded via telephone while 20 percent of respondents without landlines conducted the survey over the Internet through an opt-in Internet panel.