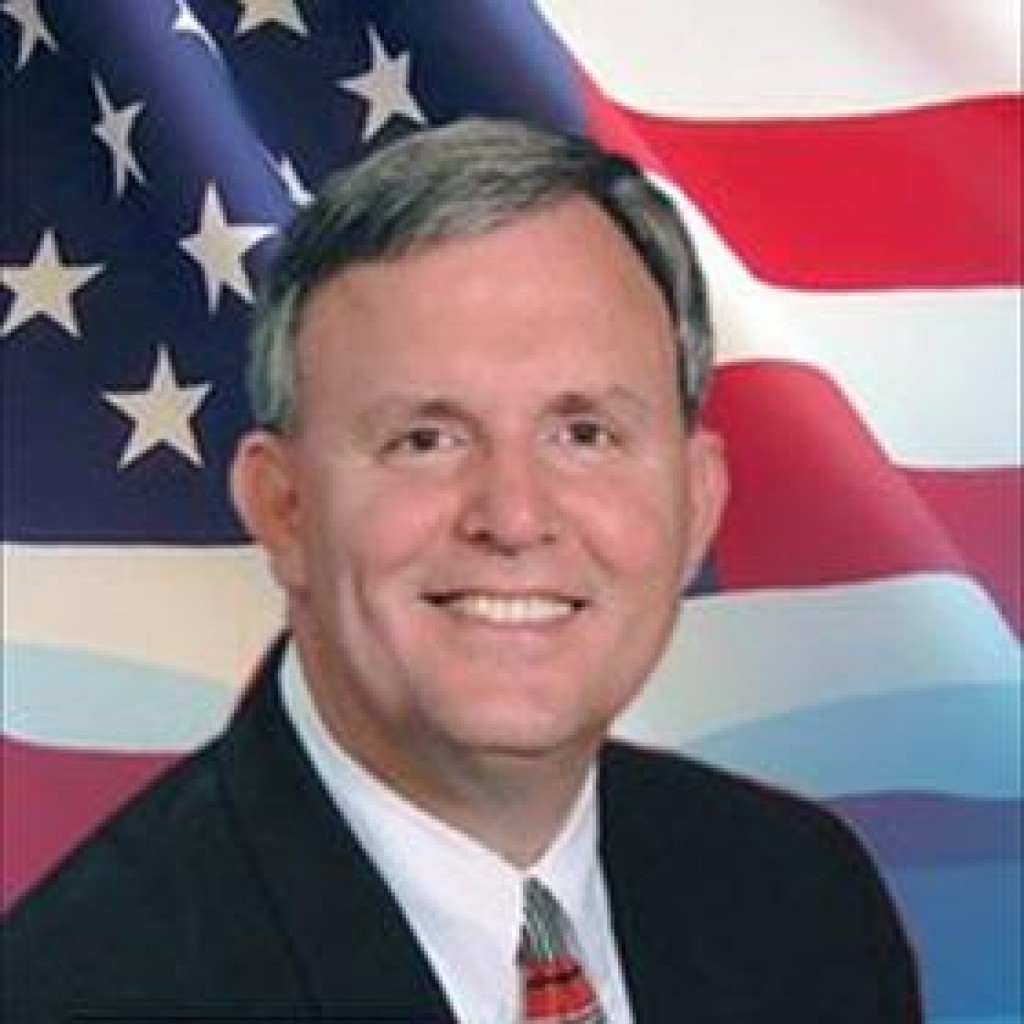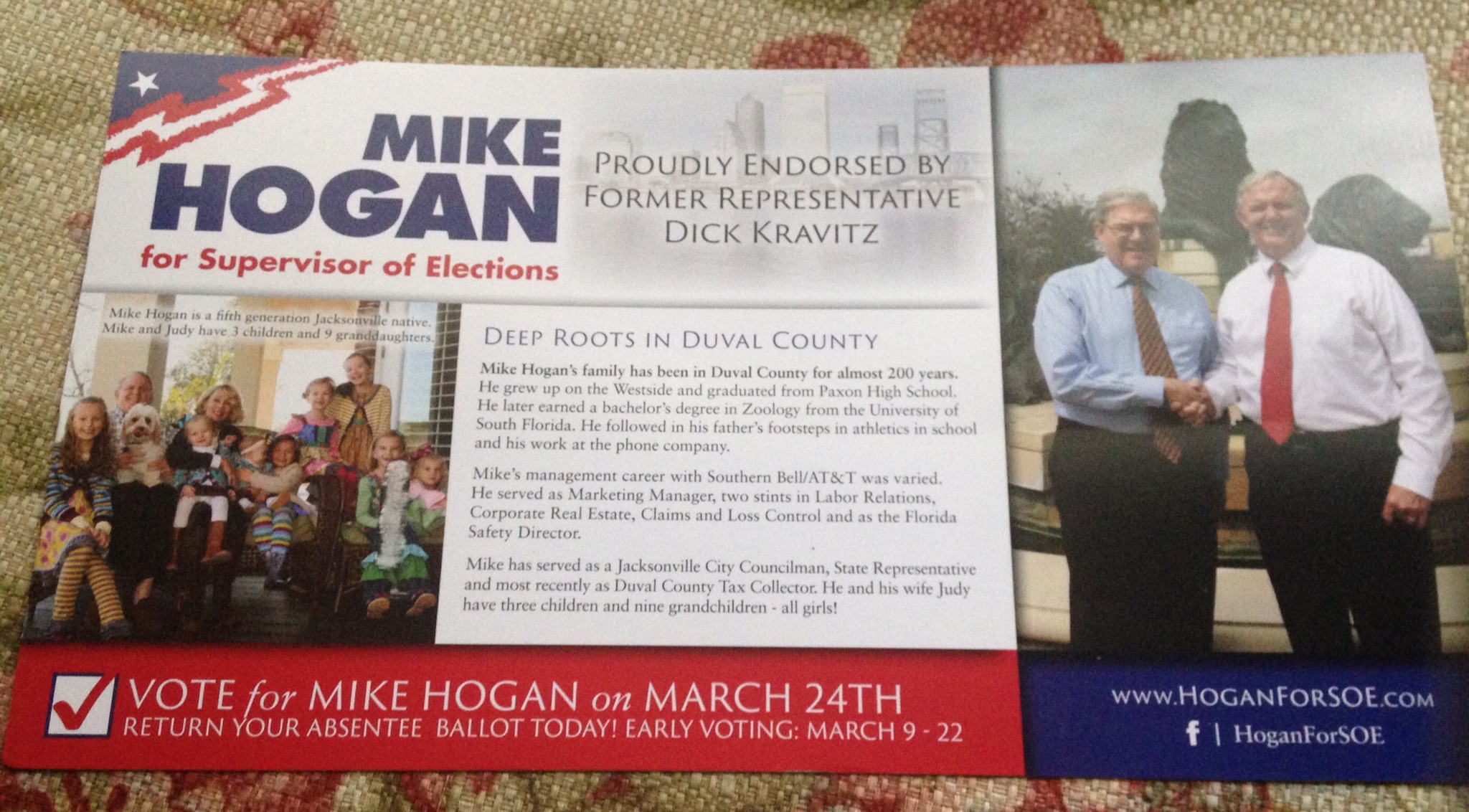 A news story with surprising legs this week is about state House candidate Dick Kravitz working in a customer-relations role at the Duval County Supervisor of Elections office, and breaching strict protocols against electioneering while on the clock.
Kravitz's boss is Mike Hogan, who was on Jacksonville City Council and in the State House with Kravitz.
Word on the street is that Kravitz has put out feelers to many people in hiring positions with the city in recent years. Hogan, apparently, was the first to take him up on it.
There's good reason why. As a mailer from the Supervisor of Elections race reveals, Hogan was "proudly endorsed by former (state) Representative Dick Kravitz."
Was there a quid pro quo for this endorsement? Even if one wasn't brokered at the time, there's an appearance of such with the curious decision Hogan made to hire someone for a role in the Supervisor of Elections office who's running an active campaign.
Given that as recently as 2000 the probity of the Duval County SOE came under global question, might anyone have thought this through?
Hogan should understand the optics issue it creates having an active candidate employed "directing traffic" at the Supervisor of Elections office during early voting. Because it raises questions: one being that if Kravitz is in that role in March, why wouldn't he be in that role in August?
During early voting in Jacksonville, voters citywide can vote at the SOE office. That includes voters in Kravitz's district. The slight chance that a "Hey, I'm Dick Kravitz, and yeah, funny thing, I'm on your ballot" conversation could happen raises questions about the fairness of that election. It's like having a referee in a football game wearing the home team's jersey. It doesn't pass even an elemental test of fairness.
It's the good ol' boy system. And Hogan, a serial candidate never too far from one taxpayer-funded job or another, knows how to play the game.
A useful historical example of how Hogan plays the game: A 2014 story in The Florida Times-Union describing how Richard Johnston, a consultant from his failed 2011 mayoral bid attempted to draw the Senate maps in his favor ahead of the 2012 election, which would have been his "eighth campaign in two decades," as Tia Mitchell succinctly put it.
Hogan accused Mitchell, one of the leading political reporters in the state, of "inaccurate reporting" before affirming to this writer that he and Johnston are close. How close?
"I know Rich Johnston very well and I am a frequent guest at their townhouse in Tallahassee," Hogan wrote in an email.
Hogan has a pattern: Play the slick good ol' boy political games, while playing dumb when asked questions by the mean ol' liberal media.
Back in 2014, when he was considering a run for mayor against Lenny Curry, Hogan was in a "quasi-judicial position" with the Florida Public Employees Relations Commission. When asked whether he was looking at a run for mayor, he demurred, saying his $95,000 a year PERC gig made it "inappropriate/unlawful [for him] to comment on political issues."
So he understood that there would be propriety issues raised in commenting on political issues in 2014 while in a "quasi-judicial position." Yet, in 2016, when he runs the elections operation in one of the biggest counties in the state, he sees no issue with having a political crony and an active candidate greeting entrants to the main office of the Supervisor of Elections office.
The Hogan political operation has long had a sleight of hand to it. The HoganForMayor.com website no longer is active. However, it was active throughout the early part of the Curry campaign, with a "poll question" asking "Do you think Mike Hogan will run for Mayor of Jacksonville in 2015?".
The site's registration lapsed on April 30, 2015.
Some have suggested that Hogan's SOE bid was arrived at via a deal. Former Councilman and former Duval GOP Chairman Robin Lumb had filed as a placeholder, and he got out of the race when Hogan got in.
This exemplifies, as happens every four years in Jacksonville, the delightful games of musical chairs played with the constitutional offices.
Hogan enjoys that game as much as anyone. And when it comes to the Supervisor of Elections office, he made the decision to hire Kravitz, an active candidate for a state House seat to draw a government paycheck while he runs for office. He's able to fund raise while on the city payroll. And he's able to make voter contacts while wearing a city badge, in direct conflict with city ordinance and directive prohibiting on the clock electioneering.
Hogan isn't answering media questions on this. Meanwhile, one wonders if and when we will see the endorsement by the Supervisor of Elections for his star employee.