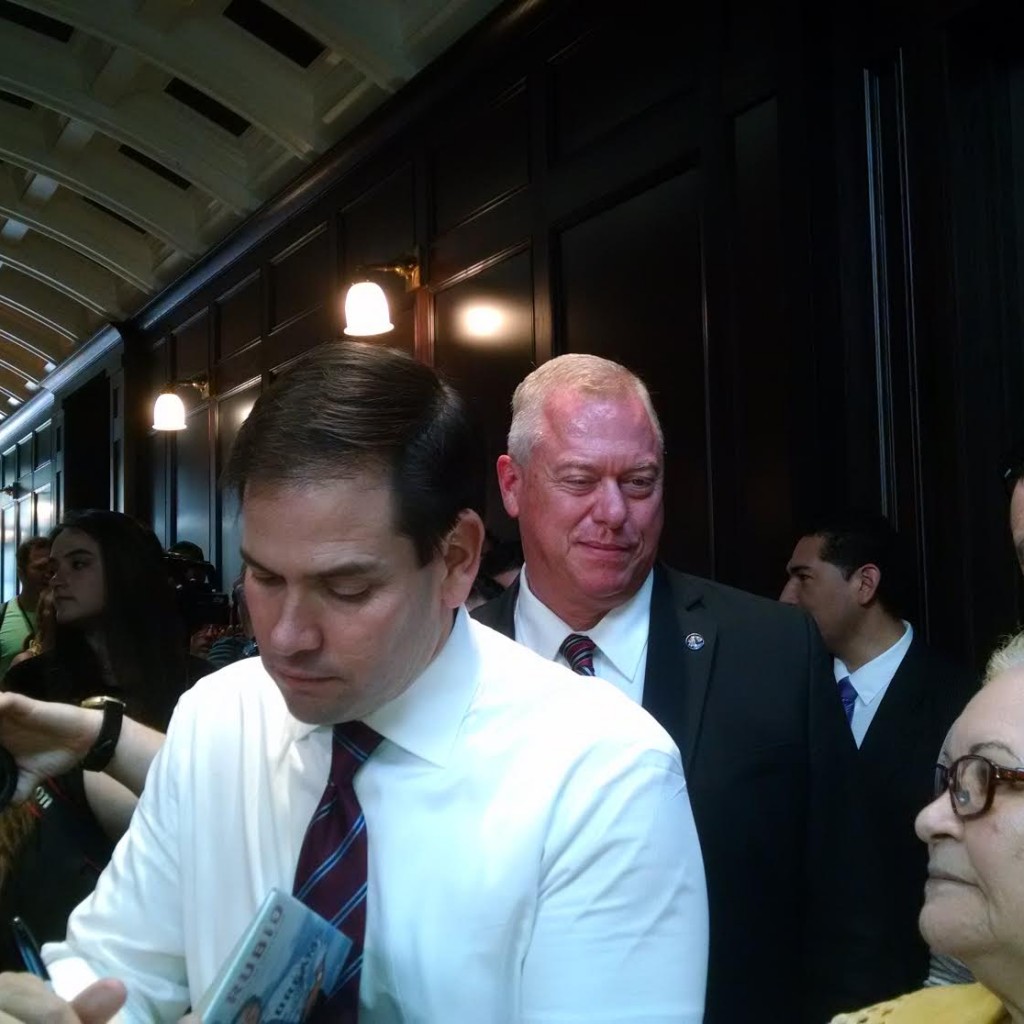 With just three days left before the biggest election of his life, Marco Rubio pressed the flesh and took dozens of selfies with fans at Tampa's uber-hip Oxford Exchange Saturday afternoon, the third stop on a five-city barnstorming tour of the Sunshine State.
The Tampa stop was one of three straight meet-and-greets in the Tampa Bay area market, a rich trove of Republican votes, but an area that he hasn't spent a lot of time in since elected to the Senate in 2010. After a 9 a.m. rally in Pinellas County, Rubio then hit Pasco County before swinging by Tampa, then exiting before another meeting with voters in Polk County and concluding the night with a rally in the Panhandle.
In between shaking hands, signing autographs and listen to his supporters give him well wishes, Rubio ascended a staircase in the European-inspired restaurant/coffeehouse/bookstore (and now Warby Parker outlet) to keep up spirits of supporters ahead of the March 15 presidential primary.
"Every vote is going to count," he said, standing behind a wall filled with photos of Ronald Reagan, Teddy Roosevelt and John F. Kennedy. "And if you do what needs to be done, I'm going to continue to do what needs to be done. We're not stopping."
With his presidential candidacy — and perhaps his entire political future — on the line, Rubio continues to trail in every single poll taken in the GOP presidential race. Most continue to show him trailing Donald Trump by double-digits, although a couple of surveys released this week show him closer.
He has never led here.
"I thank you for the faith and confidence that you have in me," he continued. "I promise you no one will ever work harder than we will work this week so that I can win Florida, and I can be your nominee and we can take our party and our country, and we can leave America better than it's ever been."
"Florida Republicans need to get out and vote," urged Patricia Johnson, a Rubio supporter from Tampa. "If we do not get out and support a strong conservative Republican candidate, we are going to end up in the biggest mess 20 years from now."
Although some political prognosticators are already predicting that the 44-year-old lawmaker's political career could be doomed with a loss this coming Tuesday in his home state, Johnson believes he has time on his side to make another presidential run in four to eight years. "I really strongly feel that this man will be our president, in our lifetime, and the one who can help get us out of this critical time."
"We're not thinking that way," Trinity resident Heidi Hook said about the idea that Rubio's campaign would end next week. After calling registered Republicans for over three hours earlier Saturday, Trinity said confidently, "I don't think he's going to drop out. I think he's going to win."
Showing up and giving his support was Dover Republican state Representative Ross Spano, one of a minority of Florida Republicans who came out early in support of Rubio over fellow Republican presidential candidate Jeb Bush.
"I still feel very, very strongly that he is the guy who has the best chance to win in November," Spano says, despite the fact that Rubio has underperformed on the national stage once the voting began last month in Iowa
Spano says the perception that Rubio is part of the Washington establishment has hurt him. "My hope is that as we get closer and move forward in more of these winner-take-all elections that we'll have an opportunity to prevent Donald Trump from getting the number (of delegates) that he needs to get."
The state representative says right now he's inclined "not to" endorse Trump if he becomes the GOP standard-bearer this fall. "I'll vote. But with my core conceptions and beliefs, it's going to be really hard to swallow that one."
Conservative Solutions USA, a super PAC supporting Rubio, is running digital ads this weekend that claims a vote for John Kasich or Ted Cruz in Florida "is a vote for Trump."
Meanwhile, earlier Saturday Trump made comments on Twitter alleging that Rubio was somehow involved in unsavory activities regarding the early vote in Florida, showing that perhaps he is concerned that Rubio could overtake him. If that were to be the case, Trump perhaps is already attempting to so doubt about those results.
"Word is — early voting in FL is very dishonest," Trump tweeted. "Little Marco, his State Chairman, & their minions are working overtime — trying to rig the vote."
He did not say how or why he thought that was the case.