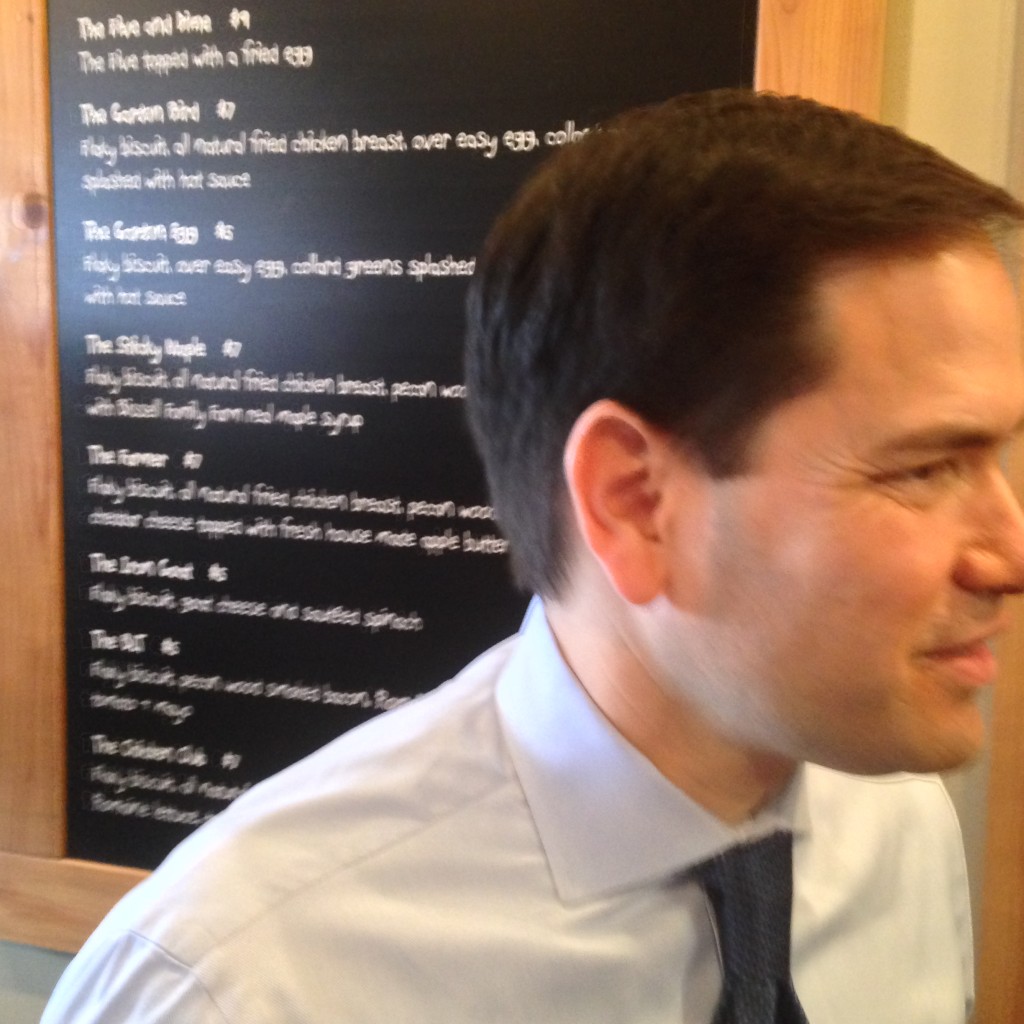 Although Marco Rubio's presidential campaign appears headed toward suspension after Tuesday's results, his Jacksonville visit to Maple Street Biscuit Co. in San Marco drew passionate supporters: true believers in his message of positivity and traditional conservative talking points.
Rubio's message, delivered to an overflow crowd of hundreds on Monday morning, was positive. He said his campaign is set to "shock the country" Tuesday, and reiterated claims that his campaign is a fight for the identity of the Republican Party and the country itself.
"The 21st century is made for us," Rubio said. "Tomorrow we have a chance to make a statement" against "fake conservatives."
Pleading again for civility in the campaign discourse, Rubio said, "We cannot have a country where everybody hates each other," one where the discourse is "devolving into violence."
Rubio again assumed the cloak of Ronald Reagan, saying that 36 years ago Reagan defined conservatism, citing traditional conservative talking points such as a limited government and a strong national defense.

Referring to Mayor Lenny Curry, who accompanied Rubio, the senator said Curry is a "great friend and great mayor" and a "real conservative" who rose to "challenges after four years of failed leadership."
"We can do that for America," Rubio told the crowd stacked with soccer moms along with dozens of true believers, such as William White.
Before the event, White showed me a folder containing old family pictures and documents related to his great grandfather, Baselio Suarez, a cigar factory worker and barber who emigrated from Cuba in the 19th century and then brought his family over.
For White, Rubio's message about being the child of hard-working Cuban immigrants struck a nerve.
"When I heard him talk I thought about this," White said. "Rubio has the right message … for today, for the future."
White then had words for the Republican National Committee.
"The RNC Marketing People should all be fired," given that they allowed "Donald Trump three months to himself, branding everyone."
In the restaurant, White showed Rubio his documents, and a moment of mutual recognition passed across Rubio's face as White told him about their families' similar journey.
"I appreciate that," Rubio said.
Though the "meet and greet" felt like the coda to a campaign that likely isn't going anywhere, for people such as White and other true believers, Rubio's campaign and his Monday appearance in Jacksonville was an affirmation of their choice of candidates.