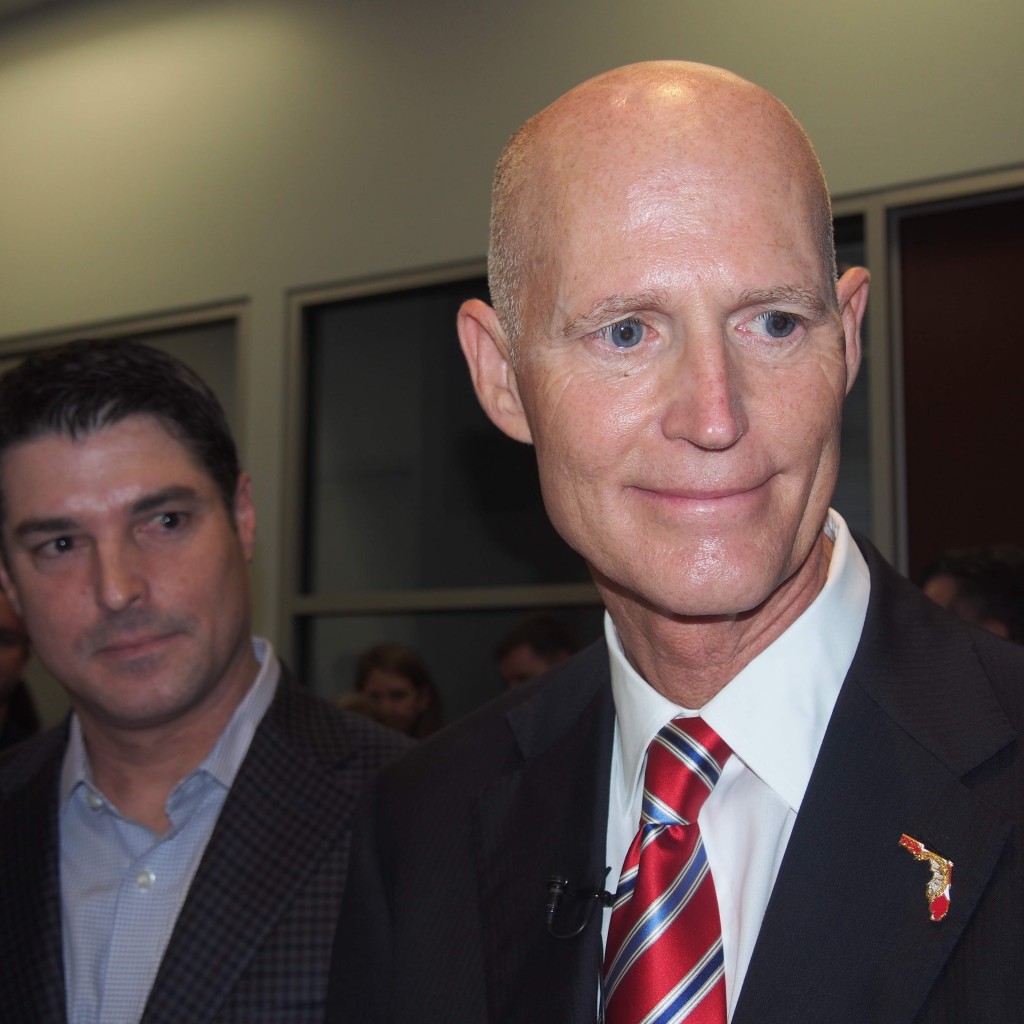 Gov. Rick Scott brought good news to Orlando – 36,000 new private sector jobs created in Florida in January – but refused to talk about the priority for Orlando and its Republican delegation who surrounded him for the announcement: the University of Central Florida's Downtown campus.
In keeping with his penchant to talk only about jobs creation, Scott repeatedly declined to answer questions about whether he'll agree to the budget proviso approved by the Florida Legislature last week to include $20 million for UCF's top priority, or whether he will veto money for the campus as he did last year.
"As you expect, when I get the budget I'll go through all the line items," he said.
"We have funded the universities. We have the highest funding of universities in the history of the state; we have performance funding. But I'm going to go through the budget when I see it."
When it was pointed out that he was surrounded by eight Republican Central Florida legislators and others, including House Speaker Steve Crisafulli and UCF Board of Trustees Chairman Marcos Marchena, who see the UCF item as a primary issue, Scott's response was only, "You're kidding."
The 36,000 jobs added in January represent the single largest monthly job growth in his two terms as governor, Scott said. It brought the state's unemployment rate to 5.0 percent, an eight-year low. Orlando, he said, led the state with more than 53,000 new jobs in the past year and now has an unemployment rate of 4.7 percent.
He made the announcement on the second stop of his statewide ""Million, Billion Jobs Victory Tour,"  celebrating both the addition of 1.06 million jobs since he took office and the tax cuts of the past two years that total $1 billion. The stop came at Orion Technologies, a national company that's opening a Florida regional office in downtown Orlando. The company provides tech help-desk and cloud services, and company President Matthew Singley said he would be bringing 30 jobs to the Orlando office.
"So, over a million jobs, 1,060,000 jobs, 36,000 jobs in one month, eight-year low in unemployment rate, and a billion dollars in tax reductions in two years, we have a lot to celebrate," Scott said.